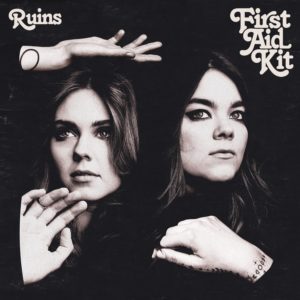 First Aid Kit
Ruins
COLUMBIA
6/10
Johanna and Klara Söderberg started First Aid Kit in 2007, and first captured people's attention with a cover of Fleet Foxes's "Tiger Mountain Peasant Song," which they uploaded to YouTube at the ages of just eighteen and fifteen, respectively. As lovely as that cover was, it was their accomplished debut album—2010's The Big Black and the Blue and its mournful, forlorn songs—that truly revealed the songwriting prowess and emotional power of the two Swedish sisters. Permeated by an aching sadness that was wise and wistful beyond the pair's golden youth, it was a powerful record that existed in its own sense of time and space, as much a product of an ancient Appalachian tradition as it was a reflection of a bruised and broken modern world.
Between that record and this one, there were two more, both of which offered up similar slices of heartbreak, but also felt slightly more affected than their debut, venturing too much into contrived country balladry rather than existing on its own terms. That only happens once on this fourth full-length—on the clichéd country trappings of "Postcard"—but it's a misstep that's muted by what surrounds it.
There's the graceful lilt of "Fireworks," the glowering, moody opener "Rebel Heart"—the sisters' vocal harmonies coalescing to devastating effect—and the resigned melancholy of "Hem of Her Dress," which ends in a wonderful, Bright Eyes–esque crescendo of rambunctiousness.
After that, the album is brought to a minor chord close with the despondent quietude of "Nothing Has to Be True." Its instrumentation slowly swells along with the sense of sorrow in the song, before ending in an abrupt and unexpected burst of feedback. And while Ruins doesn't quite beat out their debut album, it's certainly the sisters' best record since.