Once upon a time (or more specifically June 17, 1930), a public men's bathroom was opened in downtown Reykjavík. It's the last place in Iceland I imagined I'd end up when I first got my hands on a copy of Ágætis byrjun. But as it turns out, Iceland is home to many musicians across many genres. Not all of them sing in Hopelandic. And not all of them are named Björk. But—spoiler alert—the country's patron saint does make an appearance within the closely knit punk scene. It just took a space formerly known as "The Zero" and a few visionaries to flesh out the connective tissue.  
Built from a long-since-vacated public bathroom (blessedly sterilized), The Punk Museum was opened on a rainy night during Iceland Airwaves 2016 with a speech/rant by Johnny Rotten. Since then, the exhibit has operated with an irreverent charm, tackling the genre with a long view and a sense of humor. (A sign in the opening room reads "Because of idiot Hitler's small penis the British occupied Iceland in 1940… Still no punk.") Make that a really long view. ("Iceland was settled in the ninth century," reads another sign. "Norwegians sailed here to escape taxation… No punk.")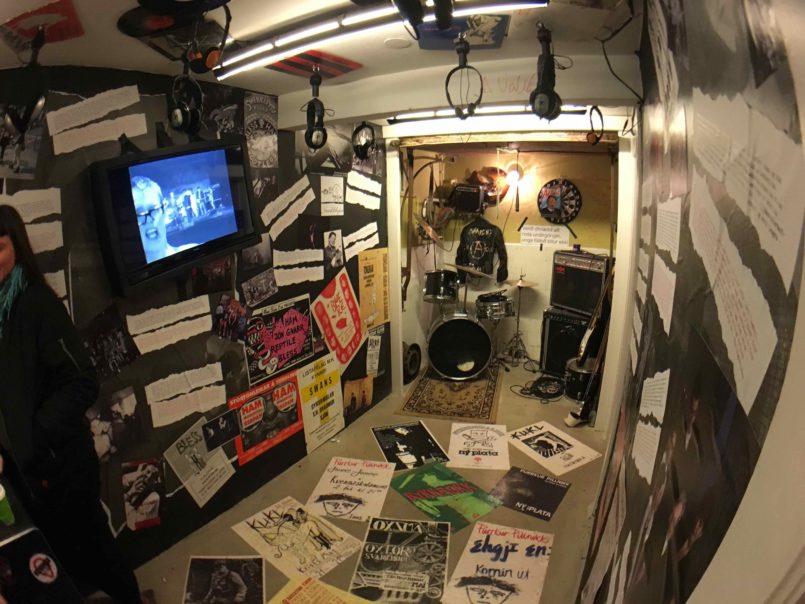 The story advances from 1978 to 1992, each time period represented by a different graffiti-and-gig-poster–adorned bathroom stall, where often, space limitations require closing the door to read the walls, leaving the viewer alone with only the porcelain urinals for company. (Once again—clean, praise Ramones.) From the early screamers, like Icelandic punk group Fræbbblarnir, to Iceland's first world famous band, The Sugarcubes (take a second to remember young Björk's voice and try to argue her idiosyncratic phrasing doesn't fit in the punk bucket), to every major venue, show, and act both at home and abroad, everything is meticulously catalogued. Even the on-site curator Svarti Alfur ("The Black Elf" in English) is represented, his band Masturbation occupying a place of honor on a back-wall monitor.
"No one was really sure if the place would work," Alfur told me of the museum project, spearheaded by Dr. Gunni, author of Blue Eyed Pop: The History of Popular Music in Iceland. "Most people don't like punks. But we were wrong!"
"Most people don't like punks. But we were wrong!"
The second half of the museum is simply a room filled with vintage leather jackets and instruments—a testament to both the egalitarian nature of punk and its likeability, at least among the foreign visitors who were busy strumming loudly on several of the available guitars. Turns out punk chords aren't just easy to master but incredibly satisfying as well. And very, very loud. ("Don't like the sound? Go Away!" one sign helpfully suggests.)
It's easy to see why Alfur calls this job the first he's really loved. Tourists actively engaging with, learning about, and participating in the craft he's dedicated his life to has to be one hell of a morality boost. As I left, he offered me a cup of coffee (which I passed up) and a list of places to see live punk shows (which I accepted). The term "punk rock" may be abused to describe everything from The Clash to the Sex Pistols to Avril Lavigne (one of these things is not like the other). But in Iceland, it's just getting started. FL