FLOODfest day three, partnered with Ground Control Touring, started off humid and ended in a full-on sweat, as temperatures reached the high eighties. Goat Girl, the lo-fi London group with laid back vibes, started things off. The band's mystery is only enhanced by the fake, jokey names its members go by (Clottie Cream, Rosy Bones, Naima Jelly, and L.E.D.). Lead singer Clottie rocked a grunge look in slouchy pants and a tank top; and while there were no goats in sight, one guitarist's strap was patterned in cow-print, another's in cheetah.  
Next up was indie-folk rock group Hop Along, from Philly. Lead singer Frances Quinlan wore red gym shorts to stay cool. The crowd was swelling—but Quinlan's voice still rose above the fray. Her brother, Mark—the band's drummer—was particularly expressive, flinging his long hair and howling in time with the music. They were followed by Moaning, a post-punk trio from LA who just released their debut self-titled album. Lead singer/guitarist Sean Solomon wore a Snoopy t-shirt and sang intensely despite the oppressive heat, his face flushed but focused. Speedy Ortiz took home the best-dressed award, arriving to the stage in colorful socks and capes; Sadie Dupuis also wore bows and an elaborate headpiece in her hair. Their set began with a sultry saxophone solo—perfect for the smoldering weather.
By the time Kurt Vile took the stage to play his acoustic set—the only artist in our lineup to go it alone—Cedar Street was at full capacity. The line wrapped around the block, and people were jumping out of the queue to watch Vile perform from the street (there's actually a pretty good view there, as the courtyard is sunken and the stage is below street level). Though Vile was unassuming in a plaid over-shirt (which he soon took off) and wavy hair hanging loose, he easily kept the crowd's attention. You could practically hear a pin drop. (OK, not really, but it was quieter during his performance than anyone else's.) 
Crowd-pleasing art-pop band Porches closed out FLOODfest 2018. Enigmatic frontman Aaron Maine wore a lime green crop-top plus his signature black nail polish and gold hoops. Witchy guitarist Maya Laner, in a long black dress and white-blonde tresses, at one point mouthed "I'm so sweaty!" to a friend in the balcony. The sound of delicate synths ended the fest, and hordes of sticky music lovers trickled out of Cedar Street to seek their next adventure.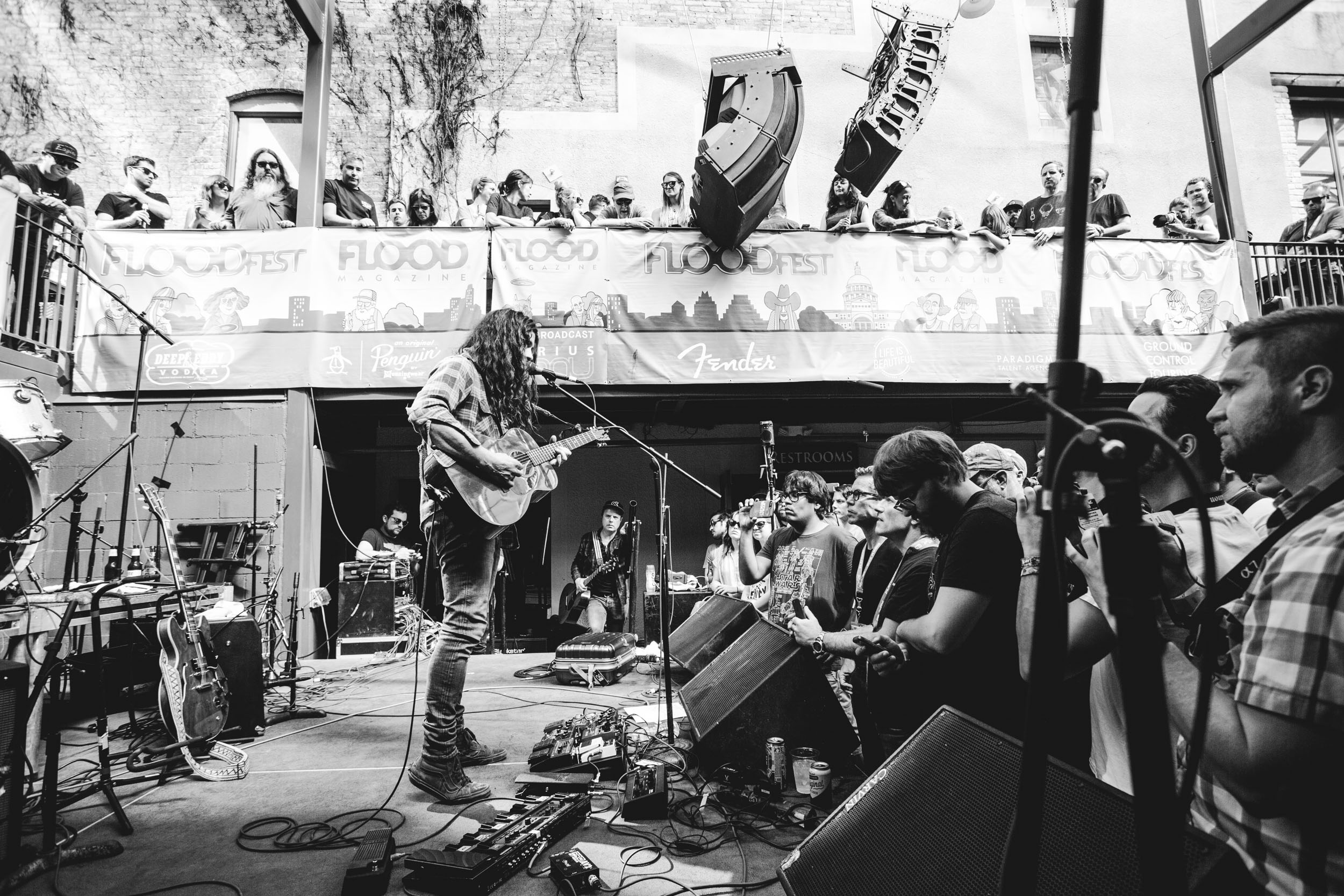 Special thanks to Deep Eddy Vodka, Original Penguin, Fender, and our official radio partner Sirius XMU, who are broadcasting live from FLOODfest all week.
SXSW 2018 coverage: Wednesday ⋅ Thursday ⋅ Friday 
Below, check out photos from FLOODfest, from Carlo Cavaluzzi.
FLOODfest Day Three