The Decemberists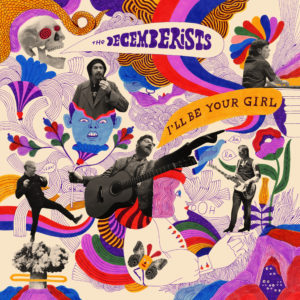 I'll Be Your Girl
CAPITOL
6/10
The Decemberists have always had an affinity for folklore, cobbling together songs and stories, sea shanties and Civil War epistles into records resplendent with pageantry and rich in mythology. What then is one to make of I'll Be Your Girl, an album-length immersion into reverb and synths, with influences no more or less ancient than New Order and Duran Duran? Perhaps it's an implicit argument that all of it is folk music—that even the wrecked remains of '80s pop-rock is embedded with a shared language, emotional cues that carry formal power in and of themselves.
This is not the first Decemberists reinvention, and like their country-rock turn on The King is Dead, the most significant effect here is how the formal constraints of genre focus Colin Meloy's writing. On opening song "Once in My Life," the man whose florid lyrics have spawned concept albums and multi-suite epics offers just two threadbare couplets, allowing the song to live and die by its jangly guitars building into an explosive chorus of synths—a sing-along moment that's resonant in its economy, its compact power.
The band is similarly enlivened on "Cutting Stone"—a song that effectively weds their folksier inclinations with syrupy synths—and on the eight-minute "Rusalka, Rusalka / The Wild Rushes," they prove they haven't lost interest in sepia-tinged epics. Surely, The Decemberists have earned the right to revert to full-on theatrical mode, following a few forays into pop that don't come off as well, most notably "We All Die Young," a pile-up of vocal distortion, skronking sax, and unconvincing rock and roll swagger.
If I'll Be Your Girl accomplishes nothing else, it certainly finds Meloy and his crew twisting and contorting their aesthetic interests into whole new kinds of Decemberists songs; like "Everything is Awful," a cynic's rewrite of The LEGO Movie's theme. Ostensibly a piece of pop trash, there's an oddly vaudevillian sense of humor hardwired in the song's vocal arrangement. Say this for The Decemberists: they know who they are and what they like—and they may be the only band around who can make the New Wave sound old-timey.