Caroline Says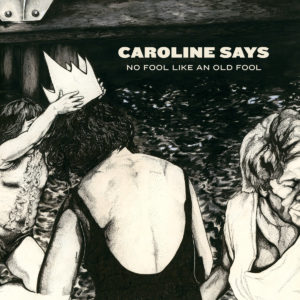 No Fool Like An Old Fool
WESTERN VINYL
7/10
There's a quiet outpouring of deconstructed folk-rock coming out of the stranger corners of the American heartland right now—artists like Lucy Dacus, Molly Burch, and Faye Webster subvert audience expectations of "coffeehouse folk" with cutting lyricism and sly sonic experimentation. Caroline Sallee's solo project–turned-band Caroline Says, based out of Austin but with origins in Sallee's Alabama basement, works in this same space. But the group sets itself apart with a generous helping of smeared dream pop and Lynchian, dissonant Laurel Canyon motifs.
No Fool Like An Old Fool is Sallee's first album for Western Vinyl since the reissue of her debut cassette, 50,000,000 Elvis Fans Can't Be Wrong, on the label last year. The Caroline Says project has now departed from the grounded surf-folk of that first record, scanning as less wistful and more jaded, while further framing its folkie stance as something to be manipulated rather than fully committed to. "Rip Off" could be a Teen Dream–era Beach House song, gliding along on spacious, fingerpicked arpeggios and a drum machine loop. "Sweet Home Alabama," meanwhile, is a masterstroke of a first single, deploying its main guitar riff as a processed sample, complete with crackling vinyl, even as Sallee deadpans a stream-of-consciousness about how the town she used to love has made her feel trapped.
It doesn't all quite gel—especially when Sallee falls back on the formalism of drumless '60s folk, and her impressionistic lyricism and preternaturally world-weary voice gets pushed to the front. It's a style that unfortunately highlights her chronic lack of concrete details. Most of the tracks have extensive backstories with characters that sound incredibly interesting, but without a lyric sheet next to you it's hard to know, for example, that "A Good Thief Steals Clean" was inspired by The Panic in Needle Park's story of loving a heroin addict.
"I Tried," by far the album's standout, shows Sallee's capacity to pull off incisive character-play when she extends beyond pro forma indie depressiveness. The song incorporates a decayed sample, not unlike the aforementioned "Sweet Home Alabama," but this time using what sounds like a movie soundtrack, as Sallee dips into a tone far starker and more menacing than has been found on any of her songs thus far. It's ostensibly about a person recovering from former fame, adjusting to the fact that no one recognizes them anymore; but you don't have to parse Sallee's softly seething vocals for meaning to sense the resentment—both toward her failings as a public figure and the fairweather flittings of her former audience. It's here, in narratives and structures like these, that Caroline Says thrives best—thinking, even dreaming about the future, but bracing oneself for the reality that it never quite turns out like you hope it will.