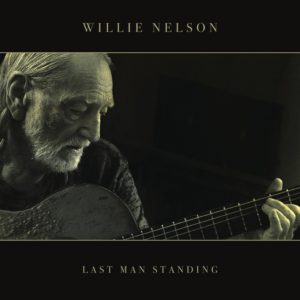 Willie Nelson
Last Man Standing
LEGACY
7/10
Now at eight-five, Willie Nelson has earned the right to sing about mortality, entering the sepia-toned stage of his career, just as Johnny Cash did with his American Recordings series. Following on the heels of God's Problem Child—a fine album that mixed autobiography with songs about finality, including the good-natured death-hoax send-up "Still Not Dead"—Willie addresses the great unknown throughout Last Man Standing, an album whose very title suggests the work of a weathered survivor. Not only is this record every bit as strong as its predecessor, it's also funnier; rather than navel-gazing introspection, Willie's addressing his twilight years with a light touch and an amiable chuckle—and just a little bit of sentimentality thrown in for good measure.
That sentimentality comes in the form of "Something You Get Through," a pained ballad about saying goodbye to someone you love. For the most part, though, Willie sticks to cracking wise, both in a surprisingly philosophical ode to halitosis ("bad breath is better than no breath at all," he reasons) and in the wistful second-guessing of the title track. "I don't wanna be the last man standing," Willie sings. "Or wait a minute, maybe I do." For better or for worse, he's outlived all his contemporaries. What else can he do but laugh?
When he's not cutting up, he's cutting loose. Last Man Standing may not be quite as smooth or as seamless in its genre fusion as, say, Shotgun Willie or Stardust—albums where the lines between jazz, blues, rock, and country were hazy at best—but it is a cheerfully easygoing roadhouse record, one that allows Willie to reconnect with his roots and dabble in the burnished blues of "Bad Breath," the elastic Texas swing of "Ready to Roar," the smooth shuffle of "Me and You," and the rollicking juke-joint sing-along "Don't Tell Noah."
There's a savvy sophistication to how it all comes together; Willie wrote all of these with Buddy Cannon, who also produced, and together they've put together a record that offers low-key witness to Willie's casual virtuosity. There's strong craft and sharp writing throughout, and Willie makes it seem easy—but of course he does: This is the kind of thing he's been doing forever.