March in Dayton, Ohio, is not pretty. So says Kim Deal, one of the city's most famous residents. "The daffodils are poking their little heads out of the soil," she reports. "But it's also kinda super ugly because it's really brown still. You have to find them. And then it's like, 'Oh my god, it's happening. It's gonna happen.'"
Fans of Deal's band, The Breeders, greeted news of the impending arrival of their fifth album, All Nerve, with similarly cautious excitement. It's the first Breeders full-length in a decade and only the second to feature what many regard as the band's classic lineup, with Kim's twin sister Kelley on guitar, Josephine Wiggs on bass, and Jim Macpherson on drums. Twenty-five years ago, that quartet recorded The Breeders' commercial breakthrough, Last Splash—but drugs, booze, and personality clashes tore the band apart within a few years. Macpherson, the last to go, walked out on a tour with Kim's post-Breeders group, The Amps, and didn't speak to her again for fifteen years.
The seeds for All Nerve were planted in 2012, when the now-sober Deal sisters mended fences with their old bandmates and convinced them to "do a few shows," as Kim recalls. "It wasn't even like, 'Let's go on tour and have the label release a box set of our work'"—and here she adopts a corny radio announcer voice—"'to mark this historic occasion!'" They just wanted to reconnect and have a little fun playing the songs that had made them heroes of the so-called "alternative rock" era.
It was a new song called "Walking with a Killer," which Kim had originally recorded solo as part of a 7″ single series, that provided the spark for a new Breeders album with the Last Splash lineup. "When we practiced it downstairs, it was just like, 'Holy shit, this sounds good,'" says Kim.
"Downstairs" is Kim's basement in Dayton, where the Deal sisters grew up and have since returned to, just down the road from their parents. Yes, even after all these years, The Breeders are still a basement band—which might partly explain why All Nerve sounds gloriously, anachronistically like a vintage Breeders album. Not dated, just classic, in a raw, no-bullshit, rough-edges-intact way that few rock records achieve nowadays.
Kim's songwriting remains as darkly witty and inscrutable as ever. First with the Pixies (for whom she wrote infrequently but memorably; Kurt Cobain once called the Deal-penned "Gigantic" his favorite Pixies song), then with The Breeders, The Amps, and, more recently, under her own name, Deal fills her songs with ambiguously ominous lyrics and riffs that circle back on themselves like Möbius strips, as catchy as any pop tune without ever quite sounding like pop. Think of the wobbly guitar hook and droning "ah-ooh" backing vocals of The Breeders' most famous song, "Cannonball"—a track that was probably second only to "Smells Like Teen Spirit" in inspiring disaffected girls and boys in the early '90s to pick up guitars.
There are moments of real beauty on All Nerve, but they can sometimes be deceptive. The title track begins with a series of sweet, simple declarations, given a hazy, romantic cast by Kelley's breathy harmony vocal: "I wanna see you… You don't know how much I miss you." It's a rare Kim Deal love song—or is it?
"It's supposed to be a little creepy," Kim says, pointing to later, more dangerous lyrics like "I will run you down" and "You don't know how far I would go." "That's the way I see it, anyway. It's like a psychosis. A love psychosis." She laughs, a Midwesterner's deep, hearty guffaw. "Am I ruining it for you? I should just leave it. Yes, it's a love song."
"I go in and just try to not make it suck." — Kim Deal
She is famously exacting in the studio—a devout practitioner of all-analog recording (or "All Wave recording," a philosophy she devised with legendary producer/engineer Steve Albini), and the kind of perfectionist who will labor for hours over a single part, trying to make it resemble what she hears in her head. "I go in and just try to not make it suck," she says simply. When asked for an example of something sucking, she sighs heavily and says, "Just weird things like a cymbal hit, where you clench it off too quickly and all of a sudden I'm depressed."
For All Nerve, they began in Chicago with Albini, who worked on every Breeders album except Last Splash. They recorded two songs with him, "All Nerve" and the brittle, menacing "Skinhead #2." But Kim's bandmates vetoed further work with Albini, whose perfectionism rivals hers.
"Josephine and Kelley were like, 'Mm, yeah, that's too expensive, we're not gonna do it,'" says Kim, after they got the bill for the two Albini tracks. It's pricey to record analog, she explains, especially on the temperamental vintage gear Albini prides himself on using. "Those are huge, scientific machines that need to be zeroed out every day to work correctly. They need to be maintained at all times."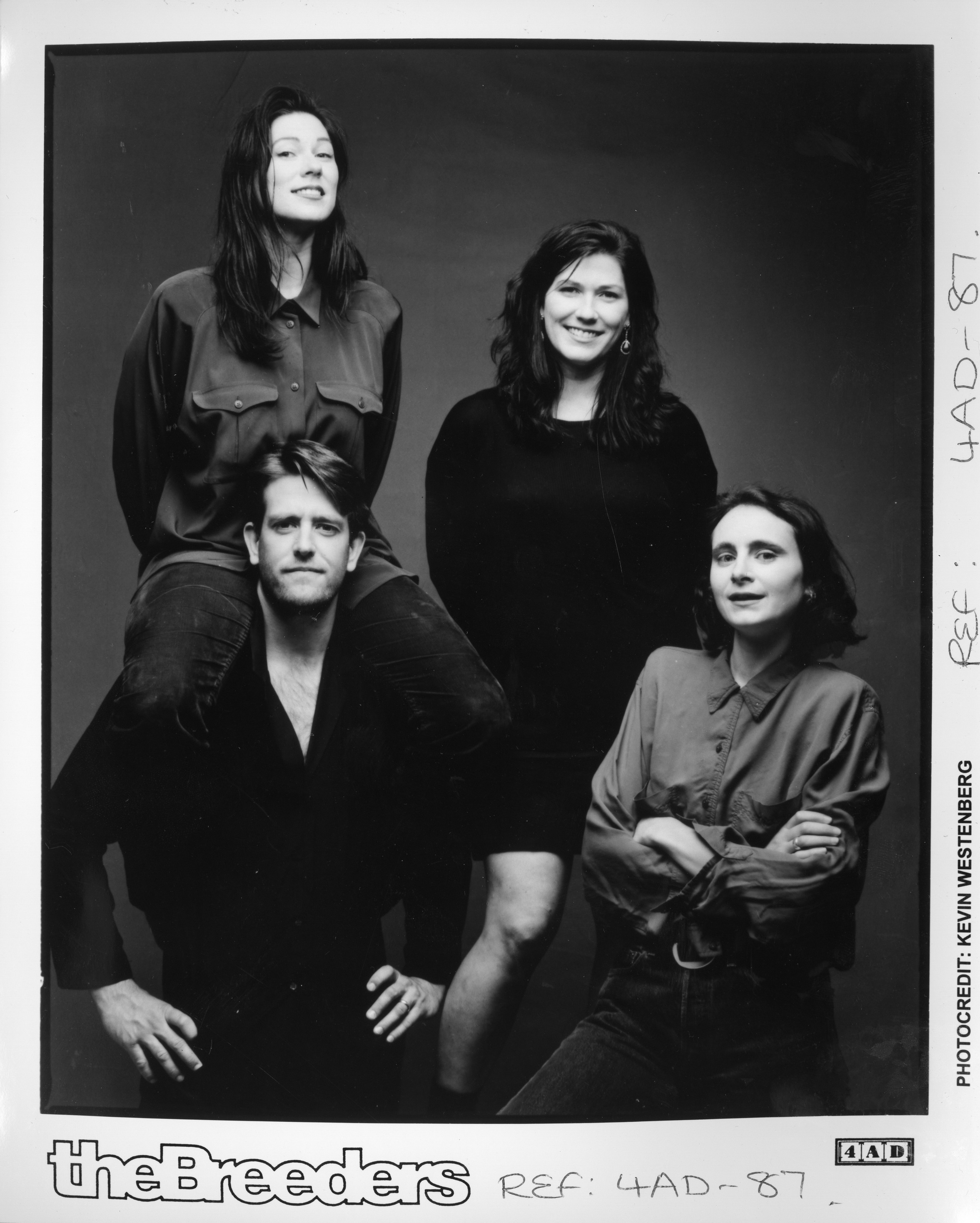 As a compromise, they found a much cheaper recording studio in Dayton. On the plus side, it was in a basement; on the downside, its engineers worked digitally. Somewhat to Kim's surprise, one track from those sessions, the shimmering "Dawn: Making an Effort," made it onto the final album. "We thought that sounded better than any time we tried to record it in analog," she admits—in part because the song features very few drums. "I really don't like rock drums recorded in a digital situation," she says, her scowl virtually audible through the phone line. To record the tom hits and cymbal crashes for "Dawn," they ended up using a microphone that was around the corner, down the hallway. "Because I didn't like the sound of the direct mics on anything," Deal says. "So it's just an idea of a drum kit there."
Most of All Nerve was recorded in another Dayton—Dayton, Kentucky, just over the Ohio River from Cincinnati, where Mike Montgomery, Kelley Deal's partner in her other band, R. Ring, had just opened a twenty-four-track all-analog studio. "It's an hour and one minute away," Kim notes, repeatedly, as though she finds something poetic in this precise distance. There, the band really hit their stride, knocking out the album's remaining eight tracks, along with some bonus material including Devo and Mike Nesmith covers. (Another cover, one of seminal krautrock band Amon Düül II's "Archangel Thunderbird," made it onto the album.)
It's the loosest, most entertaining set of songs The Breeders have recorded since the '90s. Australian singer/songwriter and Breeders fan Courtney Barnett dropped by with her band to lend some gang vocals to "Howl at the Summit" (the Deal sisters returned the favor by singing background on a few tracks of Barnett's latest album). Bassist Wiggs takes a rare lead vocal on the aptly named "MetaGoth," lending her clipped British phrasing to the track's foreboding atmosphere. And Kim's trademark wit is fully displayed on "Wait in the Car," whose title command she sneers—adding "I got business!"—over her and Kelley's clattering, start-stop guitars.
A recurring refrain throughout "Wait in the Car" is "Mother wants to hold me down"—and Kim acknowledges that the song is at least in part about her own mother, who has Alzheimer's; Kim moved back to Dayton to help take care of her shortly after her diagnosis. The lyrics on "Wait in the Car" are—true to form—ambiguous; it could be Mom ordering a young, rebellious Kim to wait in the car, or it could be Kim admonishing an aging parent with a tendency to wander. Or it could be both. A love song, not a love song.
"She's not mobile and she's not verbal anymore. When she eats ice cream her eyes light up. But she's getting pretty frail," Kim says, sounding weary. Then, unexpectedly, like a flower pushing up through the last dirty snow of spring, her tone brightens. "She would love it if she knew I was singing about her. She used to go around saying, 'I'm the breeder of The Breeders.'" FL
This article appears in FLOOD 8. You can download or purchase the magazine here.