Prince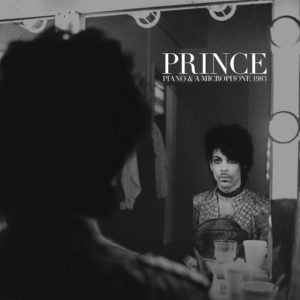 Piano & a Microphone 1983
WARNER BROS.
8/10
There was a time when it seemed like Prince could do anything, and on golden-era albums like 1999 and Sign o' the Times, he did a little bit of everything. So just think for a moment how incredible it is that, here in 2018, a couple of years removed from the Purple One's exit, there's not only a new Prince album in the world, but one that's not like any of the others. We're all still discovering just how much Prince could do.
Recorded in his private studio when he was just on the brink of superstardom, Piano & a Microphone 1983 is exactly what its title suggests—Prince singing and playing unaccompanied, a set of basement tapes and home recordings that are uncharacteristically raw and unguarded. It's not totally without precedent: He went mostly acoustic on the rare, oft-overlooked album The Truth, and was actually performing piano-and-voice shows at the time of his death. Still, this is something unique within the Prince catalog: An exhibition of his ragged, wondrous gifts as a pianist and a singer, devoid of concept or any kind of studio tomfoolery.
One thing it's not is some kind of lost classic. The collection is just over half an hour long, and most of the performances feel like rough sketches—which, of course, is exactly what they are. There's a gestational "Purple Rain" here that's instructive, allowing us to hear how emotionally naked and intimate the song sounded before being recast as a stadium-swelling power ballad—but at just over a minute long, it's very much a fragment and a curio. And so it is with the album as a whole: There are thrills to be found in hearing Prince sing and play in such an unvarnished setting, and the album is rewarding as long as you don't expect it to sound especially polished or to cohere into a major statement.
Prince was an avowed Joni Mitchell obsessive, and a quick read through her "A Case of You" appears here as something of a Rosetta Stone. These songs take on a kind of confessional immediacy that you don't hear much on proper Prince albums, and there's stark emotion in abundance. Ebullience rolls and crests through an album-opening take on "17 Days," and the Civil Rights–era gem "Mary Don't You Weep" captures some of the fervor of the black church tradition. Every song allows for an easy appreciation of Prince's rugged piano dexterity, and his great range as a soul singer; listen to how he imbues "Strange Relationship" with a level of anguish you don't quite get on the final studio product, or the wistfulness built into this "Purple Rain."
Beyond being a studio guru, a provocateur, a psychedelic maestro, Prince was a roots musician at heart—and those roots are presented with austere clarity on Piano & a Microphone 1983. It's not a pantheon-level Prince record, but then again, it is a Prince release like no other. And that might be just as valuable.