When they first appeared on the scene, Metallica were viewed as the bad boys in an era of generous rock stars like U2, Peter Gabriel, and Sting (James Hetfield certainly wasn't talking about the rain forest in between songs). That doesn't mean the band weren't good guys—in fact it turns out they're great guys, and so are their fans.
In 2017 the band formed the All Within My Hands Foundation, dedicated to creating sustainable communities by supporting workforce education, fighting hunger, and funding other critical local services. They've already given a boost to food banks all over the country, starting in their home town with the SF-Marin Food Bank, an organization that feeds over two hundred thousand people in need each year. The guys in Metallica are spearheading positive change by enlisting their fans to volunteer at food banks, to donate food, and more.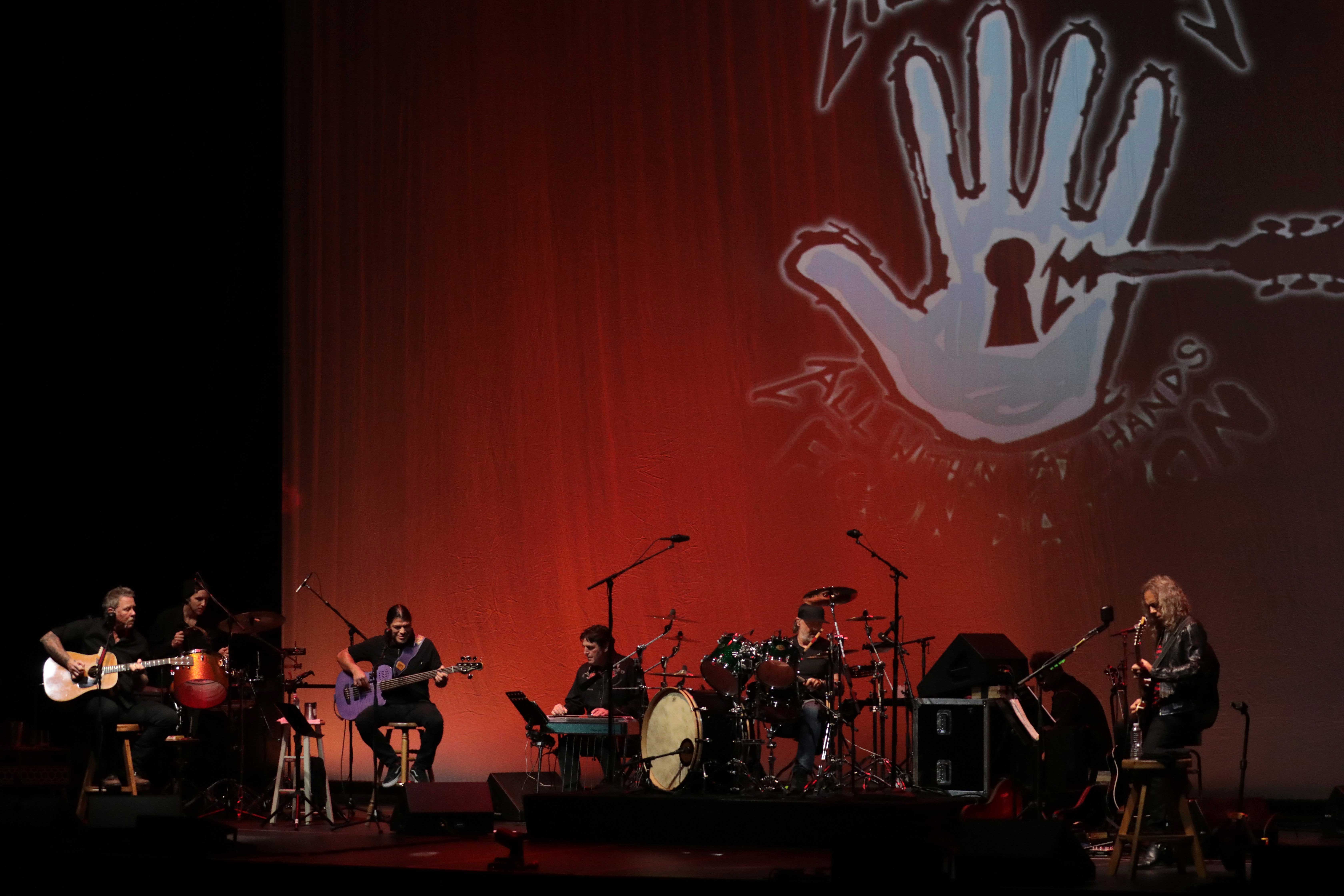 On Saturday, the band held a charity concert to benefit the foundation at the SF Masonic Theater. Attendees were able to participate in a silent auction containing unique items from the band and local donors, including signed posters, albums, and photographs not just from the music industry but film, sports, and the culinary world. The show itself was something a bit out of the ordinary for the guys. Having just played San Francisco at a Salesforce concert where they literally shut down the heart of the city, cranked up the volume, and played well into the night in front of city hall, the band opted for a smaller, more subdued evening—without the fireworks.
After a fiery set from openers Cage the Elephant, Metallica took the stage with four accompanists, including a pedal steel guitarist and additional percussionists. The results were unexpected to say the least: From a bluegrass version of "Disposable Heroes" to stripped-down renditions of "Bleeding Me" and "The Four Horsemen," the band found themselves not quite unplugged but slightly de-electrified.  
Fans had no idea what was coming next as the band leapt all over their catalog, from deep cuts and covers to the more predictable hits. The evening had a spaghetti-western vibe with a spooky ambiance that was unmistakably Metallica. Even in their out-of-body renditions, "Enter Sandman," "The Unforgiven," and "Nothing Else Matters" received the biggest crowd responses of the evening. Despite the long ticket lines and pricey admission costs, it was all worth it. As Hetfield said midway through the show, "Give goodness and goodness comes back."