BACKSTORY: A Brooklyn-based musician and visual artist finding his way back to his childhood love of Nicktoons- and MAD Magazine–inspired illustration
FROM: Shepherdstown, West Virginia
YOU MIGHT KNOW HIM FROM: His former role as touring guitarist for Midwest emo band The World Is a Beautiful Place & I Am No Longer Afraid to Die, or his current musical project, Spirit Night
NOW: Rolling out the first issue of his comic book Trouble with writer Andrei Alupului and prepping another titled Disrespect—as well as working on a fourth Spirit Night record and the debut LP of his new band, Miracle Worker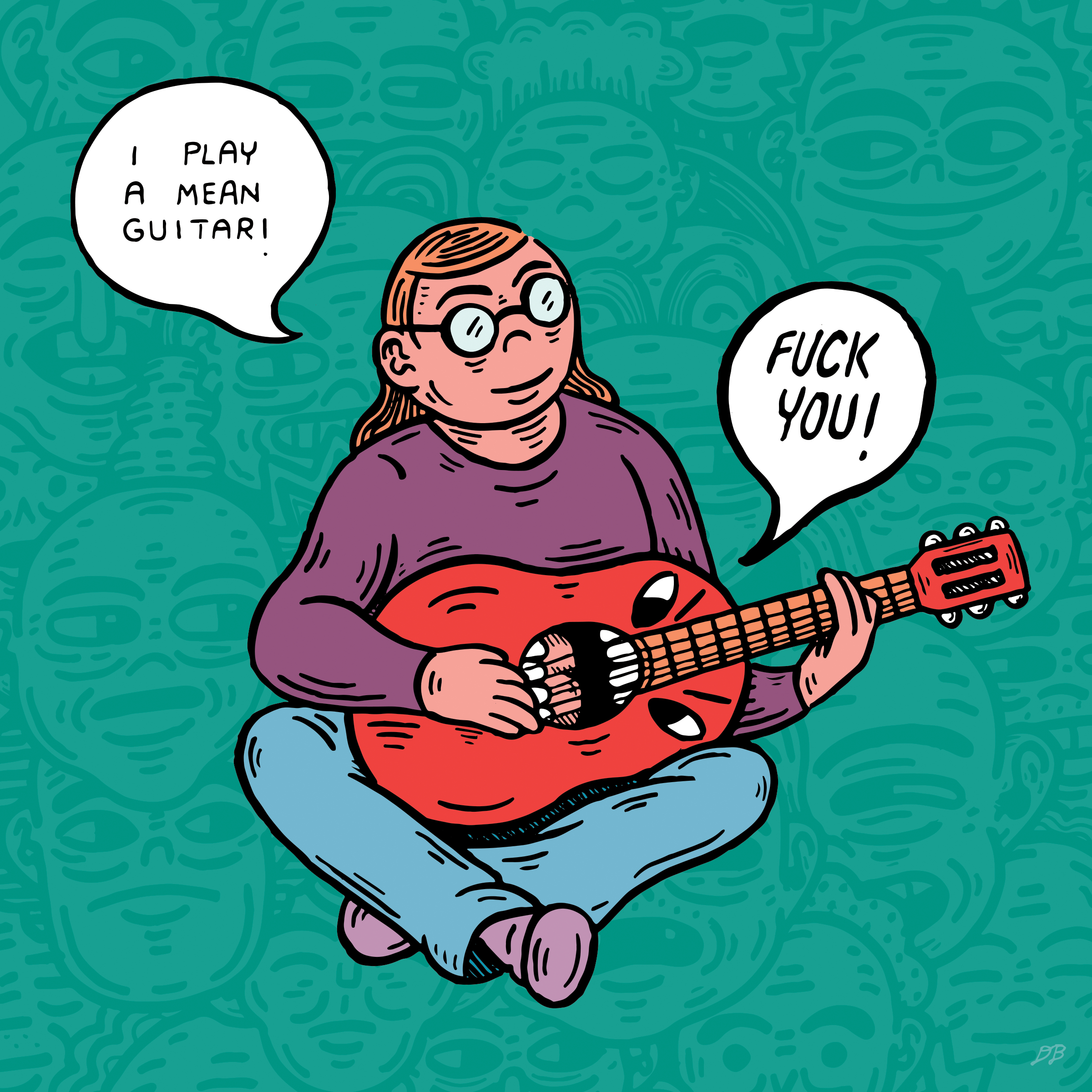 "I think it was a result of my dad having R. Crumb books around the house," Dylan Balliett muses, explaining his natural evolution from a preschooler drawing comic books to his current status as an adult…drawing comic books again, but with an unconscious populated by Robert Crumb's disconcerting imagery. Balliett's post-preschool art tends to echo Crumb's penchant for grotesque human forms, only the physical gross-out humor is swapped for an insecurity plaguing his characters that's nearly as upsetting—often depicted through the mature themes of Larry David–inspired social faux pas and David Cronenberg–incited body horror. "I drew a ton of comics all the time when I was a little kid, but I grew out of it as I got older," he continues. "I got more self-conscious and down on myself. I overthought everything."
Obviously, a lot has happened to Balliett between the time he picked up his first Crumb comic in the late '80s and when he began selling his art in the form of prints, shirts, pins, and zines on Etsy in 2015. Growing up around his parents' record store in West Virginia, where he was constantly subjected to the imagery of '90s alternative underground culture, his return to illustration seemed inevitable, even if this outlet was mostly eclipsed by music throughout his teens and twenties. "I always felt like comics were my passion," Balliett insists over the phone from his Brooklyn apartment. "It just felt like what I should be doing."
In recent years, Balliett has found a healthy balance between music and art, finding time every day to "draw anything," as he puts it. "There are no rules—it's really just about moving my hand, practicing." Common among his doodles are clusters of anxious figures most prominently featured on his band Spirit Night's Shame LP, caricatures he and his girlfriend lovingly refer to as his "guys." "It's kind of a joke. As in, 'Oh, are you drawing your guys again, Dylan?' And it just kind of stuck." His art book Funny Strange begins with a portrait of the artist enthusiastically welcoming you to "[his] terrible world," preparing the reader for a trip into the cartoonist's familiarly millennialist universe of social commentary and self-deprecating comedy, as narrated by Dylan-guys.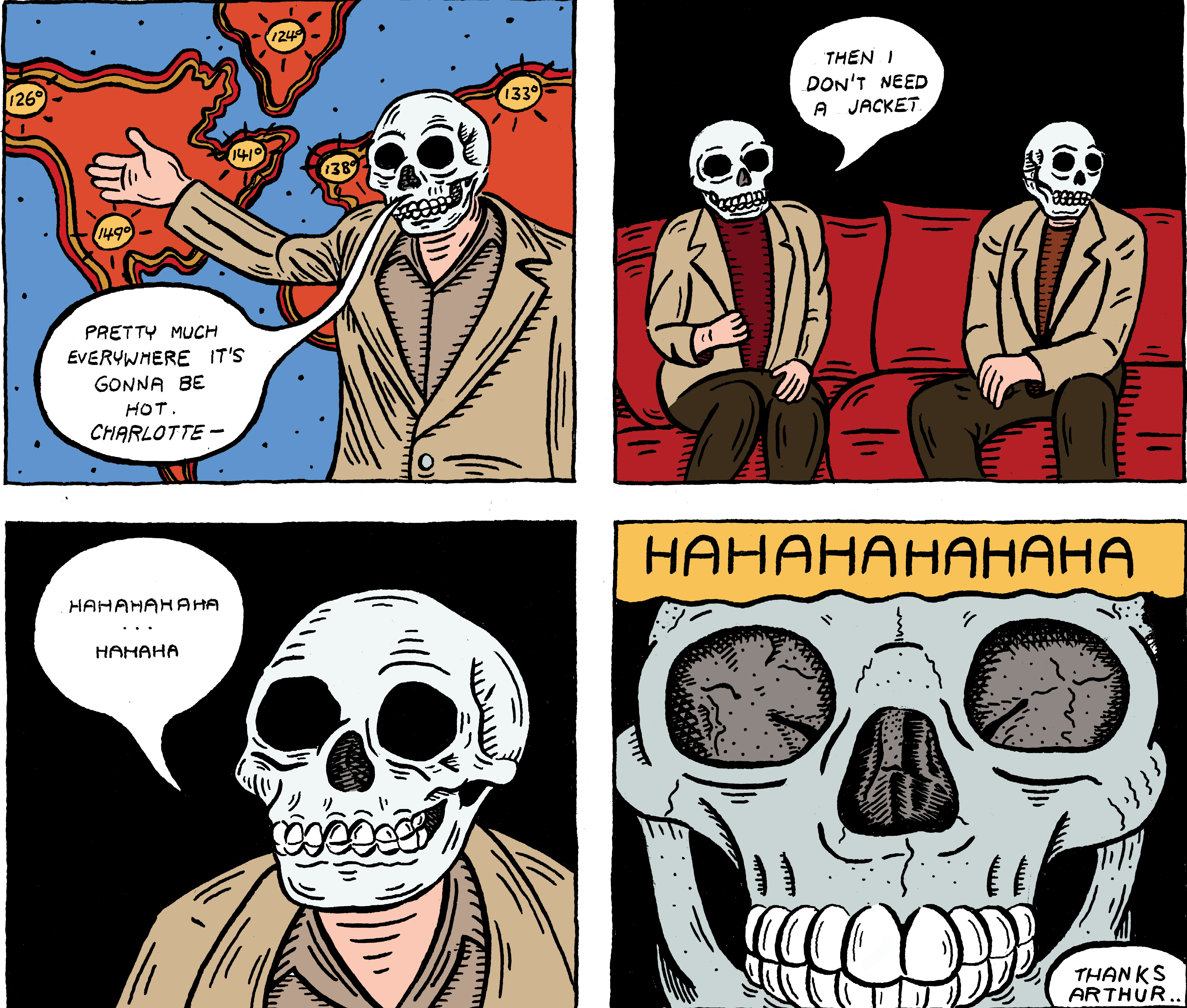 In the same way Dylan-guys inhabit their own universe, Balliett's humor remains a constant throughout his visual art. His pun-laden prints riff on everything from high art ("Ceci n'est pas une e-cig" written in an unmistakable font under a horizontal monolith) to low-brow Internet humor (a reimagination of that early YouTube video with the Haitian weather guy, only everyone's a skeleton), which, Balliett claims, sometimes develop organically from ideas he debuted on Twitter. One such case came about while he was helming the account of The World Is a Beautiful Place & I Am No Longer Afraid to Die, with whom he played guitar on tour in 2016: "For some reason I kept tweeting kinda cliché, memorable lines from books that you read in high school. I tweeted, 'Everything Was Chill and Nothing Harshed My Mellow, Bro,' like the tombstone in Slaughterhouse-Five. Obviously I'm just shitposting or whatever they call it on Twitter, just trying to make my friends laugh. That's kind of the goal of a lot of my prints, too."
With frequent guest appearances from beloved pop cultural figures, Balliett's growing presence online has led to his first—and hopefully last—legal hurdle: a cease and desist from the estate of Dr. Seuss over a print (reverently) recreating an illustration from Oh, the Places You'll Go!, bluntly captioned, "Fuck this place." "I wonder if Matt Groening is cool with the Simpsons reinterpretation," he ponders, of his t-shirt depicting Bart taking bong rips with Garfield. "I hope he is." FL
For more of Balliett's illustrations, check out the gallery below.
This article appears in FLOOD 9. You can subscribe to the magazine here.