William Tyler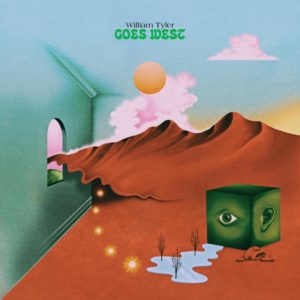 Goes West
MERGE
7/10
Foremost among his gifts, the composer and guitarist William Tyler is a supreme conjurer of a lost, semi-mythic America—think wide open frontiers, unending blue sky, limitless possibility. Equal parts rambling jazz and rustic folk, his compositions capture the vastness and solitude that stretches from sea to shining sea. All of that was writ large across his well-received Modern Country, but his new Goes West throws a curveball—namely, brevity. If Tyler presented himself as a landscape painter on his previous albums, he takes on the role of miniaturist here. And it suits him well: Goes West summons all the majesty and loneliness of his other work, but condenses it into his tightest, punchiest, and most palatable set of songs yet.
There aren't any eight- or nine-minute epics this time around—in fact, most of these songs hover closer to three or four. What there is is real refinement. Working entirely with the acoustic guitar, Tyler presents a series of sharp, crystalline melodies, each one unfolding with clarity and precision, none overstaying their welcome. Because he's working with smaller canvases, Tyler's able to draw more attention to his rich color palette. Just listen to "Fail Safe," where guitar notes ring out like church bells over the kick drum's steady thump, or to his fleet-fingered acoustic picking on "Call Me When I'm Breathing Again," unspooling like a river of endless tranquility.
Tyler's arrangements always feel too exacting to be improvisational, yet it's worth noting that he leans hard into jazz a time or two here, as on the wonderfully raucous opener "Alpine Star" and the shimmering mirage of a closer, "Our Lady of the Desert," where he's joined by legendary axman Bill Frisell. Hearing the two guitarists play off one another is reward enough, but you don't ultimately come to a William Tyler record for knotty solos or small-group kineticism. What you come for is that high-and-lonesome tunefulness, cavernous and wild—sounding like it could just keep ringing forever.