The National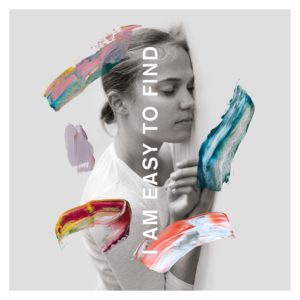 I Am Easy to Find
4AD
8/10
The National began as a pursuit of excellence, wide landscapes shrunken down to their basest elements in an attempt to tease out perfect morsels of sound. Lyrically, melodically, and musically, the Cincinnati-bred quintet presented moments of unimpeachable beauty, fleeting but powerful, as life's most profound moments often are. It's almost unrelatable how sturdy these monuments to life's traumas remain. From their breakout, Alligator, through 2013's Trouble Will Find Me, the band has followed this formula. But the songs became crisper, Matt Berninger's lyrics darker and more meditative, with each release. These were art installations as much as they were tracks.
With 2017's Sleep Well Beast, though, the diamond-sharp edges began to soften. Paradoxically, this meant a more radicalized, experimental approach. The guitar work of twin brothers Aaron and Bryce Dessner grew more idiosyncratic and layered. Berninger presented a vulnerability not always readily apparent in earlier work. The sibling rhythm section of Scott and Bryan Devendorf shifted from robotic to jamming. If before The National were insistent on following a consistent formula, by 2017 that formula had become a randomized path that veered off course as often as it stayed straight.
Sleep Well Beast found the band revitalized, yet not always certain that their new direction was worth following. With I Am Easy to Find, they stray outside the boundaries of anything they've done before.
The first thing you notice are the voices. Notice "voices" is plural. It's always been Berninger's quivering baritone and nothing else, but here, there are voices everywhere, many of them female. It adds colors to the palette we never knew were needed—and now that they're available, they make all the difference. These changes make The National sound young. They've always been engaged, but here, the reset proves invaluable.
"Quiet Light" teases out rumbling synths and airily strummed acoustic guitars that sit in the back of the speakers, adding more texture than melody. Sings Berninger, "I'm learning to lie in the quiet light / While I watch the sky go from black to gray / Learning how not to die." It's as much about his band as it is about a dreary evening of heartbreak.
At sixteen tracks, I Am Easy to Find is always at risk of losing itself, but at this point, The National are embracing chaos and chance in their music. They've long been maximalists in philosophy, if not always in sound, and that's mostly how they operate here. There are fewer layers, less fireworks; every part coalesces quietly.
Take "Not in Kansas," the record's seven-minute emotional center. Berninger's voice is barely above a whisper, slurred and exhausted. "Move back home with mom and dad / the pool is drained and they're not there," he sings. It's an imagined past, the ghost of something that never existed. It's one of the prettiest National songs to date, slow and melting and full of heartbreak. Berninger is almost freestyling here, looser than he normally allows himself to be. We get references to R.E.M. and movie sequels, Annette Bening and The Wizard of Oz.
So often, The National's music exists outside of time and space because Berninger's words are so impressionistic. This time, they're grounded in our reality. We finally share the world they do. It's album number eight, and the band has gotten a little weirder, a little more like the rest of us.