Do you love house music and camping? DJ Claude VonStroke has got a party for you. The 2019 edition of the Dirtybird Campout West is coming, and the lineup is as strong as it is diverse.
RELATED: Movement Festival Detroit 2019: State of the Techno Nation 
While dance music is still the driver, this year's DCW will feature an array of artists ranging from intimate R&B singer Jhené Aiko to Detroit funk legend Amp Fiddler. LA's own Dam-Funk will bring that West Coast retro-bump to the proceedings, with Jurassic 5 DJ Cut Chemist, Josh Wink, Dillinja, and DJ Holographic in the mix. Reggie Watts will also be there as part of Wajatta, a collaboration with techno artist John Tejada.
See the full lineup below.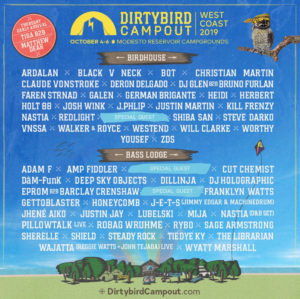 Like any good music fest, Dirtybird Campout 2019 will offer plenty of things to do other than dance to your favorite tunes. Fans should look forward to a host of camp-appropriate activities while noshing on BBQ. As they say on the event website, you don't go to Dirtybird Campout, you make Dirtybird Campout. Tickets for the October 4-6 event at the Modesto Reservoir Campgrounds are on sale here.
Watch a lineup announcement trailer below.