ILoveMakonnen's relationship with food is complicated. Born and raised in Los Angeles, the rapper wasn't exactly your typical American kid when it came to eating.
"My family here in LA was from Belize, so there was a lot of Carribbean and island food around to eat. Jerk chicken and patties, stuff like that," the rapper born Makonnen Sheran explains, looking ever the portrait of postmodern cool in a bright orange hoodie and oversized sunglasses. He's just arrived in a kitchenette area of the sparkling new Warner Records building in the Arts District of Downtown Los Angeles, now commonly referred to as "The Row." It's an area now awash in new boutiques and coffee shops, with Spotify set to occupy a building nearby.
"As a kid, I was what they'd call overweight," Makonnen continues. "My dad was mad at me for having, like, a thirty-four-inch waist in eighth grade. We'd be at the store trying to find pants and he'd be upset about it." The rapper laughs easily at the memory. "I've always loved food. It's my thing. I find it comforting. It's a relationship I'm still in."
When he was thirteen years old, Makonnen moved from Los Angeles to live with his mom in Atlanta. The culture shock was real, especially when it came time to eat.  "My mom was a full vegan. That's when I learned about nutrition and not being on as much dairy, cheese, fried foods," he explains. "I was able to slim down and get a little figure living with my mom. It wasn't easy at all. It's like withdrawals off of anything. I loved it, though. It was challenging, and I like challenges and to overcome things. It was definitely a big part of my life. I still eat like that now. I picked up more on those traits that my mom taught me. My mom coined the phrase 'drink more water.' I just made it a hot line," he quips, referencing the title of his famous mixtape series.
Like a lot of American kids, the rapper would pick up tips and tricks about life from extended family—primarily, his cousins. "Growing up the way I did, there were a lot more cousins around than adults. So your older cousins learn how to cook, and you learn how to cook from them. It started with a peanut butter and jelly sandwich. Then I started to make eggs, sausage, waffles, pancakes—it was breakfast all the time." With lots of family living in the same general area of Atlanta, gatherings were a regular occurence. Running with his cousins, a young Makonnen was at the heart of a family drama that's come to be known as "the bread pudding incident."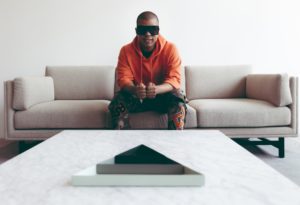 "When I was a kid, we lived down the street from my aunt. My grandmother made this big bread pudding. It's a tradition in the islands, with rum and everything. A big dessert cake. The tray was huge. It was too big for me to carry," he chuckles at the memory. "We had to drive it, like, three blocks to a family party. My oldest cousin was behind the wheel, and I was in the passenger seat with the pudding on my lap. He was driving and on that older cousin shit: windows down, bumping the music all loud, showing out. We got to the last turn before the house, and his driving caused the pan to burn me on my leg. I screamed and the whole pan flipped over inside the car. There was bread pudding everywhere. To this day, that car still smells like bread pudding. I was so embarrassed. After that, I was out of the kitchen for a while."
"I've always loved food. It's my thing. I find it comforting. It's a relationship I'm still in."
While we're talking, a food delivery service drops off a steaming bowl of ramen from local favorite Jinya. Digging into the thick broth, Makonnen explains this is how he eats in Los Angeles. He's usually here on business, and relies on the city's vast and growing network of quality restaurants. When he does get a chance to really cook in the kitchen, he makes it count.
"I like to prepare a nice baked salmon with some rice. That's the main go-to. I'm working on some special recipes. I do this peanut butter chicken that my mom taught me, where you bake the chicken with the peanut butter coated on it. It's really good," he shares between bites of noodles. "When I'm living in places like Oregon, that's when I have the time to get in the kitchen. I'm trying to get back out there soon."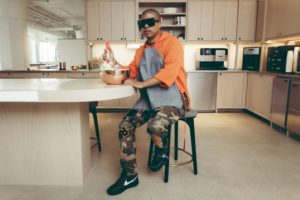 The rapper lights up when he talks about the place where "she flies with her own wings," per the Oregon state motto.
"I love Portland a lot. Nobody bothers me there. The rain is cool, and there's always someone there doing something cooler and more interesting that I am. I just geek out over it," he raves. "There are so many creatives, and you'll see someone, like, sixty-five years old with blue hair out walking in the forest. It just makes me feel comfortable, like myself. Anywhere else, and I feel like I stand out.
"The people in Portland are very knowledgeable and open about sharing what they know about good food, good living, and good vibes," he continues. "People really trying to help you enjoy and have a better life. There's like no stress, even though it's kind of gloomy. I'm used to it. It's comforting to me."
"People still ask me: 'Aren't you tired of 'Tuesday?' Don't you hate having to perform it?' I'm like, 'No, that's my favorite song.' It's the real thing."
It only takes a few spins of iLoveMakonnen's latest album, M3, to hear a sense of maturity and acceptance in the music. The rapper tends to agree. "It's personal, but it's fun," he says. "With me and my music, it's like the most serious relationship that I have in my life. So I always express how I'm really feeling in my music. Even when I'm in another relationship with a person, I can't always express how I'm feeling. So we end up in conflict." He shrugs. "Over the last few days, I've had so many friendships and relationships end, and just read me to filth. But they know that the music is my main thing, and it's where I'm the most honest. Do I ever see that changing?" Makonnen smiles, as if answering his own question.
"People still ask me: 'Aren't you tired of 'Tuesday?' Don't you hate having to perform it?'" he explains with a laugh, referencing the song that made him famous and launched the career that's landed him here in the shiny new Warner Records building, on the verge of an album release campaign. "I'm like, 'No, that's my favorite song.' It's the real thing. All I have is good memories from it. I'm down to relive that good memory every night." FL
---
This article appears in FLOOD's Passion Issue #2, powered by Toyota Corolla. Click to read or download the full issue below.