Erin Birgy has long existed somewhere between the surreal and the real. "I don't have very good boundaries in different realities," says the artist best known as Mega Bog. "They often merge together." 
Birgy's muddy boundaries apply as strongly to her real life existence as to her imagination, and across five albums, her music has consistently bridged the gap between the two. Dolphine, the most recent of these records (and her first for cult-favorite label Paradise of Bachelors), finds Birgy adventuring through thrilling, whimsical wonderlands of images and narratives both fantastical and natural, populated by recurring characters as vague as they are nameable, and arrangements as experimental and free as they are steeped in '60s and '70s rock traditions. Atop her soundscapes, Birgy's voice beckons and ricochets as she delivers sermons about escaping the modern world.
Although every tale on Dolphine—no matter how absurd its details—is to at least some degree based on Birgy's life, Mega Bog lyrics tend not to heed to the partitions most people establish between our world and the next one. Specifically, to Birgy, nobody ever quite dies. "When I've lost people that I really love," she says, "it isn't me examining the loss, but conjuring up all that they are still within me, and how these characters are still alive and thriving in the world." Unfortunately, she had plenty of loss surrounding her recently, and the deaths informing the album often came in pairs.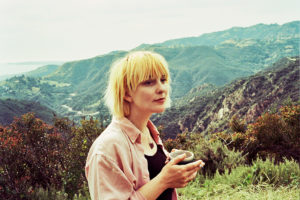 For starters, there was Birgy's horse Rose, who was less her companion and more her second mother. "Growing up, it was Rose and my mom and me together," she explains. Living in rural Idaho, Birgy's experiences with Rose hinged on what many urban dwellers would see as strange: "We would ride Rose to the grocery store because we didn't have a car," Birgy remembers. "She was someone I learned a lot from." When she died, Birgy felt as though "one of my parents had passed away."
As Rose approached her final days, yet another death occurred—but this one also represented the possibility of life. "Rose was sick, and then I became pregnant," says Birgy, and the simultaneous contrast of a departure and arrival went on to inform Dolphine's fascination with the blur between tangible and intangible worlds. Birgy chose to have an abortion, and because she did so as Rose was dying, she became filled with superstition: "I'm gonna have this baby, and it's gonna be a horse," she recalls thinking, a thought as absurd as it was serious to her. "When I didn't have it, I was like, 'I would be the one that would have the horse baby, and I didn't let it happen.' I was really devastated."
Later on, Birgy learned she was pregnant again. The day after this news, she found out her close friend and collaborator Ash Rickli's heart had stopped at a show in Athens, Georgia. Although Rickli's voice is immortalized on Dolphine's barest track, the traditional folk song "Spit in the Eye of the Fire King," Birgy wound up turning the end of his life into another one of Dolphine's morbid touchstones. "It seemed important to include [the abortions]," she says, "because it was the option of life happening simultaneously with two major deaths and trying to understand that, and choosing not to bring that life further on into the world, but still wondering how it exists."
Identifying precisely where on Dolphine Birgy addresses these deaths can be challenging, as she tends to write lyrics that, without context, can scan as vaguely meaningless. For example, while nearly every line on campfire-song-meets-country-romp standout "Diary of a Rose" appears entirely fantastical, Birgy insists each lyric alludes to someone or something she knows. While recording, she usually assumes that her collaborators understand her lyrical references, but she often comes to realize that her poetry is as coded to them as it is to the average listener. 
"I'm always trying to perpetuate that sort of mysterious perspective that's not really a mystery in my mind," she says. The album's most eyebrow-raising images, primarily tied to flora and fauna, are slinky and unforgettable: "A troll eating her skin" ("Diary of a Rose"), "I seek out the only other lizard on earth who's ever known me" ("Shadows Break"), "An abdominal of small snakes writhe" ("Waiting in the Story"), "As foxes bloat up eastern expressway shoulders / Aloe breaks an arm" ("Untitled (with "C")").
"The images in that song are beautiful things that are ruined because of a really fucked up capitalist system."
"The trolls and natural objects are images and characters that I've had in my psyche my whole life," Birgy says, attributing their permanence to her love of sci-fi and fantasy, "and can refer back to for different situations." That lyric about foxes and aloe, on the other hand, comes from what is perhaps Dolphine's most grounded set of lyrics, speaking to a prominent human tragedy. Birgy wrote the hymnal, string- and brass-flanked "Untitled (with "C")" as a dedication to Philando Castile, the black man whose 2016 police killing sparked national outrage (as is often the case, Castile was unarmed). 
"The images in that song are beautiful things that are ruined because of a really fucked up capitalist system," she notes, lamenting "how people treat other people and creatures as less, and how despicable that is, when everybody's so valuable and important." No wonder the song contains what could be the most straightforward lyric Birgy has ever written: "Another murder should still disturb you / Delivered like clubhouse music to a white supremacy / Loneliness like this one cannot last."
Castile's death, yet another of the many examined on the record, stands in for the gradual death of a larger global structure: democracy. "People are being exterminated because of certain qualities. You have to at least talk about it and recognize it," says Birgy, "otherwise, that will just happen. Everybody will be murdered, and the people that are most valuable to us growing as non-facists [will cease to exist]." 
Even if these challenging conversations take the hazy form of Birgy's psych-pop sketches, they prove crucial to engage in: Fictional depictions of facism in film, TV, and literature may sometimes feel too fictional, but the central thesis of Dolphine and of Mega Bog's larger body of work is that very little separates the surreal from the real, in the end. FL