This article appears in FLOOD 10. You can purchase the magazine here.
---
MEMBERS: Eva and Sam Hendricks, Dan Shure, and Spencer Fox
FOUNDED: 2012
FROM: Connecticut; now living in New York
YOU MIGHT KNOW THEM FROM: Their explosive breakthrough debut full-length, Guppy
NOW: Touring their sophomore album, Young Enough, that has proven they're a true force to be reckoned with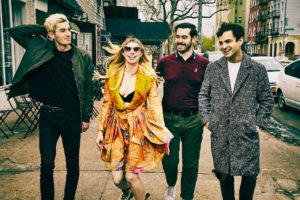 "It's like you're one of those little foam dinosaurs that you put in water, and they get really big," says Eva Hendricks, the spark-plug lead singer and lyricist of burgeoning power-pop outfit Charly Bliss. It's a sunny spring day and we're with the rest of the band—her older brother Sam, the drummer, and their childhood friends, bassist Dan Shure and guitarist Spencer Fox—in a North Williamsburg café, chatting about their sophomore record.
It's been just over two years since we last spoke, right before their cheeky debut Guppy came out in 2017, when the band were newly twentysomethings. A lot has changed since then. That's why Eva, bright blonde and vivacious as ever, wearing her signature glitter eyeshadow, is describing herself as a Magic Grow capsule. "There's this fact of being a certain age, from your teens to your early twenties, where you're just like, 'I did that a year ago? No way! I'm so different now!' It's like, expedited growth."
Eva, now twenty-five, is talking specifically about the title track of the forthcoming Young Enough. Lyrically, she says, the track reflects on the anger she expressed on Guppy. "We're young enough / to believe it should hurt this much," she sings, her tireless voice mellower than usual; "I had to outgrow it to know or destroy you." She calls this potent slow-burn the album's centerpiece, because it's about "what it means to come out the other end of a really terrible situation" as a softer person, about looking back at yourself with kindness and acceptance, about recognizing you've evolved. "You gotta go through it," she says, addressing her younger self, "but it's not who you are forever."
"Sometimes I'm nervous that we're too insular. Someone from another band will come and talk to us and we'll start speaking in this code that's all inside jokes." — Sam Hendricks
The members of Charly Bliss have been close friends for about ten years, so they've witnessed the growing up Eva is discussing firsthand. As siblings, Sam and Eva have known each other since birth; Sam met Dan at summer camp when they were in grade school—they used to play covers of Green Day, Red Hot Chili Peppers, and Radiohead together—and Eva and Dan were sweethearts; then the three of them met Spencer, a fellow Connecticut kid, at a Tokyo Police Club gig in New York City as teens. Not long after, Eva's high school musical theater–hewn vocal chops and brash lyrics merged with her brother's sharp hooks, and the four of them began to forge their fiery, stadium-bound pop-punk sound.
After eight years as a band, Charly Bliss' unfuckwithable chemistry has only gotten stronger. "It just gets better," says Sam, who's lanky, earnest, and excitable, and has recently been sporting a platinum coif, when I ask them about their relationship. "Sometimes I'm nervous that we're too insular. Someone from another band will come and talk to us and we'll start speaking in this code that's all inside jokes." Spencer cuts in with his wry sense of humor: "This person thinks we are insane!" 
This is an outwardly goofy, charming foursome, but it's clear they take themselves seriously and work hard. While Guppy took years to complete—they recorded it twice, and some of those songs were almost five years old by the time they came out—Young Enough is the product of complete concentration. After Guppy, each member of the band quit their steady barista and bartender jobs in order to become completely engrossed in the songwriting process. They're a little bit more broke now, but, "Because of that," Eva explains, "we were able to figure out what would come if we pushed ourselves beyond our first instincts."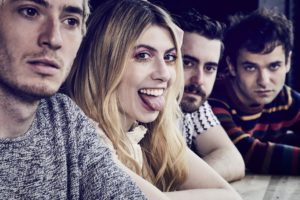 Not always trusting their initial impulses is something the band can all agree on, as evidenced by the re-recording of Guppy, and their penchant for what they call the "Frankensong." Guppy's standout, the firecracker breakup track "Glitter," was one of those; it went through rounds of editing and rearranging until all that remained of the demo was the pre-chorus. The VIPs this time are "Capacity" and "Chatroom," also Frankensongs. "Capacity"—a sparkling, characteristically feisty, anthem-sized song whose tempo, Sam says, was designed specifically for strutting down the street—was tabled before the band "reopened the case" many months later, during pre-production with producer Joe Chiccarelli (The Shins, The White Stripes). 
With "Chatroom," a scrappy, gambolling track that's so personal Eva says it kept her up nights before its release, almost the whole song struck her at once—except the chorus. The song sat for a long time, and then, out of nowhere, when Eva was watching Vanderpump Rules, that springy, "I'm not gonna take you home / I'm not gonna save you" finally came to her. "Really great ideas come when you've gone past the point of, 'This is what I was struck with, I'm just gonna go with it!,'" she says. Spencer adds: "We wanted the songs—before any layers of production or overdubs or anything—to be standalone products, and things we were proud of." 
"I was trying to be completely honest, and not always go with my first instinct, which is to be sarcastic or to deflect." — Eva Hendricks
On Guppy, Eva poked fun at herself lyrically, but on Young Enough she resists the urge to swerve sincerity. "I was trying to be completely honest, and not always go with my first instinct, which is to be sarcastic or to deflect," she admits. Eva's still singing about cute things like bathing suits and kissing boys, but now there's more sex and nakedness ("I'm fucking joy and I hemorrhage light," she belts on "Bleach"), more confessions of fear and pain.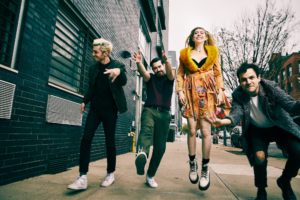 Inspired in turn by Lorde's Melodrama, Superorganism, and recent tours with Bleachers, Wolf Parade, and Death Cab For Cutie, the foursome is especially pleased with the way Young Enough sounds dynamic, forthright, and full of feeling. "It's still explosive," still has that frenetic Guppy spirit, Spencer notes, "but it's more emotional." They strove for diversity of sound, allowing the songs to have "more space," to not always be "in-your-face" and "at 110 percent," an approach that led to roomier, more languid tracks like "Young Enough" and "Hurt Me."
Part of that dynamism came, quite literally, from the iPad Eva's mom got her as a birthday present. The synths you hear on Young Enough are still the samples and presets from when Eva was messing around with GarageBand. "There's this charm to the Logic Pro stuff," Sam enthuses, laughing. "Totally stock. Not manipulated. I think it's cool that we preserved some of that original energy."
"None of us are synth wizards yet," Eva confesses. "But there's something really wonderful about trying your hand at something you don't know much about. You don't know what's cool and what's not cool to do. Feeling total freedom of experimentation." They're a little jittery about figuring out how to play these songs live, but Eva was jittery before "Chatroom" dropped too, and that experience was ultimately cathartic.
"I'm always nervous," Eva concludes. "But it feels good to have songs that are still changing every time you play them, because you're reviewing what's working and what's not working. And to be really nervous—it feels really good." FL