This article appears in FLOOD 10. You can purchase the magazine here.
---
If you were in New York a decade ago, you might have seen the folk-rock duo She Keeps Bees performing alongside Sharon Van Etten, Julianna Barwick, or Cat Martino in a venue like The Cake Shop or Glasslands Gallery. Both venues are now long gone, but She Keeps Bees have stuck around.
Andy LaPlant was working as a recording engineer when he met Jessica Larrabee, who was already writing and performing solo as She Keeps Bees, in 2005. Both had relocated from their respective homes in New Orleans and Philadelphia to become a part of Brooklyn's thriving indie music ecosystem. "We became friends because I found out that he was an engineer," remembers Larrabee. "We became fast friends and then we fell in love."
The duo released their first album, Minisink Hotel, in 2006, and recorded three more, Nests, Dig On, and Eight Houses, before relocating upstate in 2015. They now live on sixteen acres of land near Poughkeepsie, bordering a section of New York's Hudson Valley that has been labelled "The Camptons"—a portmanteau of "Catskills" and "Hamptons"—due to an influx of bougie New Yorkers buying property there.
It wasn't cheaper property taxes that attracted LaPlant and Larrabee, but rather the luxury of being able to make noise without complaints from the neighbors. At the beginning of 2018, they took advantage of the situation and recorded their fifth album, Kinship, in a home studio they'd set up inside a former caretaker's cottage. "The people who own the whole property only come up on the weekends, so we could be loud and not have to worry about annoying anybody," says Larrabee. It also allowed them to take their time and let their instincts shape the work. "If something struck us late in the night, we could do it," she adds. 
Larrabee was particularly interested in testing her mettle on the piano—which, when juxtaposed with her rough-edged guitar playing, added a special kind of duality to the framework of Kinship. They also employed the skills of bassist Kevin Sullivan and multi-instrumentalist Eric Maltz—who contributed strings and keys—to add different textures. "We were always this two-headed monster creating within ourselves," Larrabee jokes of the band's previous releases, in which they enlisted no outside help. "But it's fun to collaborate."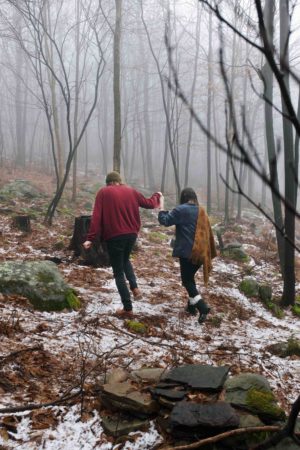 The band has never been shy about raising their fists. In 2017, they released a two-song EP and donated all proceeds to Planned Parenthood and Earthjustice. Both tracks are full of rage; Larrabee's guitar and voice have seething tones that attach to the urgent matters she's describing. "It's not a joke, he aims to knock us over," she sings at the beginning of the second track, "Head of Steak," challenging Donald Trump's decision to leave the Paris Agreement. "[You] poison our water for a fucking dollar," she snarls later, before likening the president to an emperor with no clothes on, walking bare-assed in a crown.
"I was reacting to the new administration and I was aggressive, I wanted to yell and scream and have distorted guitars," Larrabee says of the EP. "This album was more of a response than a reaction. I wanted it to be as beautiful as possible because of all the toxic aggression, dominance, tyranny, and greed [that's out there now]."
"This album was more of a response than a reaction. I wanted it to be as beautiful as possible because of all the toxic aggression, dominance, tyranny, and greed [that's out there now]."
There's a line toward the end of the Kinship track "Dominance" that also doubles as a mantra. After singing "dominance is a dead end," Larrabee repeats the line "restore the balance." It's a response to "seeing and feeling how things are out of whack," she tells me.
"It seems like tyranny is winning," she continues. "The way that I was trying to respond to this toxic masculinity was to use the natural world as a metaphor for changing the polarity. It's not allowing any conversation, because it's just aggression against aggression. We're taking the humanity out of each other. I can see it in my own family members. They're like, 'Whose side are you on?'" 
To restore the balance, Larrabee turned to nature, gaining inspiration from the late folk singer and water activist Katie Lee. Lee fought for years to prevent the damming of the Colorado River, and was active both on the ground and in her music, where she expressed her love for the river and the canyons it ran through. 
"Unfortunately, when I learned about her it was through her obituary," explains Larrabee. "But I wanted to learn more, so I watched these mini-documentaries and read about her and I just fell in love with her energy. Then I noticed that we shared the same birthday. The more I heard about how passionate she was about rivers, and then seeing the old footage of them, I realized I felt the same way about trees. She sings for rivers and I sing for trees."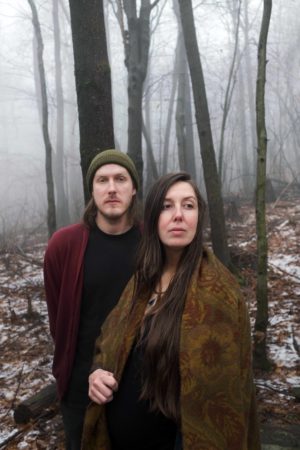 A course Larrabee took in astrology was also instrumental in shaping her understanding of the natural world. She says it was a pragmatic course that used myths and legends to help discern what's happening in the night sky. "It gave me a good foundation, because it's very creative in its optimism," she says. Larrabee used this optimism to draw a line between nature, humanity, astrology, and music. 
"If we take our time to daydream with nature, maybe our answers will come if we allow them to," she adds. "There were a couple books I was reading, one [The voice of the infinite in the small by Joanne Elizabeth Lauck] where this biologist was saying we didn't take over the world by combat, but by continual cooperation, strong interactions, and a mutual dependence on each other. These economies, they work for everybody because it's a symbiotic experience. I wanted it to come back to something that was communal."
By connecting these themes and considering the weight they all carry, Kinship is unusually optimistic. Larrabee says their objective was "to dance and to bring beauty in a way that [helps us] come together." 
"Music has saved my life so many times," she concludes. "If I could do that for anybody, then that's all I could want from what I do." FL