The Roots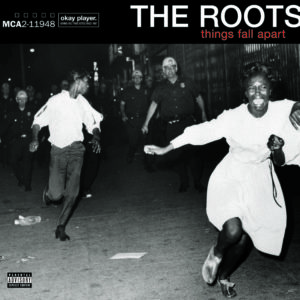 Things Fall Apart 20th Anniversary Reissue
GEFFEN/UME/URBAN LEGENDS
9/10
"Now it's time to spark shit," declares one song on The Roots' landmark album Things Fall Apart. Back in 1999, the legendary Philly rap crew was sparking shit all over the place. Famously recorded in marathon sessions of unbridled creative vision—the same sessions that also spawned D'Angelo's gnarled and knotty Voodoo, Erykah Badu's R&B masterclass Mama's Gun, and Common's adventurous Like Water for Chocolate—Things Fall Apart is the work of a band who could scarcely contain all their great ideas. At eighteen tracks in seventy minutes, Things Fall Apart has room for posse cuts and drum 'n' bass love songs; spoken-word poetry and svelte, fleet-footed rap extravaganzas. Yet there was enough creative spillover to generate not just those three additional albums, but now a twentieth anniversary re-release with ten bonus cuts. A couple are mere historic curios, but most are good enough they could have made the final album sequence at no expense to its masterpiece status.
Part of what made this such a singular era, not just for The Roots but for hip-hop culture in general, was the sense of community that was fostered around these sessions. Things Fall Apart has guest turns for Badu and Common, even an uncredited appearance from D'Angelo; it also casts Mos Def, J Dilla, Beanie Sigel, Jazzy Jeff, and a host of other luminaries, a few of them coasting at their commercial peak, but most hungry up-and-comers. It's a summit meeting of black bohemians that's largely without precedent (Robert Glasper's subsequent Black Radio series, maybe), and one of the record's notable features is its generosity of spirit: Even before they conjoined their fate to Jimmy Fallon, The Roots were game collaborators, slotting guest musicians into clutch positions with the savvy of a great casting director.
Things were coming together for The Roots, who would win a Grammy and a new level of fame for this album; alas, in other respects, the title of the album proved prophetic. This would be the last Roots album to feature regular contributions from Malik B, the MC whose descent into addiction was cataloged with sensitivity on the following Roots album, Phrenology. His verses on Things Fall Apart constitute a fine legacy, and his hardscrabble, tough-taking style contrasts nicely with the easy-flowing allusions and fluid wordplay of Black Thought. Thought embodies an old-school battle rap style that would soon begin to drift in and out of fashion, in large part due to the emergence of more character-driven rappers like Kanye West; but his rhymes here hold up beautifully. He both preaches and exemplifies black excellence throughout, his why-I'm-doper-than-you obsessions feeling less like boastfulness, more like an admonishment toward rigorous creative vigor.
The 20th Anniversary package is decked out with essays, photographs, and those ten new cuts, a few of which Roots obsessives won't believe they ever lived without. Perhaps the most meaningful collectors' bait is the original "drums/bass" miss of "You Got Me," with Jill Scott ably standing in for Badu. But don't sleep on "What You Want," deliriously swaggering R&B featuring Black Thought at his most no-nonsense; "Quicksand Millennium," which shrugs off the apocalypse amidst a flurry of percussion; and an alternate version of "The Lesson Part 3," impossibly funky, presaging the more aggressive direction the band would take on its next several albums.
Maybe that's the biggest takeaway from this new package: Things Fall Apart felt at the time like a mission statement, codifying the positive-thinking ethos of the neo-soul era and rebuking the hollow materialism that had come to define so much of hip-hop culture. Listening back, it's just as easy to hear it as a trailhead, a summation of strengths that pointed The Roots in a number of different directions. They would go on to make records more hard-edged, more eclectic; arguably more ambitious, and in the case of their still-underrated undun, more focused in its storytelling. But they haven't yet made a record that felt as alive with possibility as this one, a record that still sparks shit today.