In 1990, Andy Howell, Steve Douglas, and Paul Schmitt decided they'd finally had enough. After years of skating for larger corporations, they launched New Deal Skateboards, the first skate brand founded and managed directly by skaters. Not that it lasted long: Come the twenty-first century, New Deal had all but fizzled out, with each of its founders working on other projects. With the advent of social media, though, Howell came to learn that New Deal, in the eyes of its followers, never died.
"For the last ten years," says Howell, "I've been getting social media [messages] saying, 'I grew up riding New Deal, and what you did as an artist who's also a founder of a skate company inspired me, being able to create your own direction and write your own ticket. It really drove me to follow my dreams creatively.' We didn't realize we were making that kind of impact. We were just doing what we had to do to express ourselves creatively."
As New Deal approached its thirtieth anniversary, Douglas realized that the company's still-enduring legacy might provide a natural foundation for a New Deal revival. He suggested a relaunch, though he understood it wouldn't be complete without including the artists the brand has influenced. "What would it be like," Douglas and Howell asked, "if these artists reimagined New Deal and what it might look like [now]?"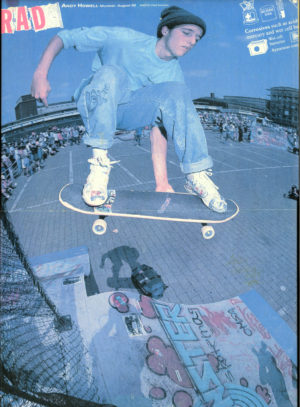 That question led Howell to consider hosting an art exhibition, and he knew exactly the longtime friend who could bring the dream to life: Shepard Fairey, the artist famed for his ubiquitous Barack Obama "Hope" poster, "Andre the Giant Has a Posse" street art, and OBEY Giant design line. Fairey, who ardently followed Howell's art well before the two met in the early '90s, became Howell's closest collaborator on the exhibition, titled New Deal 1990. Not only is Fairey's Los Angeles gallery, Subliminal Projects, home to New Deal 1990, but Fairey is also the exhibit's co-curator.
"Connecting with Shepard and hearing how he was inspired by New Deal was great," says Howell. "Seeing where he's gone with his art and how he's affected culture is amazing. There are a lot of people like that in different areas of culture that cut their teeth in skating in the late '80s and early '90s."
Together, the two have recruited forty artists to showcase at New Deal 1990, which will preview next year's relaunch of New Deal Skateboards as the New Deal Heritage Collection 2020. Don't conflate the show and the relaunch, though: "The art show is its own standalone thing," explains Howell. "There are so many artists inspired by us that there's a cool opportunity to have a conversation about what they're doing now. If they were around in the '90s, in most cases, what they're doing now is very different from back then. For the younger artists, it's a completely new generation."
The breadth of New Deal 1990's showcasing artists attests to the exhibit's cross-generational mission. A shortlist of highlights: Revered photographer and skateboarder Ed Templeton, a Howell contemporary; Emmy Award–winning director Jose Sebastian Gomez, who cites skateboarding and street culture as major influences on his work; and iconic Space Monkey creator Dalek. Although these artists' creations span vastly different mediums, New Deal's thumbprints are undeniable in all their aesthetics.
For New Deal 1990, Howell and Fairey asked the artists to fulfill Howell's ultimate showcase goal to a T. "The premise was to ask them to reimagine [the era]," Howell says. "The common thread is the inspiration of New Deal in their lives firsthand, or a newer generation looking back to that era as [important]. It's an interesting cross-section of people. The younger artists reimagine it in a completely different style. Sometimes the artists have their own visual language that they've created. They've taken that and ran the New Deal aesthetic through their own filters. Each artist had their own way that they remembered it."
This commemoration is the entire point of not just New Deal 1990, but the New Deal Heritage Collection 2020. "When we decided to relaunch the company," Howell recalls, "we said, 'Let's not just make this a heritage company. Let's really dig into the creative side of it and do what we did back then: Provide a platform, connect with these artists, and open these doors to a younger generation to say, Hey, you can do this on your own.' We've reached out to the artists that have connected with us over the years and [asked] if they want to [work] together. Seeing what people are doing with the art show really stretches my imagination of what the brand can be. It can be as focused on art as it is on skating."
Although New Deal 1990 is taking place in Los Angeles, the City of Angels might not be the exhibition's final stop. Howell says he's putting the gears into motion to "travel this concept of New Deal 1990 around the world. We can reach out to local artists around the world who were touched by it and regionalize it. We've already been approached by folks in different countries who want to do it." Between the creativity bursting forth at the LA event and the rush of interest in future exhibitions, Howell feels he's accomplished his mission: To revive New Deal, highlight artists active during the brand's original run, and include creators whom the brand inspired long after its heyday. "I've seen the creativity and art that's been coming out," he says, "and it's already a complete success." FL
New Deal 1990, an exhibition and launch event, will take place Saturday, September 28 from 7-10 p.m. at Subliminal Projects. You can RSVP here, and click through to see more images from the show in the gallery below.