Matt Saincome, Bill Conway, and Krissy Howard—the ringleaders of the satirical site The Hard Times—weren't even born when punk started. But their new book, The Hard Times: The First 40 Years, imagines a world in which the trio grew up in the first decades of punk, a world in which The Hard Times was not a website but a zine whose pages reeked of pot, that would become more revered than Rolling Stone. 
In the book, the trio dons new personalities with the ease of putting on a well-worn vegan leather jacket. Saincome is cowardly but ambitious, with dreams of building the Hard Times empire to heights that would make nineteenth-century Britain jealous. Conway is illiterate and prone to getting his ass kicked. Repeatedly. And Howard is somehow the most stable of the three, and saves the day. Repeatedly. (Howard was adamant that she be the hero or she would not help edit the book.) These three characters guide readers through the history of punk, from the 1970s until now, one headline at a time.
But before there was the book—filled with stories about a recording studio janitor in the late '70s who is not sure why he, like everyone else in the studio, has to change his name to Ramone, and about how frontmen fear a drummer uprising as Dave Grohl starts his own band—there was the website. The Hard Times started nearly five years ago, even though friends of Saincome and Conway said it would never work. There was already The Onion, after all—could there really be a big enough audience for punk satire alone? 
Turns out, there is. The site now rakes in two and a half million readers every month.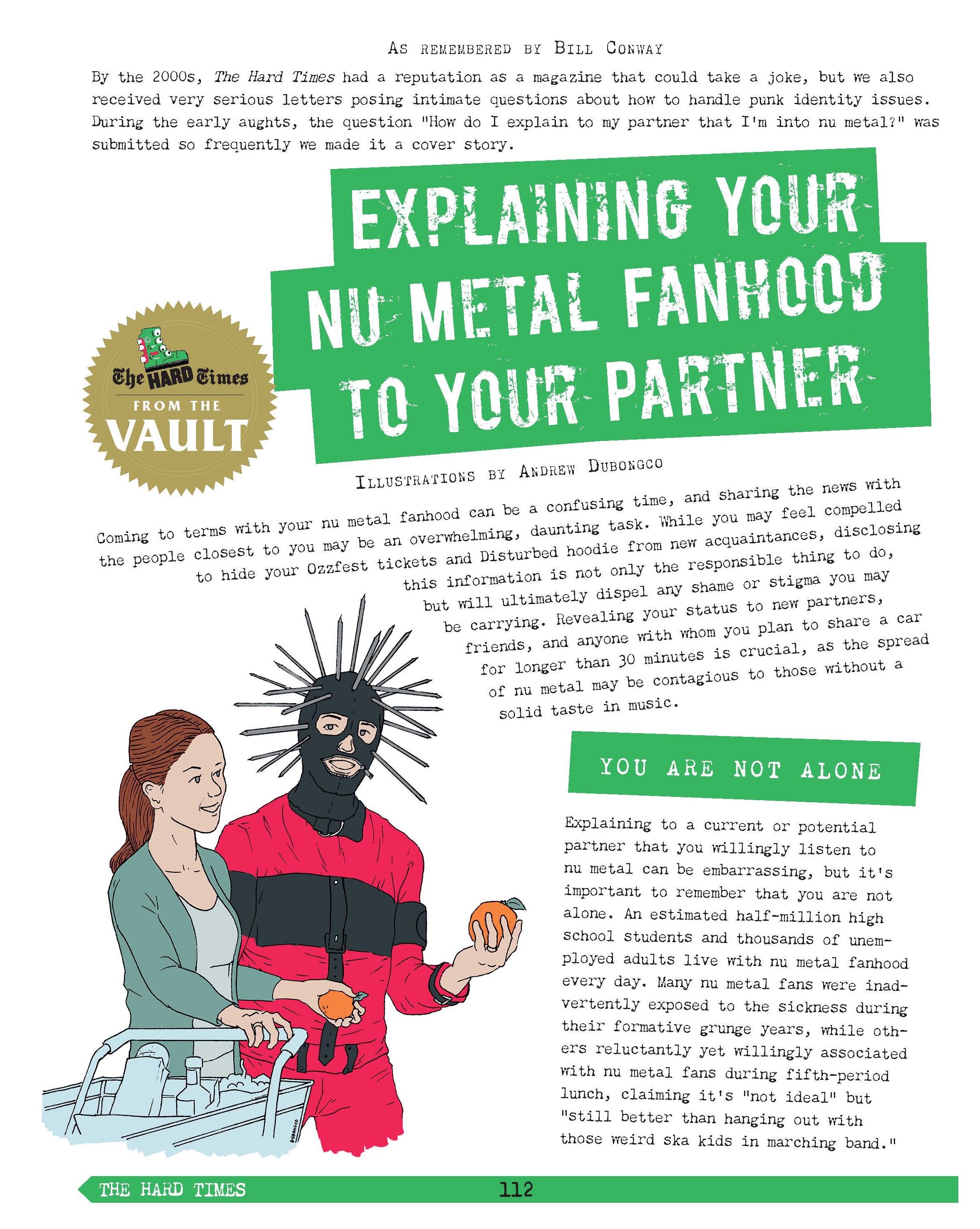 Saincome and Conway have been kicking around the idea of a book for a few years now. This was after Saincome abandoned his dream of self-publishing a book of erotic poems that was at risk of being banned in four states, according to Conway. (Saincome neither confirmed nor denied this claim.) It wasn't until an editor at Houghton Mifflin Harcourt—a fellow punk on the inside—reached out to them that the Hard Times editors finally began to see their dream take shape.
At first, the book was going to be a greatest hits compilation of all the best headlines that the Hard Times has run, such as "Man Magically Transforms Into Music Historian While Talking to Women" and "Hero Breaks Car Window to Save Vinyl Records on Hot Day." However, Conway and Howard, who took the lead on The First 40 Years, broadened their scope to include more original content that readers couldn't find anywhere else.
"I remember looking up specific things, like what were the biggest news items of 1986, and asking myself what would somebody from the Dead Kennedys be making fun of." — Krissy Howard
One of Conway's favorite parts of the process was crafting the narrative. After creating and developing characters for the site for half a decade, this was his chance to become one of those characters himself. "I thought it would be funny to make Matt worse than I was," Conway says. "Then I felt bad because I was like, 'Well, I'm shitty, too.' So I made myself a giant cat. Matt's a coward that ran away from fights, and I was the guy that couldn't fight and just got the crap kicked out of me."
Conway explains that although he was exaggerating their qualities while shaping these characters, Saincome is extremely cowardly in real life, too. Saincome responded to this claim with a weirdly detailed account of something that allegedly occurred a few days prior: he prevented a fight between a couple after he had stopped at a mall ATM to get cash for a poker game. (Again, this story could be neither verified nor refuted.)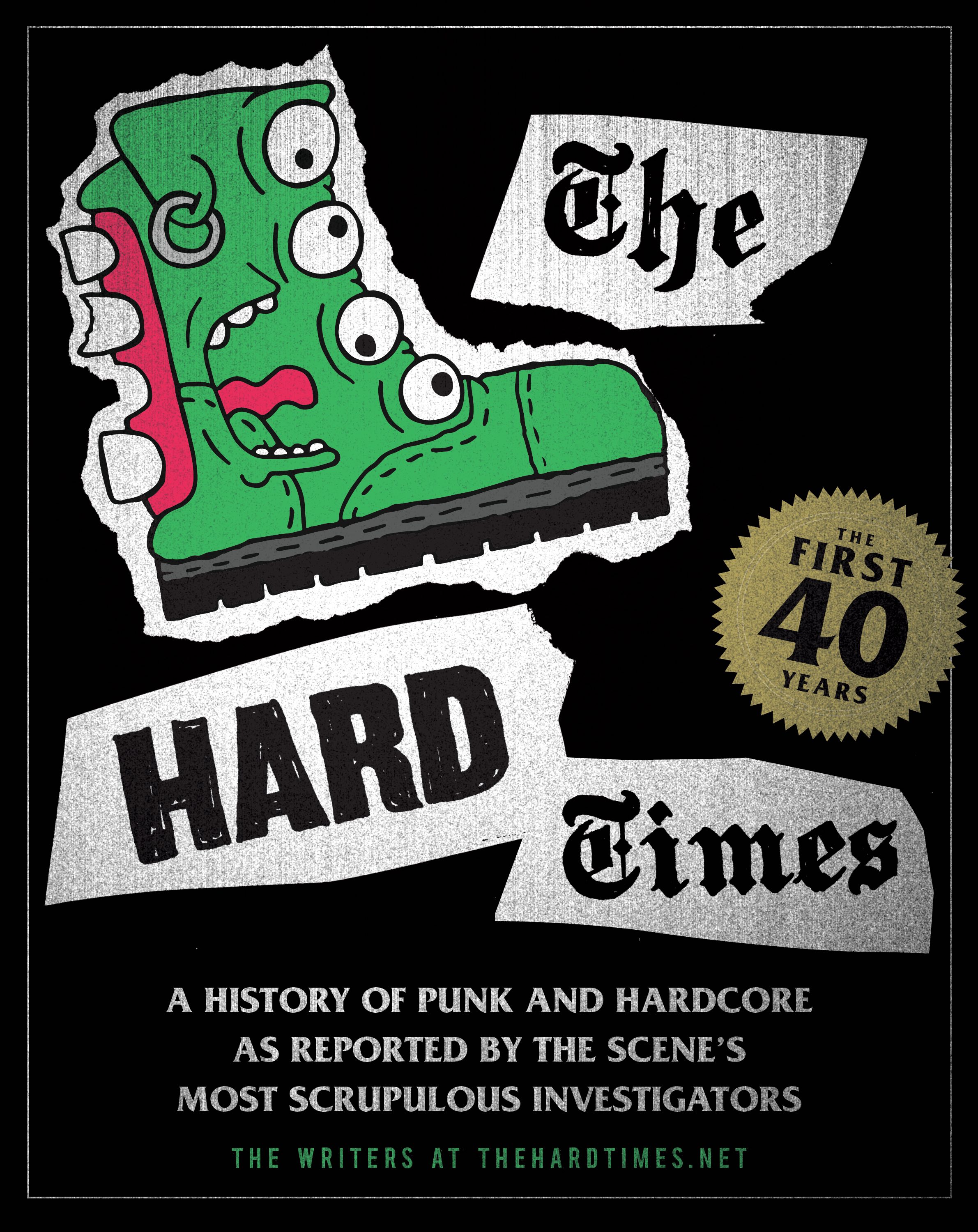 For Howard, the most challenging part of creating The First 40 Years was figuring out how to make jokes about the past, a radical change from satirizing the present as they do every day for the site.  "I thought it was way harder to satirize the older stuff because I didn't live through a lot of it," Howard says. "You can only satirize music so much. A lot of what we do is we satirize culture. I remember looking up specific things, like what were the biggest news items of 1986, and [asking myself] what would somebody from the Dead Kennedys be making fun of."
At the heart of The First 40 Years is true DIY spirit. It's just a bunch of punk kids, a lot of whom don't have a formal background in writing, who are giving their all to making fellow punks laugh. The editors, of course, hope that lots of people will buy the book—at least more people than those who listened to Saincome's former bands. 
"There's ultimately some chance that no one buys the book, and then you're like, whoops," Saincome says. "You can go to record stores all around the country and find my bands in the discount bin for a dollar, fifty cents, twenty-five cents—like, just take it. I've definitely put out media before that no one wanted, so it wouldn't be a new experience."
Or, in Conway's words: "Just buy it. For once in your fucking life, do something." FL