The genre film is barely alive and not-so-well in 2019—with the rise of stylish indie alternatives to Hollywood's stalwart majors, à la A24 and Annapurna, there's really no telling what you're getting yourself into when you purchase a movie ticket anymore. As we celebrated the anniversaries of some of the most game-changing genre films of the past twenty years, the shortlist of 2019 favs eschews convention altogether, seamlessly compressing comedy and tragedy, history and fantasy, horror and farting lighthouse keepers.
RELATED: The Best TV of 2019
And honestly, we're fine with stigmatizing and forgetting the Oscar-bait historical dramas and biopics of the past, even if they continue to get made and actually win Oscars. It's the wildly inventive new wave of films from young directors and self-conscious swan songs of established filmmakers that keep us interested in the medium, spotlighting an increasingly diverse range of talents—this year mining an NBA all-star and the patron saint of margarita culture. Where Inglourious Basterds rehauled the historical fiction genre ten years ago, and Magnolia the melodrama a decade prior, the best of 2019 have done away with reference points completely.
Presenting the best films of 2019.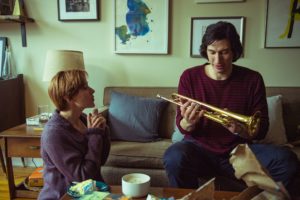 10. Marriage Story
Marriage Story is more universal and less searingly specific than Noah Baumbach's previous films about divorce and family squabbles (The Squid and the Whale, The Meyerowitz Stories). Adam Driver and Scarlett Johansson play mid-divorce couple Charlie and Nicole, and in a sense these two feel like an Everyman and -woman. There are a few classic Baumbach signifiers—they work in the arts and own a lot of books—but their domestic fights are the sort any married pair might have, whether they be coastal elites or Midwestern truck drivers. The crux of their disagreement is that one of them (him) has gotten the life he desired, while the other (her) has been along for the ride. Now, she wants out of the car. 
There's been an abundance of critical debate over who this movie is more sympathetic toward. Baumbach's work skews autobiographical, so it makes sense that the most devastating scenes happen in favor of Charlie's perspective, like when he is observed eating dinner with his son to test whether he'd be a fit candidate for joint custody, or when he sings "Being Alive" from Stephen Sondheim's Company, a song with lyrics about the brutality and beauty of sharing your life with another person.
A few smaller though delightful performances of note: Laura Dern as a divorce lawyer who seeks justice despite gendered parenting double standards, and Merritt Wever and Julie Hagerty as Nicole's sister and mother, zany California women who add some levity to darker moments. Johansson shines in a monologue delivered soon after she first meets Dern's lawyer, and her already-memed fight scenes with Driver rival the passion of pro-fighters Kate and Leo in Revolutionary Road. But this is not just a film about a couple who've fallen out of love—it's also about Henry, the kid who is dragged through his parents' disintegrating lives. The best thing divorcing parents can do is prevent their children from witnessing the vitriol of their battles, Baumbach's story suggests. You are your child's entire world, so if you have to crumble it, make sure the earth isn't too scorched to rebuild once the smoke has cleared. —Anya Jaremko-Greenwold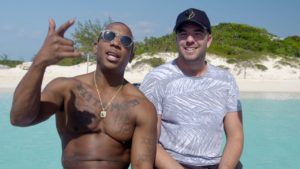 9. Fyre: The Greatest Party That Never Happened
One of the few worthy consolation prizes of late capitalism is the open window we all get into the lives of the stupidly rich. Blue-checkmark influencers broadcast their day-to-day influencings across all kinds of websites whose sole purpose is to make us feel way worse about ourselves—the perk, of course, being that more often than not, these people are extremely dumb, and the type of hubristic shit they get up to can be more comedically sound than anything Buñuel ever captured to celluloid.
Fyre Festival was this exact source of entertainment on a titanically sized scale, with American Movie filmmaker Chris Smith culling together footage from the Billy McFarland–helmed shipwreck for his Netflix doc Fyre, as well as some talking-head testimonies from the event's biggest victims, who proved more meme-able than Hulu's hotly contesting Fyre Fraud. Smith takes us beyond the disturbing cheese-sandwich and FEMA-tent imagery shared across social media back in 2017 when the fest took place to uncover the Catfish-meets-Stanford-Prison-Experiment psychology on both sides of one of the 2010s' greatest man-made disasters, while laying out how, exactly, Ja Rule, Kendall Jenner, and FuckJerry all got rolled into the conflagration.
An oddly fitting companion piece to Smith's preceding project, a behind-the-scenes look at Andy Kaufman's possession of Jim Carrey during the filming of Man on the Moon, Fyre elicits an idea of what Carrey's obsessive, sociopathic behavior could have wrought were it fueled by fame and fortune rather than reverence and artistic commitment—in this case, an epic sizzle reel of rich-on-rich crime. —Mike LeSuer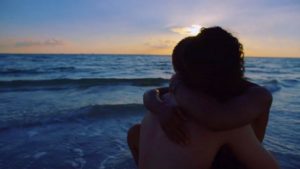 8. Waves
A lot of the best stuff on-screen this year explored teenage excess, but no film did so more intoxicatingly than Waves. Writer-director Trey Edward Shults worked for nearly a decade to bring this movie to life, and the passion he poured into it is apparent in every tiny detail. From the exhilarating experimental camerawork placing viewers in the center of teens' worlds, to the sickening yellow light that bathes the most toxic and terrifying moments, to the magnetic score by Nine Inch Nails' Trent Reznor and Atticus Ross that's interspersed with heart-aching hits by Frank Ocean, Animal Collective, and Kendrick Lamar, every mode of cinema is harnessed to enrich Waves with raw emotion. 
Based in part on Shults' own life, the story is one of an African-American family in South Florida led by domineering dad Ronald (Sterling K. Brown), obsessed with raising his son Tyler (Kelvin Harrison Jr.) in his own image. The narrative is divided into two parts, the first focusing on Tyler as he goes from star athlete with a "goddess" girlfriend (Alexa Demie) to suffering a sharp downward spiral. The crushing tragedy of that first half is offset by the optimistic beauty of the second, which focuses on Tyler's younger sister Emily (Taylor Russell) as she falls in love for the first time. Waves is devastating in every sense of the word; but if you want to really feel something, there's no better thing to watch. —Sarah Gooding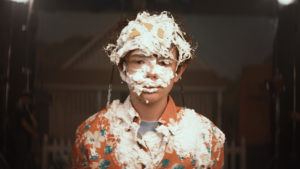 7. Honey Boy
Shia LaBeouf's tangled career makes sense if one believes people generally adhere to the second law of thermodynamics: entropy increases over time. Just consider these bookends: In 2003, LaBeouf won a Daytime Emmy for his child star role in Even Stevens; ten years later, he copulated with the anti-heroine of Lars von Trier's sinister sex epic Nymphomaniac. In between and after, there were arrests, enormous blockbusters, accusations (and admissions) of plagiarism, stints in rehab, and somehow, seldom a bad role. 
This year's Honey Boy, written by the star and tastefully directed by Alma Har'el, reveals the young actor's disquieting private life that precluded the elder's stints of public disorder. It offers a visual memoir to capture the essence of a child actor and a young adult/celebrity rebel, each eventually succumbing to powers greater than themselves: the former, to his stagnant drug-using father (played with intimacy by a disguised LaBeouf himself) who leads the young Shia down a path of righteousness and anger; the latter, to the creative process, perceiving memory as the seeds of a story. 
What's most impressive is the author's use of memoir to tell two tales about the same person at different stages in life, simultaneously revealing a so-called origin story and a resolution for the actor's most troubled years. By the time the film concludes, it's easy to feel as if the project is but another entry in a notoriously narcissistic actor's log of vain acts—and yet, there is something specifically vulnerable about it, too. LaBeouf plays his own father. Father and son spend a good third of the film in a motel. There's no fanfare. It's a humble little movies that shines amidst grander epics, and an interesting spotlight on an actor who—love him, hate him, or ignore him—remains unapologetically visible and reliably, entropically, unpredictable. —Adam Valeiras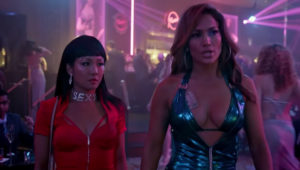 6. Hustlers
Like a pole dancer herself, Hustlers is operating on every level. Directed by a woman (Lorene Scafaria), from an article written by a woman (Jessica Pressler), it's the true story of two WOC sex workers who launched a tiny class war to survive as single moms, and it's not even depressing. It's fun and cool and exciting and good. Every scene in Hustlers is a little bit glamorous, a little bit dangerous, and grounded in real emotion, thanks in large part to strong performances by Constance Wu and Jennifer Lopez. It passes the Bechdel test with flying colors, and has by far the best soundtrack of the year.
Producer Adam McKay previously tackled the true story of the 2008 financial crisis with The Big Short, exposing and explaining (or at least, trying to explain) the inner workings of Wall Street that led to a national stock market meltdown. In Hustlers, we see the other side of that equation, the ripple effect: what happens when the women who relied on bankers' cash tips for their very survival suddenly find themselves working for an unlivable minimum wage at Old Navy.
What the gang at the center of the film manages to accomplish is both broadly socialist and aggressively capitalist. They redistribute the wealth concentrated at the top of the heap among those who need it, and look out for one another. They also rob the unsuspecting blind and cross moral and ethical lines in their pursuit of cash. And if a messy, fascinating depiction of the American dilemma isn't intriguing enough for you, there's also an Usher cameo that will, at the very least, remind you why people go to strip clubs and movie theaters in the first place: to feel blissfully entertained. —Lizzie Logan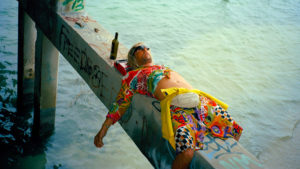 When Moondog, the Southern Florida poet wastrel played with drunk-and-high-at-the-same-time abandon by Matthew McConaughey in Harmony Korine's The Beach Bum, is in possession of vast wealth, he behaves utterly like Moondog. When he's broke and destitute? He's still utterly Moondog. That's as close as Korine and his collaborators come to a moral in this blinkered joyride into ecstatic annihilation. There's similarly little in the way of plot. After tragedy separates him from Isla Fisher's Minnie, his true love and debauched match, Moondog rambles into the blue-and-pink shaved ice swirl of Miami, captured in gorgeous 35mm by cinematographer Benoît Debie, linking up with Captain Wack, a dolphin tour guide played by Martin Lawrence, Jimmy Buffett (as himself), Snoop Dogg (as Lingerie, an R&B crooner), his cartoonishly Southern agent Lewis played by Jonah Hill, and Zac Efron's Flicker, a Christian punk whose radical interpretation of Calvinism means Jesus' sacrifice at Calvary has written him a blank check to do whatever he wants (so crank up Creed's "Higher," and let's rage). 
Like Korine's 2012 film Spring Breakers, this is a satire, but the director never lays out the perils of late capitalism—like Moondog himself, The Beach Bum just is, for good and ill. Is Moondog a hero? Nope. His lack of concern for those who get wiped out in his slipstream means he's not. But in his relentless pursuit of absolute freedom, he does exemplify the all-consuming grip of the American imagination, bending reality to suit his individual whims. Typewriter balanced on his lap and beer gut, shirt long discarded, cloaked in billowing clouds of dank smoke, Moondog literally burns through cash as Western civilization cracks. He reads from his acclaimed poetry, cackling and howling: "One day, I will swallow up the world. And when I do, I hope you all perish violently." —Jason Woodbury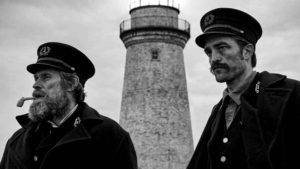 While It Chapter Two, the ungainly adaptation of Stephen King's brick of a novel about misfit children in Maine who are terrorized by a shapeshifting being of cosmic evil, is the horror film that raked in the most cash this year, 2019 also saw a coronation of sorts for a new peddler of distinctly New England weirdness and spectral dread by way of Robert Eggers' The Lighthouse. In his second feature, following up 2015's spooky puritan domestic drama The Witch, Eggers delivers another meticulously crafted supernatural period piece set in that Northeast corner of America from which he hails. 
The raucous two-hander stars Robert Pattinson and Willem Dafoe as nineteenth century lighthouse keepers who descend into fevered turmoil while trapped together too long on one godforsaken rock. Shot on gorgeous black and white 35mm in a near-squared, vintage aspect ratio, and featuring two loud, loony, thrilling performances, The Lighthouse is about as dreamy a hang as one can have at the movie theater this year—presuming you find chamberpots, seagulls, lurid mermaid sex that may or may not just be hallucinatory, masturbatory fantasy, and homoerotic fights about whether or not your friend likes your cooking dreamy. 
All that being said, there is a moment in the film wherein Pattinson drunkenly exclaims that he would, given the opportunity, be willing—nay, thrilled, it seems—to fuck a steak, and yet there is, in fact, not a single frame of steak-fucking in the picture's entire 110-minute run. This unfulfilled Chekhov's steak-fucking is an act of most egregious cowardice on the part of both Roberts Eggers and Pattinson, and one which, much like the pleasure of watching this truly original piece of cinema unfold, I will not soon forget. —Tess McGeer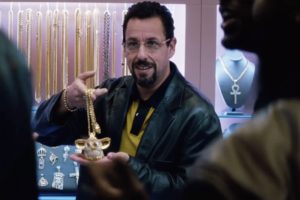 3. Uncut Gems
Uncut Gems is a spiky little jewel of a movie that's cracked in all the right places. More than anything, the script made me long for New York: everyone is always yelling on top of each other like a Robert Altman film on steroids, because if you stop shouting (or moving) for a second in NYC, you die. And so the players of Josh and Benny Safdie's follow-up to 2017's Good Time crescendo unceasingly, as the formation of diamonds only occurs at very high temperatures and pressures, and likewise you'll be so tightly wound by the story's end the slightest touch will set you springing from your seat like Tigger. 
This time, the Safdies find poetry in a pawn shop of New York's diamond district. Adam Sandler plays Howard Ratner, a Jewish shop owner and gambling addict who continues amassing debt, then paying it off via methods that involve amassing even more. He believes he can finally dig himself out of the hole when he gets hold of a rare black opal from Ethiopia, a gem he plans to sell alongside his usual stock of bedazzled Furbies and Rolexes. But a flaky basketball player (former NBA power forward Kevin Garnett) wants the opal too, thus Howard is forced to chase him around the city in between dodging angry bookies who've come to collect, his disdainful almost-ex-wife, and his young girlfriend who calls him "Howie" and for some reason adores him unconditionally.
The Safdies give Sandler free reign to scream like a foul-mouthed toddler, something he clearly loves to do, and this role joins The Meyerowitz Stories and Punch-Drunk Love to complete a trifecta of deeply moving, melancholic performances from the much-maligned funny guy. As Howard, Sandler never stops chasing his own tail, a comet streaking through New York so brightly you've got to look up just before you get pulverized. The thing I can never understand about gamblers is why they don't stop once they've won. Can't they see they're going to lose again, eventually? I guess what Uncut Gems supposes is, they couldn't stop if they wanted to. Howard tells Garnett, who finds triumph on the court, that, "this is how I win." Ultimately, he doesn't want out of the hole. The hole is his home. At several points, the camera veers impossibly into the opal itself, a kaleidoscopic mass of blues and pinks that Howard claims you can see the entire universe inside. Every man is a tiny universe unto himself, and for a short time, it's a frenetic honor to explore the galaxies of Howard's. —Anya Jaremko-Greenwold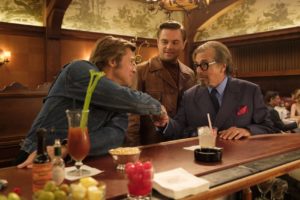 2. Once Upon a Time in Hollywood
What is Once Upon a Time in Hollywood about? On the surface, it seems to be about a dozen things: the demise of an insecure genre actor, the strength of self-assuredness, grotesque and blasé cult culture, Los Angeles as a perpetual Wild West, the contagious effect of Hollywood, the anonymity of celebrity, cruising the tangle of LA freeways manic-Didion style, the inconsequence of narrative, the prevention of violence requiring more violence, the fact that money doesn't buy happiness. 
This here is a whole splatter of themes and morals and only a whisper of a plot, but that's what the film aims to be: one of those full-wall splatter paintings, though with a resolution not up for interpretation. In this sense, Once Upon a Time is a reversal of Quentin Tarantino's eighth film, The Hateful Eight, which featured an ensemble cast in a bottled story, more constrained to location than Reservoir Dogs. So when Cliff Booth cruises onto the 405 in Once Upon a Time, lonely Rick Dalton drinks himself into even deeper loneliness, or Sharon Tate wanders about Westwood with nothing to do but see her own movie, you might grin ear-to-ear in the theater, as I did, at the pure aesthetic of Hollywood wanderlust and ennui. Most of us, no matter what generation, have revisited this era of late '60s LA time and again, through film and literature and music—but we rarely revisit the era amidst such a well-packaged blend of daydream and nightmare, a charming reminder that films can entertain without any carrot and stick or tantalizing obfuscation. —Adam Valeiras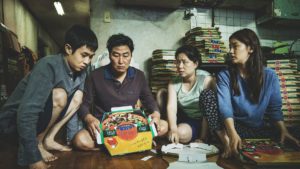 1. Parasite
Class warfare is a Cold War, complete with all the iconography that implies: fortresses and bunkers, secrets and manipulations, lies and spies. As Parasite begins to lay out its blueprints, the light-hearted tone and likable antics of the Kim family (including the stunning low-simmer intensity of Song Kang-Ho, the good-luck charm and muse to director Bong Joon-Ho) seem to establish the central premise of "haves vs. have-nots" as nothing more than amusing war games. The unemployed Kims infiltrate the luxurious lives of the wealthy Park family, falsifying qualifications and posing under aliases to gain influence as employees in their luxurious home, perched above the harsh conditions of South Korean streets. 
But Joon-Ho's penchant for blending genres and subverting expectations, as well as his tendency to play fast and cruel with his characters' fates with the wit and wrath of both Coen Brothers combined, means inevitably, this dream house hosts nightmares. While the Parks make plans that change on privileged whims and the Kims frantically alter their erratic schemes as they go, the master plan of Parasite is a brilliantly crafted and fully consistent deceit (thanks to the clockwork cleverness of the screenplay by Joon-Ho and Han Jin-won) that lures the viewer in on the ground floor of a tongue-in-cheek comedic satire before yanking them down a claustrophobic staircase into painful confrontation and bitter truths. 
After the blood has stained, we're left with a disruptive and disastrous diagnosis of the economic ecosystem. Geographically, the classes are biospheres separated until the air itself is unbreathable and weather becomes Biblically catastrophic. Psychologically, rich and poor aren't just "others" to each other, but practically different species; consider how the very image of a poor person is life-alteringly traumatic to the youngest Park, while his aloof father literally fetishizes the "cheap" standards of his servants. We've all seen stories in which absolute power corrupts absolutely—but here, it takes only the idea of power to drain the Kim family dry. The concept is already a dark doorway to walk through…but Parasite fairly kicks you through it. —Eric Stolze