Television might be the artistic medium that has progressed most dramatically over the past couple of years. Everyone used to watch basically the same five shows, whatever was available on cable TV; but in 2019, it's practically impossible to have the same roster of favorites as anyone else, so varied and diverse are the options. 
At times, the glut of streaming services, networks, and bingeable episodes to catch up on is daunting. But that's why we're here. To help you out.  
RELATED: The Best Films of 2019
There is an admitted influx of trauma in our picks for this year—series dealing with everything from rape, to death and resurrection, to middle school humiliation—but there is also a focus on women's sexual autonomy, a topic that may seem frivolous on the surface but is, in fact, essential. Sex and the City made a splash in the late '90s as the first series to treat adult female sex lives with both reverence and enjoyment; and since then, televised opportunities to see women both having a good time and dealing with harsh realities have only increased. Thank god. 
Presenting the best television of 2019.
10. The Other Two
Former SNL head writers Sarah Schneider and Chris Kelly used their real-life best-friendship as the basis for the relationship between siblings Cary (Drew Tarver) and Brooke Dubek (Heléne Yorke) in the strongest sitcom debut of the year. The Dubeks are barely scraping by as an actor/waiter (Cary) and sporadically employed former dancer (Brooke) when their much younger brother Chase (Case Walker) suddenly rockets to Justin Bieber–like stardom thanks to a viral homemade music video. The Hollywood satire is vicious, exposing the way even well-intentioned industry folks try to wring fame and fortune out of every last moment of Chase's day in the spotlight—but you don't need to read Variety or be able to use TikTok to enjoy it. Cary wrestles with how his homosexuality could affect his career, Brooke sorts through a messy breakup, and the whole family deals with the recent death of their father, all in just ten episodes. If the upcoming second season is as strong as the first, Comedy Central's The Other Two will be well on its way to becoming this decade's 30 Rock. —Lizzie Logan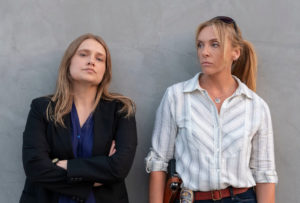 9. Unbelievable
This female-led and largely female-directed miniseries is based upon a piece of Pulitzer Prize–winning journalism about a series of serial rape cases that happened in Washington and Colorado from 2008–2011. The show illustrates the complexities of rape reporting; how even if victims go to the police, they may not be believed, or the cops won't be trained in handling trauma or recognizing the myriad ways it can warp memory and reliability. Booksmart's Kaitlyn Dever stars as Marie, the first rape victim whose true story we follow, whose assault is dismissed because she's a young girl who has been through something so violent and frightening, she doesn't have the language to describe it. The (male) cops come to the conclusion that she's made the whole thing up, until a pair of female cops working on other rape cases in other districts with identical circumstances get wind of it, and recognize a pattern.  
This rapist knows what he's doing, scrubbing crime scenes of all DNA, fingerprints, and evidence. He doesn't only victimize young women with tight skirts—women of all ages and races are targeted, usually those sleeping innocently in their beds, having been watched and preyed upon for weeks. The show's catharsis comes in the form of the two lady cops played by Merritt Wever and Toni Collette, on the case and determined to catch the predator. They speak to victims with such unrelenting compassion, it feels like a salve. Collette is tough and grizzled and great as always, but it's Wever's show through and through; she is gentle, persistent, and really listens. "This is not something people get over," she says conclusively. "This is something they carry with them forever." Unbelievable feels so good to watch because a miscarriage of justice is corrected in real time. It's not a series for repeat viewings, but it is important to view once, a masterclass in empathy and the female perspective and proving that the only way to deal with horrible things in the world is by shouldering others' pain a little, whenever you can. —Anya Jaremko-Greenwold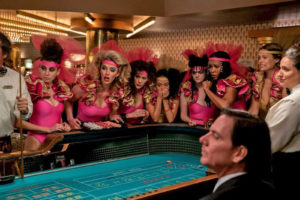 8. GLOW
After introducing the world of '80s women's wrestling in season one and shaking it up in season two, GLOW's third season takes a big gamble in Las Vegas by effectively placing its protagonists in a living purgatory, as they set up residency performing at the fictional (but all-too-believable) den of excess, the Fan-Tan Hotel and Casino. This narrative risk pays off character arcs in dividends by forcing the titular Gorgeous Ladies of Wrestling to stay contractually frozen in one spot and wrestle with their own identities, desires, and goals behind-the-scenes for lack of…well, anything else to do. 
Anyone who's had to numb themselves to the monotony of a day job will nod in recognition at the montage in which Ruth (Alison Brie) removes makeup over the course of weeks to the tune of Siouxsie and the Banshees' "Cities In Dust." (Once again, this '80s soundtrack puts Guardians of the Galaxy to shame.) Fans who have gotten to know and love the diverse cast are rewarded with clever concepts like "Freaky Tuesday," wherein the Ladies are so bored by their routines that they trade their wrestling alter egos and reveal pent-up resentments and prejudices in the process; and "Outward Bound," when a desert camping (mis)adventure provides plenty of catharsis after three years of character development, the stunning performances and powerful writing making it a moving standalone episode that would impress even a first-time viewer. 
Using its very specific niche of time, place, and subject matter as a gateway into universal issues of love, loyalty, and life's purpose, GLOW's deceptively eventful season is at its most powerful when it uses Vegas' sex-obsessed bubble as the backdrop for the characters exploring and owning their true sexual identities. With a fourth and final season confirmed, the wrestlers are set to escape Vegas and return to televised matches—but after a year in which everything changed because nothing changed, it's anyone's guess as to what the show will look like when it steps back into its original ring. —Eric Stolze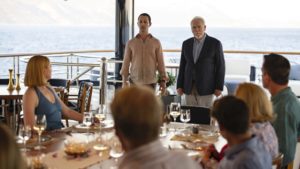 7. Succession 
The best moments of Succession's second season are physically painful to watch. Savagely funny and expertly written and performed, the show's sophomore outing felt like a quick, sharp elbow jab to the ribs. Laser-focused on the arrogance, pride, and avarice of the ultra-rich Roy family, all of it felt too real—the attempted consolidation and shuttering of major media outlets, sexual assault conspiracies and media spectacle, an out-of-touch presidential candidate peddling fake AF populism. And perhaps, most cringe-inducing, the agonizing moment in which Jeremy Strong, brilliant as Kendall Roy, rapped to a room of disinterested one-percenters, in a dual attempt to prove his cool and please his never-pleased father. 
Like HBO's The Sopranos and The Wire before it, Succession is a comment on the present American moment, with stand-ins for everything and everyone: Fox News, CNN, Bernie Sanders, Vice (or Buzzfeed or Gawker, it's hard to pinpoint exactly), #MeToo, and Trumpism. But in the hands of such gifted players—everyone on the show is great, and most, like guest star Holly Hunter, are incredible—the show goes well beyond the signifiers, never feeling didactic, scolding in only the most pleasurable of ways. Early on, the idea of showcasing travails of the ruling elite, with their chic clothes, lush meals, automobiles, ski retreats, Scandinavian spas, et cetera, felt obscene. But that's how Succession works. Even as we recognize the beleaguered Roys as people with relatable hopes, dreams, struggles, and occasionally even nods toward decency, the show never spares their power, influence, and greed its fully-deserved wrath. —Jason Woodbury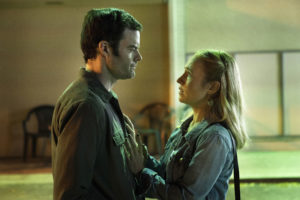 6. Barry
No one was ready for the bloodbath of Barry when it debuted, guns blazing, in 2018. We especially didn't expect it from Bill Hader—a comic propelled into mainstream celebrity through a hilarious eight-year run on Saturday Night Live. But that's what helped make the show, about a soldier-turned-hitman who gets bitten by the acting bug and falls in love with a fellow thespian, work.
In theory, Barry's driving concept isn't new—we've seen anti-heroes take over dramatic television, especially on HBO, since The Sopranos' boom at the turn of the century. You know how the story goes: a good person gets roped into doing bad things, and now they've been introduced to a new chance at living a normal life, but can they go back? We've even seen this exact formula—a serial killer hiding in plain sight—popularized by Dexter. Yet Barry escapes the tropes of an anti-protagonist serial killer plot, strategically splitting its script between drama and humor, playing on your preconceived notions of who Bill Hader is and what he's capable of. You let your guard down at the story's funniest moments—when NoHo Hank looks at life-threatening situations with childlike positivity, or when Gene's (Henry Winkler) self-centered and lonely desperation turns into another cringey twist of the tongue—and that's when the ensemble cast goes on the attack. Barry is shockingly gruesome and unexpectedly deceitful, skillfully taking advantage of its viewers' baseline perceptions of it being a comedy, when in reality it's one of the darkest shows on television. —Sean Neumann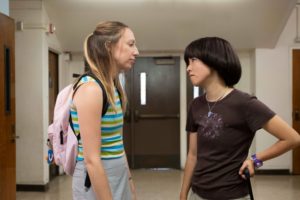 5. PEN15
It's like 13 Going on 30, except backwards. PEN15 is a profoundly weird and painfully honest depiction of the female coming-of-age experience, starring thirty-one-year-olds Maya Erskine and Anna Konkle as thirteen-year-old versions of themselves. As co-creators and stars, they mine their own early-2000s middle school experiences, so the show veers swiftly from hilarious to heartfelt to traumatic and back to hilarious again. Episodes touch on everything from discovering thongs and masturbation to first encounters with racism—the latter via a surreal Old Spice Girls osteoporosis prevention skit that Maya and Anna create with their school's resident mean girls. PEN15's unfiltered takes on touchy subjects combined with epically awkward humor has seen the series gain a cult following, even getting nominated for an Emmy alongside Russian Doll, Fleabag, Barry, and Veep. It didn't win, but that episode's exploration of the nuances of platonic intimacy, jealousy, and privilege proved the show can deal in heavy topics as well as comedy. There hasn't been a truer representation of this fraught time in a woman's life…ever? Thankfully, PEN15 has already been renewed for a second season on Hulu. —Sarah Gooding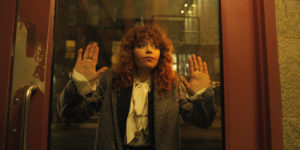 4. Russian Doll
The success of Russian Doll has been gratifying for me, personally, because—paying no mind to the show being an inventive and hugely moving creative achievement—it has served as the kindling from which I sparked many opportunities to try again to sell friends and acquaintances on co-creator Leslye Headland's similarly searing 2012 comedy Bachelorette, a noxious and wonderful film about a group of asshole women behaving badly at their friend's wedding that's great for the whole family. (Note: not great for the whole family.) 
Russian Doll stars a stunning Natasha Lyonne as Nadia, a sharp-edged software engineer who finds herself caught in a time loop where she repeatedly dies and is regurgitated by the universe back into her thirty-sixth birthday party. The show's Groundhog Day–esque hook fully soars when Nadia meets Alan (Charlie Barnett), a heartbroken young man who is experiencing the same inexplicable resurrections. Together, they grumpily clod through a sort of belated bildungsroman—two wounded individuals finding for the first time a true desire to be alive somewhere amidst dozens of deaths. 
Living and dying and living again that same day in perpetuity necessitates coming to terms with the things that cause you pain in a way that the sprawling shapelessness of normal life, bound by standard temporal rules, does not. With the loss of finite definitions of what it is to be dead or alive goes, too, the craggy spaces we escape to in life when seeking numbness, via drink, drugs, sex, or, like, thirty hours of a podcast about aliens. Early on, Nadia seeks counsel from a rabbi, believing, or wanting to believe, that the building where she keeps awakening after each death, once a Jewish school, is the cause of the entrapment. He tells her, "Buildings aren't haunted. People are." The beauty and power of Russian Doll is in the tender friendship which develops between Nadia and Alan, strangers bound by a bizarre cosmic quirk, and the way that friendship gives two haunted people the strength to help one another escape their own ghosts. —Tess McGeer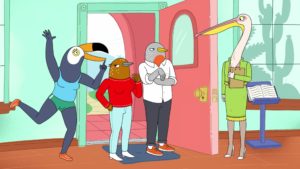 Tuca & Bertie is a Netflix animation from the designer of BoJack Horseman, Lisa Hanawalt—so you might recognize her signature animals illustrated in brightly colored human clothes—and yet, Hanawalt's show is much less depressing than BoJack, more attuned to the kind of girlish whimsy and raunch Broad City espoused. It's about a pair of thirty-year-old female best friends named Tuca (a toucan voiced by Tiffany Haddish) and Bertie (a songbird voiced by Ali Wong) who live in the same apartment building and attempt to maintain their bond as they age, change, fight, and grow. Tuca is the sloppy, free-wheeling extrovert, while Bertie is the neurotic, shy one who's recently moved in with her boyfriend and fellow songbird Speckle. 
Though the series is light-hearted tonally, its narrative traffics in serious themes like childhood sexual trauma, workplace misogyny, and familial neglect. The animation style is more childish and zany than BoJack; there are haughty, talking plants who interact with the animal characters, as well as inanimate objects who spring suddenly to life (like Bertie's boob, which at one point jumps off her chest and makes a break for it). But Netflix recently cancelled Tuca & Bertie after just one season, apparently unable to intuit the value of a show about adult women who get horny, get lonely, and take control of their own destinies in a world where they're so often pushed to the side, to the ground, or onto the backburner. Give this a second season on another network, you cowards. —Anya Jaremko-Greenwold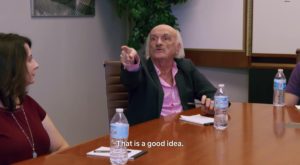 We're so lucky to be living in the time of Being Online, if only for the fact that we now can eliminate the laborious process of designating a television series a cult classic five years after it's already been cancelled, instead crowning it as such the moment it hits streaming services. I'm still unclear as to how every frame of I Think You Should Leave became a widely shared meme moments after Netflix unleashed it upon its sixty million subscribers—and every line a ubiquitous soundbyte shortly after—but there it was, TC-Tugging at our collective heartstrings.
All the context you really need for ITYSL can be found in creator Tim Robinson's Late Night with Seth Meyers appearance, wherein he reveals that he used a few rejected sketches he wrote for Saturday Night Live in the show. Though so many of the series' bits open like an SNL skit, rather than endlessly hammering home the same joke, they venture into a uniform surrealist territory where the crazy guy inexplicably wins the favor of the not-crazy people with his incredibly unsound logic—or, as seen in the "Honk If You're Horny" sketch, the crazy guy is just a normal dude having a moment of weakness.
While many of us were unfamiliar with Tim Robinson prior to the show, nearly every sketch features a familiar face, including Andy Samberg, Vanessa Beyer, Cecily Strong, Tim Heidecker, and Steven Yeun, all of whom Robinson drags into the lawless ITYSL universe without them feeling a bit out of place—regardless of how many Burnings they were in earlier this year. With the promise of future seasons to look forward to, it seems likely all sixty million of us Netflix subscribers are eagerly anticipating more of what is effectively SNL dubbed over. —Mike LeSuer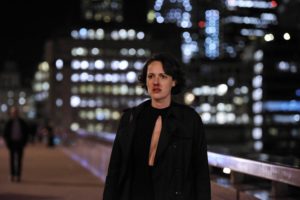 1. Fleabag
Hot priest, hot priest, hot priest! Nothing captured viewers' imaginations in 2019 quite like the forbidden romance between Fleabag and her parents' Catholic confessor, a shocking, gripping, sweet, and super sexy affair that ends somewhere between heartbreak and redemption. And it came seemingly out of nowhere. The first season of Fleabag was intended to be a standalone limited series, and the action more or less followed the story of creator Phoebe Waller-Bridge's one-woman play of the same name. But following a heap of critical acclaim (and, perhaps relatedly, the dissolution of Waller-Bridge's marriage and the start of her relationship with Martin McDonagh), the show returned for a second chapter, chock-full of catharsis and pathos. Brett Gelman sobbing in the kitchen, that "pencil" haircut, the miscarriage, the fox, the statue, the Olivia Colman of it all. Somehow, every moment was a standout, and it was rewarded with a slew of awards. Like Serial or Hamilton, Fleabag was this smart, dark, interesting, cool thing that, at first, a few people couldn't shut up about, and then suddenly it was everywhere and in everything. If you're wondering which show made the deepest impact on its audience this year, I urge you to Google the phrase "Fleabag jumpsuit." It's not just television; it's a lifestyle. —Lizzie Logan