The Staple Singers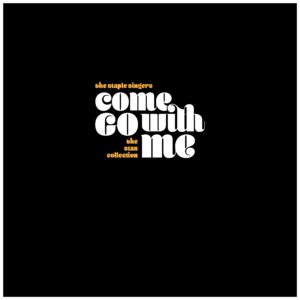 Come Go With Me: The Stax Collection
CRAFT
8/10
Looking for a consolidated history of soul music in one handy package? You could do worse than to pick up Come Go With Me, a new vinyl anthology that documents The Staple Singers' tenure on the Stax label. Here you'll find the rough outline of soul's import and development, presented in microcosm. The application of church music signifiers to earthbound subject matter. The outsized impact of Southern labels like Stax, Hi, and Fame. The assertion of black identity and formal engagement with the civil rights movement. The rise of regional quirks and vernaculars. The sound of human voices lifted up in anguish, joy, and freedom. It's all there. Grab this, Ray Charles' The Birth of Soul set, and Peter Guaralnack's book Sweet Soul Music, and you'll be off and running.
Of course, Come Go With Me also represents something a bit more particular, chronicling some transitional and triumphant years from one of America's most iconic musical families. It includes six studio albums recorded between 1968 and 1974, plus a bonus disc comprised of six B-sides and five spirited live performances. This marks an era where The Staple Singers largely stepped away from the more explicitly church-centered music they started out with and began peppering their records with pointed political messaging (The Staple Swingers opens with what sounds like bombs falling or guns being fired, then segues into a brief instrumental theme from "My Country 'Tis of Thee," studio experimentation as protest music) and with game renditions of then-contemporary pop hits (their version of "(Sittin' on) the Dock of the Bay" followed the death of Otis Redding by mere months).
It also captures some of their most direct engagement with some of the black music trends of their day. The first two albums in this set, Soul Folk in Action and We'll Get Over, feature message-heavy music produced by Booker T. & the M.G.'s guitar player Steve Cropper. The albums, lithe and lightly funky, were well-received by critics but didn't make much of an impact on the charts. So they shifted gears for the albums that followed, working with Stax label head Al Bell and the Muscle Shoals Rhythm Section for The Staple Swingers and Be Altitude: Respect Yourself. Here the funk is caked on thicker, and the arrangements are more experimental and ornate. These albums represent a commercial apex for the group (including "I'll Take You There," their most iconic song). The albums that followed, Be What You Are and City in the Sky, feel a bit rushed and scattershot, though they are not without merits.
Indeed, there is no context in which the harmonies of The Staple Singers, highlighted by Mavis' gale-force rasp, are anything less than spellbinding. They could have coasted on vocal pyrotechnics alone, but Come Go With Me evinces musicians who set their sights on commercial accessibility and artistic license in equal measure; these albums exhibit the clear intentions to reach a broad audience with music that's emotionally direct, politically confrontational, and positive in its appeals to civic engagement. The worst thing you can say about it is that these noble intentions sometimes manifest in highly effortful music; you can hear the Staple Singers strain to pack social relevance into each album, to court vanguard production techniques, to engage with the hits of their day. They sound folksier, quirkier, and ultimately more natural on albums like Freedom Highway, where their interests in church music as a conduit for freedom and justice are unmediated and unforced.
But that just means there's more Staple Singers material you'll need to track down. Come Go With Me is as good a starting point as any, a time capsule from an era where The Staple Singers stood on the front lines and invited all of us to join them.