Pearl Jam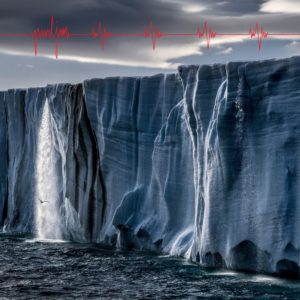 Gigaton
REPUBLIC
8/10
Pearl Jam always felt like the outlier of Seattle's Big Four grunge bands. For one, their music is the most optimistic, which is to say that it's optimistic at all (Alice in Chains might be a distant second, which says a lot about the other two). Frontman Eddie Vedder, the poster child for '90s angst, famously graced the cover of Time alongside the headline "All the Rage" in 1993, but his band is also responsible for songs with titles like "Given to Fly" and, of course, soaring choruses like "I'm still alive." This sense of hopeful perseverance is a hallmark of Pearl Jam's, present on every one of their albums. Their latest, Gigaton, opens with it; the chorus of "Who Ever Said" is "Whoever said it's all been said gave up on satisfaction."
Their last studio album, 2013's Lightning Bolt, was fine but unmemorable. Gigaton doesn't have that problem. Each track offers something new, and often it's unlike anything the band has done before. It's jarring, at first, to hear Vedder's distinctive voice on a heavily electronic song like "Dance of the Clairvoyants," which sounds like the product of a Byrne-Eno collaboration—but it quickly grows on you. "Buckle Up" finds Vedder delicately exploring a parent-child relationship, a theme Pearl Jam spent much of their early albums considering and one which Vedder himself has wrestled with for much of his life (now, though, it's a little different: "I finally awoke to my mother's wrath / Call lights, bed sores, and sponge baths.") And "Quick Escape" is crunchy, Zeppelin-esque hard rock, even including Kashmir in its list of locations on a quest "to find a place Trump hadn't fucked up yet." (Remember Riot Act, Pearl Jam's post-9/11 album, when they wrote "Bu$hleaguer," with lines like "Born on third, thinks he got a triple," to dunk on the president? The more things change, etc.).
More than anything, Gigaton, which was recorded in Seattle and Montana, feels heavily influenced by the natural world, like a dispatch from a wide-open space. It vibrates with an energy that sounds like birds flying, wind blowing, waves pulsing, even whales singing—and it works beautifully. Where Lightning Bolt was solid but stagnant, Gigaton is (ironically) more electric, a living, breathing thing giving off sparks. It takes one listen to make an impression as large as its title might suggest, feeling simultaneously sweeping and intimate, like opening a kitchen window and getting a lungful of fresh Pacific Northwest air. 
On the quietly stunning "Alright," Vedder sings, "It's alright to be alone, to listen for a heartbeat, it's your own." There's no way Pearl Jam could've known that Gigaton would come out in the midst of a global pandemic—but ultimately, this is the album we need right now.