Last night, watching John Oliver with my wife, Adam Schlesinger's photo came on screen at the end of the show's opening montage and I started crying. As glad as I was to see one of my media heroes pay tribute to my friend Adam, it didn't take away the fact that he was gone, far too early. 
Adam died of COVID-19 at the age of fifty-two. He wasn't too precious a person to resent that "Stacy's Mom" will be what most people will remember him for. 
But my memories of Adam stretch over a nearly three-decade-long span, from the time before Fountains of Wayne through a career that achieved EGOT-nominee status, through his work with the band Fever High last year. Over that time, I've worked with Adam in roles ranging from manager to publicist to marketing guy. Throughout that time, he's been a loyal, supportive friend. Which is why this hurts so much.
I've been a voracious reader of books about rock, pop, and country my entire life. The intersection between the music business and the producers, songwriters, and artists that create the music has always fascinated me. What it must've been like, for instance, to work at Warner Brothers Records with Neil Young, Prince, Randy Newman, Van Morrison and Madonna? Or at Motown? Or Rough Trade? Or…
But I got to work with Adam Schlesinger, again and again. Looking back on it now, I realize I'm one of those lucky people who also got to work closely with a genius. And like people at the labels I mentioned, I think you only realize it in retrospect. Here are a few of my memories.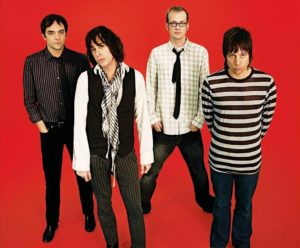 I. WALLFLOWERS & PINWHEELS
It was 1993, and I was standing at CBGB watching Pinwheel finish their set, absolutely certain I was going to get them a record deal.  
Pinwheel played "Raise the River" and "Troubled Times," songs from the first demo I'd first heard a year earlier. They reminded me of all the music I loved; Chris's voice had the sweet, sad yelp of Aztec Camera's Roddy Frame, and the band combined the jangle of countless C86 bands with the muscularity of R.E.M. They ended their last song, and my eyes searched the crowd to connect with the many A&R people I'd gotten to come to the gig.
And I knew immediately that this was not gonna happen. A few had left before the band ended; a couple said "good gig," then hustled out of CB's to grab a cab. One told me very directly that they were too soft and edgeless, and that I'd never get them a deal.
I first heard Adam Schlesinger and Chris Collingwood's songs on a cassette of demos by their band, The Wallflowers. And yes, Adam did indeed sell the name to Jakob Dylan. I confirmed it with the latter years later. Jake told me he paid $2,000, Adam said $5,000. I tend to believe it was the higher number because Adam would have pushed for a better deal.
Adam was a curious combination: snarky, energetic, and winning. For someone only a few years out of school, he was impressively knowledgeable about the music business.
Meeting Adam and Chris for the first time, it was clear that they were Anglophiles through and through, fans of semi-obscure bands like Prefab Sprout and The Blue Nile. They were rumpled Williams College graduates, overeducated, precocious, and winning. Chris's sense of humor was initially off-putting. Shortly afterwards, I warned my girlfriend Heather that he'd probably ask "Are you doing it?"…and he did exactly that, within the first five minutes of meeting her. Adam was a curious combination: snarky, energetic, and winning. For someone only a few years out of school, he was impressively knowledgeable about the music business; somewhat explained by the fact his mom had been a publicist, and that he himself had worked for Sting's PR company for a while. 
Together, they were guys used to being the smartest kids in the room, with endlessly flowing banter that was equal parts earnest and obnoxious. At the time, I was attempting to make a living managing Robyn Hitchcock and Marshall Crenshaw, two other artists making music that was too smart for their own good. So against my better judgement, I became their manager. And didn't get far. 
Not long after that CB's showcase, Pinwheel fell apart. Their drummer Jeff Perrott was a talented visual artist who would eventually quit the band after being accepted to Yale's MFA program. Adam stayed in New York, and Chris lived in Boston. Adam, ever the hustler, started a second band, Ivy, fronted by French born vocalist Dominique Durand. A combination of Everything But the Girl's sophisti-pop and the Francophone stylings of Françoise Hardy, Ivy were perfectly on trend, just as hipsters were rediscovering the likes of Serge Gainsbourg and others. It was my first inkling of Adam's preternatural skill to absorb and perfectly ape musical genres. Ivy were signed to SEED, a fake indie label funded by Atlantic.
It was the height of the post-Nirvana indie gold rush, and I was part of it as well. I had gotten a job at Atlantic as part of the label's move to reinvent itself, first as a publicist for The Lemonheads, Juliana Hatfield, and others, then moving into the marketing department. 
I kept up with Adam and Chris throughout that time; Chris came down to New York with the intention of working on a solo record, with Adam producing. I've never had confirmation of this, but I'm certain that Adam was paying close attention to the success of Weezer's first album, which was beginning to break at the end of 1995. At The Place studio in January '96, the guitars were turned up "Sweater Song" loud.  Equally as noticeable, the lyrics channeled the banter I heard constantly come out of Adam and Chris's mouths. They recorded four songs for their first demo—"Radiation Vibe," "Leave the Biker," "Joe Rey," and "Barbara H"—and christened the band Fountains of Wayne. 
Later, when living in Montclair, New Jersey, the town where Adam had grown up, Heather and I drove by the Wayne, NJ garden supply store that bore the name countless times. Adam's mom recently debunked the story that she, not Adam, had named the band—and if that's true, it's one of the few bad calls Adam ever made, because from the jump, to my ears the name sounded corny and uncool. On the other hand, the name was eminently Google-able, in a time when that was just starting to become a thing.
I heard the demo, along with my colleagues at Atlantic…and fuck yes, we wanted to work with this band. So we signed FOW, and they finished their record in April of '96. I had moved into the marketing department at the label by this time, so as their product manager, I was in business with Chris and Adam again.
II. WEDDINGS, FOUNTAINS, & THAT THING HE DID
My life had moved along in other ways as well. Heather and I had gotten engaged, and began to make plans for our wedding. Ever the music geek, my ideal bachelor party was to front a band, just once. It took a couple of strong margaritas downed swiftly at El Teddy's in Tribeca for me to take the stage, but Adam, Chris, Jeff, and I formed Fountains of Krumper, for one night only. We played four power-pop classics by the dBs, Marshall Crenshaw, The Lemonheads and Matthew Sweet. Then, at our wedding on August 25, 1996, Heather and I dueted on "I've Been Waiting" and "Into Your Arms" with Adam, Chris and Jeff backing us up. There is video evidence somewhere in my attic. 
Fountains's debut album was released in October of 1996; as well calculated by Adam, "Radiation Vibe" connected on radio, easily segueing with songs by Oasis, Bush, and The Smashing Pumpkins. Jeff having left the band, Adam played drums on the record. The Posies' drummer Brian Young was recruited to join the band. To fill out the louder sound, guitarist Jody Porter was added; he'd been in The Belltower, a band Adam flirted with joining post Pinwheel.
Fountains' first gig with this line-up was at The Saint, a dive bar in Asbury Park. NJ. It's still there. The band were tight and loud in the small room, but it was hard to know how it would translate…because their second show was opening for Smashing Pumpkins at the Long Island–based arena Nassau Coliseum on January 24, 1997. Adam had become friendly with James Iha, and had partnered with James and ex-Pumpkin D'Arcy to start Scratchie Records, and finessed the band onto a run of shows with the Pumpkins. 
They weren't just my friends anymore; looking at their picture in The New York Times' Arts & Leisure section or playing their first late night show on Conan, I had to cede any sense of ownership that I unrealistically held. 
Backstage with the band before the show, we heard Billy Corgan singing scales in an echoey staircase. "MEEE MEEEE MEE MEE MEE MEEE MMMMEEEEEE" he whined, in his high, nasal screech. Chris immediately aped Billy, singing so loud we were afraid the Pumpkins had heard him (they might have) and we all fell down laughing. I don't think I've ever felt more like having stepped into an SNL sketch. I can still hear it, all these years later.
I honestly don't remember whether FOW were any good at that show. What I do remember was a sense of dislocation, that these guys, who I had played pool with, listened to records with, and drank with, were on stage, playing to thousands of people. They weren't just my friends anymore; looking at their picture in The New York Times' Arts & Leisure section or playing their first late night show on Conan, I had to cede any sense of ownership that I unrealistically held. 
The band took on big time representation working with Q Prime's Cliff Burnstein and Peter Mensch, who managed Metallica, Def Leppard, and other huge rock acts. At an executive meeting at Atlantic talking about the band, Cliff yelled at me for some petty thing 'til I was nearly in tears. After the meeting I thought, "What the hell gives you the right? I loved these guys way before you knew them, and I'll love them long after." And I did, and have.
When Adam landed the theme song for the Tom Hanks movie That Thing You Do!, it seemed both extraordinary and somehow fated. Adam's facility as a gifted mimic of genre uniquely prepared him for the assignment. 
Fountains' capacity for covers was legendary; I treasure a recording from the West Village bar Hogs & Heifers where the band reverentially (kinda) played their versions of songs by Steppenwolf, Lynyrd Skynyrd, and ZZ Top. At their live shows, during the breakdown in "Radiation Vibe" they'd  play riffs from "Swingtown," "Keep on Lovin' You," and "Jack & Diane," crushing one into the next like a live version of a Girl Talk supercut. They were savants who had absorbed pop and rock so deeply that they could reform it at their will. Hence, Adam's "That Thing You Do!" mixed early Beatles brilliance with Gary Lewis and the Playboys cheese. Adam wrote the song to order, formulating The Wonders one-hit wonder. 
And then, tempting fate, Fountains became a one-hit wonder themselves. 
III. WILL THE REAL STACY'S MOM PLEASE STAND UP?
I left Atlantic before the release of Utopia Parkway, and it felt more than weird to get a copy of a Fountains record in the mail that I had nothing to do with. It was their version of the Kinks' Village Green Preservation Society, packed with precisely written character sketches. And just like Village Green, it was not a hit. Critically heralded, loved by their fans, and made for appreciation years later.  
The follow-up to Utopia Parkway, Welcome Interstate Managers, featured their breakthrough, "Stacy's Mom." A perfect example of an Adam Schlesinger song, it rips off "Just What I Needed," winks at you, and makes you love it despite yourself.  Adam could write to order, and in this case, he wrote "Stacy's Mom" to his own specifications, to write the kind of vaguely racy alt-rock track radio would embrace in 2003; especially needed since FOW had been dropped by Atlantic.
I took no issue with the song—in fact, at my new job as GM of Artemis Records, I excitedly brought in a burn of "Stacy's Mom," sure I had found the label's next hit. After all, we were the company that helped launch "Who Let The Dogs Out," so surely we weren't averse to a song with a hint of novelty hit to it? No dice. So I watched as Fountains broke through with their biggest song ever…and then never repeated that success again. 
During the recording of Traffic and Weather, the band's next album, Adam called to tell me he had written "Michael and Heather at the Baggage Claim." He wrote us our own, beautiful love song, then asked our blessing to use our names. I'm not sure how you replace a friend like that.
IV. TINY DESKS FULL OF HOLES
After years of not working with Chris and Adam, I was hired to do outreach to National Public Radio (a specialty I had focused on at the company I had founded, Missing Piece) when the band released their last album, Sky Full of Holes. It was great to be working with them again; we set up a Tiny Desk concert at NPR's studio in Washington D.C. and scheduled an in-person interview with All Things Considered, only to have Adam and Chris completely blow it, pretty much avoiding host Melissa Block's questions about the meanings of the album's songs.  I had Adam write an apology to Melissa, and somehow managed to salvage the piece and got it on the air. Because, if nothing else, you could count on Adam to get his shit together and be professional.
Eventually, I was working simultaneously with both separated halves of Fountains, managing Chris in his new band Look Park, and helping to market Adam's new project Fever High, a high-concept duo where Adam wrote songs for two female vocalists, writing retro-pop that paired Bananarama's flat affect vocals with '90s dance pop. I was grateful to work with both, and honestly frustrated that neither could see clear to giving Fountains one more shot. It would never come to pass.
V. FUCK COVID-19
Adam died on April 1, 2020. Weeks later, I still can't believe I'm typing that sentence. 
The sense of dislocation I felt after seeing Chris and Adam go from being friends to some version of rock stars was nothing compared to seeing his picture in the obituary pages of The New York Times, or hearing Stephen King sing Fountains' praises to Terry Gross. 
Adam was fated for greatness. He worked his ass off for greatness. He controlled his own narrative, and that narrative was filled with breakthroughs, Broadway shows, theme songs to award ceremonies, and 150 songs for My Crazy Ex-Girlfriend.
This…this was not part of that story. A wise-ass to the end, a friend told me that on the way to the hospital, Adam made a joke about having the Toyota Corolla virus. 
Adam's work is now being appreciated in retrospect. I'm grateful for that, because Fountains of Wayne's five albums stand as one of the strongest catalogs of songs by a band in the last quarter century. But I'd much rather have another drink with Adam at Sid Gold's, the piano karaoke bar where he was a partner, and watch him sing "Is She Really Going Out with Him" in his somewhat off kilter baritone.  
I have nearly three decades worth of memories to revisit, and they'll outweigh the sadness of these last few weeks. It just doesn't feel that way, right now. FL