Bob Dylan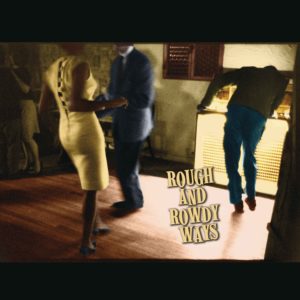 Rough and Rowdy Ways
COLUMBIA
7/10
Three things happened to Bob Dylan in the interim between Rough and Rowdy Ways and his last album of original songs, 2012's Tempest.
One: He's become something of a name-dropper, as you'll witness on the songs on the new record. The famed and the blamed fill the mediation that is opener "I Contain Multitudes," with Anne Frank, William Blake, and The Rolling Stones sharing space with "Beethoven's sonatas, and Chopin's preludes." On the poetic lament to the day that John F. Kennedy died, the epic seventeen-minute closer "Murder Most Fowl," Dylan makes room for Patsy Cline and Wolfman Jack alongside Jack Ruby and Lee Harvey Oswald.
Two: With all-cover albums—such as 2016's Fallen Angels—filling the gap between Tempest and Rowdy Ways, Dylan has again found the tender touch of crooning and vocal nuances—something he seemed to have  given away since 2006's Modern Times and throughout his Never Ending Tour dates. The brushed snare and marimba-filled "I've Made Up My Mind to Give Myself to You" and "Multitudes" are vocalized in dreamy fashion compared to his recent death rattle rasp.
And three: In accordance with his recent turn with the New York Times, Dylan is claiming that the words to Rough and Rowdy Ways, "are the real thing, tangible, they're not metaphors." With that statement, Dylan is asking us to believe he is more bite-sized and less tangential, cold, and journalistic. As he recites names and places with aplomb, that is believable. Still, he's pranked us before. What makes it so that the nine-minute "Key West (Philosopher Pirate)" and its delight in summoning the spirit of his Beat Generation elders/influences (as well as contemporaries he started with, such as Jimi Hendrix) isn't guileless poetry or stately prose?  Same, too, with the raw-knuckled reportage of "Goodbye Jimmy Reed," which worships at the altar of the blues god in his patently swamp-rocking style, while pinning such worship to the higher-but-human calling of sex. Same, too, of "Crossing the Rubicon"—perhaps not the river in Italy, but something "Three miles north of purgatory / One step from the great beyond."
Put these three elements together, add in celebratory road musicians in full gut-punching, blues-rocking glory (with extra help from, surprisingly, Blake Mills and Fiona Apple), throw in a holy gospel lilt ("Mother of Muses"), some snide asides ("The size of your cock will get you nowhere") and rap-level braggadocio  ("I'm the last of the best, you can bury the rest"), and you get a rugged-yet-elegant Dylan—once again reinvented.