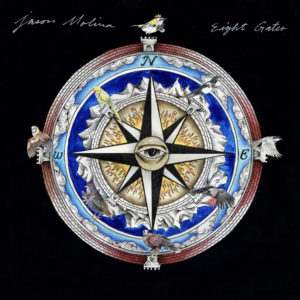 Jason Molina
Eight Gates
SECRETLY CANADIAN
8/10
Everybody dies. That's just a sad fact of life—and one we all have to come to terms with at some point or other. But those who spend their time on this planet creating—whether that's in song or with words or on screen—are never really gone once they've gone. They exist in fragments, memories, and pieces, their voices captured on vinyl, their words committed to paper, their films stored for future generations to discover long after their demise.
Jason Molina, who recorded under his own name, as well as Songs: Ohia and the relatively rowdier Magnolia Electric Country Co., is one of those who might be gone but who remains present, very much alive in spirit just over seven years on from his untimely death at the age of 39. That the Ohio-born songwriter died from organ failure resulting from alcohol abuse can be heard within these nine stunning songs. Not, of course, so much the act of doing so, but more the desperate, abject, harrowing loneliness that could—and, in this case, would—lead a human being to die so miserably, so wretchedly.
From start to end, Eight Gates, which was recorded during a stint when Molina was living alone in London, is a stark yet beautiful reminder of the fragile, ephemeral nature of life. It starts with the sparse "Whisper Away," Molina's voice rising and wailing like a restless ghost. More than plaintive and forlorn, there's a real sense of dread and foreboding in its dark sinews—it doesn't just sound like he's doomed, but that he knows he's doomed. 
That song sets the tone for what follows, which is to say there's very little reprieve. "Shadow Answers the Wall" is similarly bleak both musically and lyrically, Molina howling out his dread and angst over a portentous, monochromatic melody, while "Fire on the Rail" is a desolate anti-spiritual that sounds like the death of God. Elsewhere, "Be Told the Truth" and "Thistle Blue" are sorrowful laments that traverse centuries of heartbreak, all of which can be both heard and felt in Molina's aching warble. It all ends with "The Crossroad + Emptiness," a song in which Molina sings about his birthday before the song stops abruptly, not quite fading into nothingness, but with the sense—much like the singer's life—that there were more incredible things still to come. That they'll never be realized is a great shame, for while this is a collection of heart-stopping majesty, it's little consolation for the talent that the world lost.