There's enough highly publicized new music released every month now to keep you busy for at least a year. Chances are you haven't heard all of it—and if by some miracle of temporal tampering or unemployment you have, chances are you haven't retained too much of it.
That's why every month, our Senior Editor Mike LeSuer is going to be rounding up fifteen tracks to reiterate their importance in an unending stream of musical content. Comprised of pre-released singles, album deep cuts, and tracks by unfairly obscure artists, he thinks these guys could all use a little Signal Boost.
Airiel, "Bloom"
I saw this band open for Nothing in 2014 and I was shocked that of the two sets I caught, this was the one that ended with the smashing of a guitar. Airiel are kind of the cool uncles of Chicago shoegaze—their output has managed to stay pretty consistent over the course of the twenty-plus years they've been together, never quite reaching the levels of angst accomplished by their then-stagemates. It's interesting to hear how similar the new singles from the two bands are six years later, though it's considerably more to do with Nothing taking a page from Airiel's book of dense, aimless guitar over busy drums. Meanwhile, "Bloom" sounds like it could be lifted from the group's own Winks & Kisses EP series from 2002. 
Anna von Hausswolff, "Outside the Gate (for Bruna)"
I remember way back in 2008 listening to Neon Bible and thinking, "Damn, why aren't all rock bands using pipe organs?" (granted they're not the ideal instrument to heave in and out of venues on a nightly basis, I guess my follow up question would be, "Damn, why aren't all rock bands embracing pipe organs in 2020?"). Songs like Muse's "Megalomania" and Coldplay's "Fix You" always appealed to me, so naturally Anna von Hausswolf was the biggest thing to happen to me for a spell. Her latest strips away the songwriters' vocals for 44 minutes of droning minimalism (apt, considering her signing to Southern Lord for the release) which close out with the elegiac "Outside the Gate," perhaps the most haunted of the tracks. The ambient moans swirling around Anna's playing chillingly replicate memories of being alone in an unlit sanctuary as a kid.
Anne Malin, "Hourglass"
Bear with me here, but if clipping. were to bring a country duo on tour with them, I don't think their audience would necessarily be opposed to the subtle experimentalism of Anne Malin. "Hourglass"—among the first previews the duo of Malin and William Johnson's new LP Waiting Song had to offer—plays out like a familiar slide-guitar, country-western ballad before the buzzsaw sounds of feedback slice the track in half. It's subtle, but the disruption in this song about losing all concept of time in quarantine provides a surreal—if not migraine-y—flavor of industrialism in an otherwise idyllic soundscape.
The Big Easy, "It's All Fun and Games Until Someone Gets Hurt"
You ever get that thing where you hear a song and immediately register how much it resembles a pocket of music with such a small following that it almost feels pointless to make a note of it? I don't imagine it'll mean much to anyone under 25 years old and who never lived in Denton, Texas, but it's hard for me to believe The Big Easy isn't signed to Dirtnap Records circa 2012 for their first proper LP, of which the first single—considerably touched up from a 2016 demo—sounds remarkable like the economic and almost irreverently well-recorded punk of that specific scene. I suppose a little less devotion to the Ramones isn't a bad thing.
body / negative, "Figure 8"
I wanna say body/negative's "Figure 8" is Schoolhouse Rock by way of Dirty Beaches, but when was the last time you heard the original? Shit is way more haunting than you may remember, though Andy Schiaffino's take on the math-trick dirge is particularly somber (like Elliott Smith before them, they cut the upbeat center out completely, while reducing the educational lyrics to a background wisp). Feel like the Snowman soundtrack (not that Snowman) would be the logical next step for b/n.
CCR Headcleaner, "Star Cry"
If you're burned out on thirty years of high-energy garage rock from the In the Red roster but still feel some residual nostalgia, the demented hard rock of CCR Headcleaner tends to hit the spot. In the same way they did something weird to the name of a classic rock band for their own band's title, the West Coasters convolute the formula for hard-hitting rock songs of their peers, "Star Cry" for example giving us both the beefiest riffs of Fuzz and the weirdest stage personas of Emotional Mugger–era Ty Segall filtered through a vague attraction to sludge metal.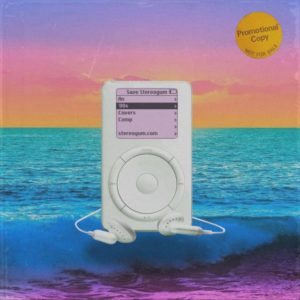 clipping., "Tipsy"
Something impressive about that massive Stereogum covers comp is the way a handful of the songs hardly sound like covers—when Laura Jane Grace starts singing "This Year" I registered her vocals as being John Darnielle's, while Twin Peaks somehow nailed all of the weird Dave Longstreth inflections. While the near-spoken-word voice heard on "Tipsy" is immediately recognizable as that of Daveed Diggs, the minimalist industrial backing sounds as true to the clipping. discography as it does Trackboyz's pounding production on J-Kwon's monotonous original. For all I know, the deafening screech that opens the track could've been in the original non-radio edit. 
Dig Nitty, "Blue Bard"
Just when you think the new Exploding in Sound release is over before devolving into bone-rattling noise rock, Dig Nitty bust out "Blue Bard," a pensive, five-minute, angelically sung and minimally strummed penultimate track that—spoiler alert—serves up a jump-scare in its final minute. It sounds like Erin McGrath dives out of the way just in time for some unstoppable force of nature to barrel through, leveling everything in its path. It's good to have some normalcy in the world.
EYES, "Underperformer"
"Underperformer" sounds like what You Won't Get What You Want would have sounded like if over-filling a coffee cup had been the biggest inconvenience in Daughters' lives over the past decade. The title track from the Danes' debut record echoes the driving, guitar-metal insanity of Daughters' recent return record, though as the song's video goes to show, there's a little less pressure in life when you have universal healthcare and other socialist-utopian ideals. While the track is as heavy as anything one could expect from Ipecac Recordings, I don't think I've ever seen a metal video with so much sunlight.
Glassing, "Twin Dream"
I'm cheating here because I didn't want to feature Glassing twice in my August post (they were featured on the Coastlands track), but "Twin Dream" is a promising late-August loosie from the Austin-based Glassing, who make indescribably heavy post-metal sorta-shoegaze in the same vein as Holy Fawn (who have since remixed the band's music). I guess I use the word "indescribable" here because this track starts as one thing before transforming into something completely different ("black prog"? Is that something?)—in this case, morphing from spaced-out post-rock to frantic screamo. It's one of those deals where halfway through the track you get really excited when you suddenly remember what you're listening to.
Lee Paradise, "Message to the Past"
In yet another 2020-bingo-card moment, the new single from Hooded Fang's Lee Paradise sounds remarkably like JT's "SexyBack." Of course nothing from the HF/Telephone Explosion universes could be quite that straightforward—"Message to the Past" is nearly as concerned with unease as it is being sexy, replicating the band's distinctive acid-trip deviation from mid-aughts Canadian indie. As the band's sound distorted with age, the first single from Dan Lee's solo venture manages to recreate the playful, dancy spirit of Gravez while maintaining the clanging, dissonant, and outright strange post-punk of Dynasty House.
Salem, "Starfall"
A couple years ago I reached out to Pictureplane about a story on the history of witch house, but he immediately told me he had nothing to do with the scene (despite numerous accusations of Travis Egedy coining the term). Shortly after, I interviewed Jake from HEALTH and he basically said the same thing. Seems like no one really wants to be associated with the very shortly lived scene, which becomes more and more shocking every day as popular music leans into the haunted trap music that eulogized the 2000s. This is all to say that it was a relief when Salem returned this month to confirm that this collective memory wasn't an implant—white dudes really were out here spooking the shit out of club music.
Small Bills, "ET Diamond"
Between his sound-collage EP, a slew of guest verses, and a new Armand Hammer record, we've gotten plenty of Elucid in 2020, with more on the way. The rapper recently announced another album-length collaboration out in October, this time with Detroit producer The Lasso as Small Bills, and the tense "ET Diamond" proves a promising early single. Over a frantic beat, Elucid's rasp gets paired with a fiery verse from Richmond rapper Koncept Jack$on to bolster his answer to the billy woods/Kenny Segal LP that dropped last year—not to mention a solid track record of collaborative Mello Music releases most recently seeing Solemn Bringham and L'Orange and Quelle Chris and Chris Keys together.
Soul Glo, "(Quietly) Do the Right Thing"
While Soul Glo have long been a part of Philly's hardcore punk scene, their new single lands somewhere between black metal and nu-metal, with the shrieked vocals embracing the tradition of the latter and the terrible snare hits paying homage to the former. It's like they suck up the most chaotic elements of every genre they hear and leave the remains by the wayside, sustaining their long-running, punk-derived formula of saying a whole lot of shit in under two minutes with whatever cool noises they hear. More songs to yeet at the sun forthcoming.
SUMAC, "Consumed"
I think seven months into a global pandemic is as good a time as any to get really into drone and atmospheric sludge metal. At seventeen minutes, "Consumed" is only the second longest track on SUMAC's latest LP May You Be Held—though it's also the one with the biggest payoffs, peaking with the avalanche of instrumentation just past the fifteen minute mark following a moment of peace and disgruntled oration from Aaron Turner. Block off an enormous chunk of time, find someone to be held by, and give this one a spin.