Thurston Moore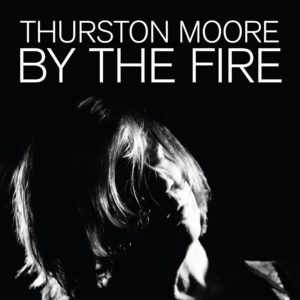 By the Fire
THE DAYDREAM LIBRARY
7/10
Nearly ten years since the break up of Sonic Youth, with a handful of slippery solo projects since that demise, one of its twin engine guitarists, vocalists, and conceptualists Thurston Moore has finally made a (mostly) vocal album that plucks from all that made the Youth dynamic, and his own alone-time projects, so prickly and daring.
Backed by Moore's usual contributors since his move to London—bassist Debbie Googe (My Bloody Valentine), electronics programmer Jon Leidecker (Negativland), guitarist James Sedwards, and Sonic Youth's Steve Shelley—everything on By the Fire, whether elongated (the twelve-minute single "Siren," the dusky, restless instrumental closer "Venus") or cuttingly sharp and briefer (the stripped-to-the-bone "Calligraphy," "Dreamers Work") has this weird forward momentum. Even the richly composed movement of "Cantaloupe," which could be mistaken for vintage whining psychedelia, is sludgy and grooving in an ancient-to-the-future manner.
Perhaps a large dollop of the album's projectile trajectory comes from its aim to act as a balm for terrible times. Sure, Moore has looked at all things current with a jaundiced eye in the past, but a hypnotic moment such as "Hashish" is ripe with pictures of life and love in quarantine. The noisy jam-to-boogie "Locomotives" opens itself to a sense of calm that's positively glorious—"We are here / We come in peace"—before it clocks out at nearly seventeen minutes.
Having spoken to Moore in the recent past about the joy he's found in moving away from his beloved New York/U.S. and the import of Sonic Youth, he talked about happiness, peace, and bliss. At first I cynically assumed that the lanky no-wave godfather was making the most of a mediocre situation. With By the Fire, however, it's clear that Moore has made the very best and most comfortable of beds to lie in peacefully. And when he chooses not to rest, but to rock out menacingly, majestically, and loudly—that, too, is somehow calming.