HEALTH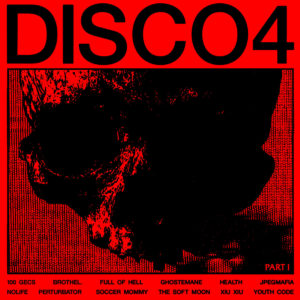 DISCO 4 :: PART I
LOMA VISTA
8/10
There are two prominent music industry trends that feel most symptomatic of the chaotic, desperate, and tourless year 2020: The first is a reliance on big-name collaborators to boost the SEO relevance of any given project, permitting headlines like "Soccer Mommy, JPEGMAFIA, 100 gecs, and More to Appear on the New HEALTH Record." The second seems a bit more rooted in the uncertainty of this period of quarantine: artists releasing a slew of loose singles (mostly covers, remixes, and collaborations), which will all soon reappear on a seemingly improvised EP announced for Bandcamp Day. 
While the new project from HEALTH meets both of these criteria, DISCO 4 :: PART I certainly precedes—if not transcends—them. The LP's worth of bizarre and genre-spanning collaborations has been in the works since the 2017 release of "Hard to Be a God" featuring glitch-noise artist NOLIFE, with most of the album's songs dropping sporadically up until this past July when HEALTH shared the punishing (and punning) track "Full of Health" with powerviolence collective Full of Hell. In fact, HEALTH's discography now contains more DISCO records comprised of such collaborations than it does standard albums, even if this is the first not to be made up of remixes. 
Eye-catching and SEO-juiced collaborators 100 gecs, Soccer Mommy, and JPEGMAFIA do all appear on this record, but if there's a thesis to the compilation's audio nihilism it's that artists like Sophie Allison and Full of Hell can finally peacefully (is that the right word?) coexist on a tightly hewn track list in 2020—a year where artists like Tenacious D and Guided by Voices are commonly seen alongside each other fighting for democracy. In fact, "Hate You" with JPEG and "Mass Grave" with Allison are two of the record's best tracks, the former seeing HEALTH construct a demented, industrial hip-hop environment for Peggy to thrive in and the latter featuring both artists delivering an eerie and fascinating duet equally outside their comfort zone. 
Meanwhile, the NOLIFE track, as well as those from other instrumental acts like the darksynth project Perturbator and instrumental trap artist brothel. (who's essentially reworking the band's 2015 track "LA Looks") just sound like really good HEALTH songs if the band were to experiment with new sounds. I suppose the same goes for the opening "Cyberpunk 2.0.2.0.," which literally is just a really good song by HEALTH alone.
I'm not entirely sold on "Full of Health," the flirting-with-dubstep gecs song, or the very Xiu Xiu collaboration with Xiu Xiu, but even these tracks don't feel out of place, half-cocked, or ill-conceived. And even though the record sort of abruptly ends just as it hits what sounds like another mid-album climax with "Hard to Be a God," DISCO 4 still sounds much more like an album than some sort of gimmicky Halloween playlist. It weirdly feels like one of the most cohesive musical capsules for 2020: full of hell and devoid of genre.