This article appears in FLOOD 11: The Action Issue. You can purchase the magazine here. All proceeds benefit NIVA (National Independent Venue Alliance) and their efforts to save independent venues across the United States. #SaveOurStages
---
Juan Pablo Wauters was eighteen years old in 2002 when he boarded a plane in his hometown of Montevideo, Uruguay and flew to New York City to reunite with his father. Wauters arrived on a tourist visa; six months later, when the terms of that visa expired, he joined the approximated half a million undocumented immigrants living in NYC. Of that number, more than a third are believed to reside in Queens, which is where Juan's family had decided to make their new home.
Juan's father had flown north two years earlier to escape the looming economic crisis that, in July 2002, caused Uruguay's banking sector to collapse. Once Juan joined him, the pair worked side-by-side at a picture framing factory and saved up enough money to bring the rest of the family (Juan's mother and two brothers) to the U.S. "They consider themselves to be in economic exile," Juan explains from his parents' house in Jackson Heights. "They don't think they chose to move here, they feel like they were cornered and had to make that decision."
The decision to immigrate is not something anyone takes lightly. I went through the process of immigrating to the U.S. last year, and was amazed at the toll it took on my mental health. A citizen of New Zealand, I had one of the easiest ways in—my wife, who is also from New Zealand, won the diversity visa (or green card) lottery, which was introduced in 1990 as a way to diversify the immigrant population in the United States. In 2017, nearly eighty-four thousand applicants were selected, and almost fifty thousand people from 185 different countries were issued green cards through the visa lottery program.
Despite what some critics say, including former White House press secretary Sarah Huckabee Sanders, visa lottery winners do not hit the jackpot and get to expeditiously live in the United States permanently. Winning the lottery simply gives you the right to apply for permanent residency; you are still thoroughly vetted, just like every other person who attempts to cross the border. Though the process to obtain a visa this way is less bureaucratic, there are still monumental barriers that make winning the lottery bittersweet—these same barriers exist for most people wanting to immigrate to the United States.
"Looking back, during those days we were in survival mode. Everything had to be done right, so I was very focused, and we did the whole thing the proper way. I hired a lawyer and the person that I did it with, she was also very responsible with all the paperwork."
Along with attorney's fees, which can reach into the thousands, the current non-refundable application fee to obtain permanent residency is $330 per person (for someone already living in the U.S., the fee is $1,140, plus an additional $85 fee to have your fingerprints and photo taken). This fee needs to be submitted with a form, in English, that details the last ten years of your life. As part of the Trump administration's war on immigration, all of these fees are about to rise astronomically, and you are now also required to provide a list of social media handles that you've used over the last five years with your application. Unlike other government agencies which receive funding from congress, U.S. Customs and Immigration Services relies on fees to keep the agency running—nearly 97 percent of the department's budget comes from fees collected at the border. 
When you meet with a U.S. immigration officer, which is mandatory, you must also present an original copy of your birth certificate, provide police certificates for every country, state, or jurisdiction that you have lived in, show that you've completed high school or gained an education comparable to a twelve-year course in the United States, prove that you've passed a medical exam, and, if you're married, provide your original marriage certificate and a trove of evidence to prove your marriage is legitimate. You can do this by showing a lease with both your names on it, by printing out social media posts where family members have commented on photos that you're both in, or by showing travel documents where hotels were booked under both your names.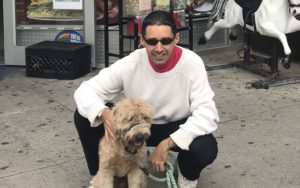 That's the so-called easy way. If you marry a U.S. citizen, as Juan did after being undocumented for a period, your spouse must also provide evidence that they can support you financially, and if approved, you get a temporary green card that's only valid for two years. To get a ten-year green card, you and your spouse must again sit before an immigration officer and answer questions to prove your marriage is still intact. 
"Looking back, during those days we were in survival mode," Juan says of his experience with the immigration department. "Everything had to be done right, so I was very focused, and we did the whole thing the proper way. I hired a lawyer and the person that I did it with, she was also very responsible with all the paperwork."
Juan's brothers were thirteen and ten when they arrived in the U.S. Today they're part of a group of individuals known as "Dreamers"—a label used to describe those who were brought to the U.S. as children by their parents. Juan considers himself part of this group, too, even though he never had to enroll in the DACA program. "I was a teenager at the time, still dependent on my parents economically in all senses," he says. "I was not given any opportunity to make my own decisions."
"I thank the universe for bringing me here. I'm very happy and very proud, I feel like this neighborhood has influenced me a lot."
Now in his mid-thirties, Juan's immigrant background is what makes his music stand out among the crowded field of white American indie rockers that have helped turn his record label, Captured Tracks, into one of the nation's most prominent labels of its kind. DIIV, Dum Dum Girls, Wild Nothing, and Mac DeMarco all made their mark with the label's backing, but it was Juan's former band The Beets that made the label's first full-length release in 2008. 
"We've known each other from the beginning," Juan says of his relationship with Captured Tracks' founder Mike Sniper. "One time The Beets played a concert that was programmed either by him or one of his friends, and from that day on I've been releasing music on Captured Tracks." The Beets released two albums of rackety, lo-fi garage rock with the label before dissolving in 2014 (they put out a third album with Hardly Art Records). Juan has since released four albums under his own name. His most recent, Introducing Juan Pablo, is a bilingual record sung in both English and Spanish that references the interculturalism that connects the many immigrant communities in Jackson Heights, and reclaims the middle name that he stopped using once he had assimilated in the U.S.
Few artists ever manage to sound like New York City does, but within the cosmopolitan sounds of Juan Wauters' joyous indie-pop music you can hear how the cities' different cultures collide. That's because his own neighborhood, Jackson Heights, which is one of the most ethnically diverse in the country, is never far from his mind. "I thank the universe for bringing me here," Juan says. "I'm very happy and very proud, I feel like this neighborhood has influenced me a lot. Living here, I have become much more aware of other people's lives. I am much more aware of how everybody can learn from everybody, and how everything should be considered."
This attitude is clear when Juan talks about the current political climate, which has become extremely hostile toward immigrants, particularly those who came to the U.S. undocumented like Juan and his family did. It can be easy to overlook the immigrant population when you don't recognize yourself within it, but the fact is that most immigrants have a love for this country that is much more tender than the nationalist version promoted with pomp and grandeur by the current president.
Juan says he recognizes why some people in the U.S. may be upset and want to blame immigrants for their problems. "I feel for them, because when I travel through the country I see how these people live, and I relate," he says. But he believes President Trump is taking advantage of people's ignorance. "I don't hate those people that live in the country and vote for Trump. I've gone through the country and it looks horrible out there," he says. "We live in New York, so we don't know. Here we have a lot of opportunities and we see people from other countries and we all get along." FL