Gorillaz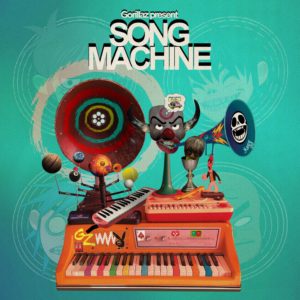 Song Machine: Season One – Strange Timez
PARLOPHONE
7/10
A make-believe cartoon ensemble recording an album that isn't an album: welcome to musician-vocalist Damon Albarn and comix artist Jamie Hewlett's Gorillaz, still going strong and strange since its inception in 1998. Then and now, four post-anime cartoon band members (Stuart "2-D" Pot, Murdoc Niccals, Noodle, and Russel Hobbs) carry on the mission of making merry in the face of an impending apocalypse (still? 22 years later?) to a soundtrack of synth-pop/punk-rock/dub/reggae/dub-electro-bossa-funk, all while hosting the wildest, most cinematic array of all-star guests since This Is the End.
What differentiates this seventh studio album by the virtual band from its other rubbery recorded projects is that the elastic Song Machine started life as a wonky web series consisting of a collection of "episodes," subsequently spilling onto several differing hard deluxe versions of the package—the best one reaching seventeen tracks in length with its last tune "How Far?" featuring genius time-keeping from the late Tony Allen, a frequent collaborator of Albarn's and an addition that gives the chipper Song Machine an elegiac finale.
"My head is spinning, suspended in a twilight web that keeps on giving," sings Albarn on "Strange Timez"—a lyrical description of the natural reaction to all that Song Machine's musical mini-mall entails. That the opening subtitle track also includes Robert Smith of The Cure at his moody, moaning best across the sparklingly tuneless death disco gives you an indication of the marvel to follow. Rapper ScHoolboy Q does a freak-a-deaky freestyle through the robotic rhythms of "Pac-Man"; punk flowacists Slaves and emcee slowthai pay homage to ska on the top-ranking skank of "Momentary Bliss"; psychedelic J Cole signees EarthGang give the house music of "Opium" a soulful, lonely edge; St. Vincent's Annie Clark does her Blondie-Berlin best over the electro-wave of "Chalk Tablet Towers." You get the picture—many stars joining Gorillaz in their vision of space blues and end times.
Rather than assume that the glut of guest stars and features pushes Albarn to the back of his own party, guess again. Every note and nuance of Song Machine bristles with the Blur frontman's zotzed-out vision and eclecticism. Plus, Albarn is the most consummate host and vividly proactive curator Gorillaz could want for the virtual art gallery that is Song Machine. If there is a complaint to be made to the management, it's that there's not enough song to Song Machine; that for all of its haunting atmospheres and manic diversity, its melodies are often lost or MIA. Let's hope Season 2 isn't a re-run in that regard.