Soul Glo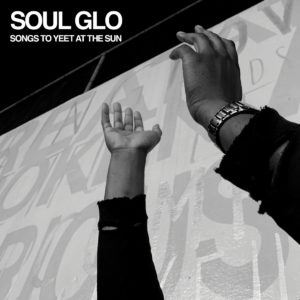 Songs to Yeet at the Sun
SECRET VOICE
8/10
A longstanding problem within punk—whatever the iteration of the genre—is that there aren't enough Black-fronted bands in the spotlight. A handful, of course, have made their marks throughout the ages: Bad Brains, Death, and, more recently, FEVER 333, have all unapologetically flown the flag for Black culture and history in the context of punk music, while the growing profile of the Afropunk Festival exists specifically to give Black artists more of a visible voice in a predominantly white scene. Yet in America especially, Black punk bands—much like Black people themselves—are so often sidelined, ignored, overlooked. 
With this new EP, Philadelphia hardcore punks Soul Glo—named after the fake spray-on grease advertised in the iconic 1988 Eddie Murphy flick Coming to America—are making it hard for anyone to overlook them. Songs to Yeet at the Sun's five songs might not even add up to twelve minutes, but they all punch hard, documenting simultaneously what it's like to be a Black band in a white scene, but also the larger, wider context of what it means to be Black in America, a country built on the backs of slaves and which has never shaken that inherent racism from its identity.
That's something the four-piece has confronted through bellicose hardcore sputterings since its inception, drawing on their own experiences and combining them with that brutal history as well as the ongoing racial injustice faced by Black people every day. (In 2018, for example, the band were pulled over while on tour and frontman Pierce Jordan was taken into custody. The cover of their 2019 LP is a photo of that incident.) Clearly, Soul Glo is a band not afraid to say exactly how and what they feel, however uncomfortable that may make some people, and Songs to Yeet at the Sun is no exception. 
Opening track "(Quietly) Do the Right Thing" starts with a tortured scream and then accelerates into a frenzied burst of intense, unruly hardcore before "29" (the band has a habit of numbering, rather than naming, its songs) ups that frantic hardcore ante. But Soul Glo has never played by the rules, and "2K," which features Memphis rapper Archangel, is a full-on punk/hip-hop sound collage. It slows the mood down just enough for the cacophonous rush of "Mathed Up" to be a vicious sonic jolt to the senses, before "I'm on Probation" rounds things off in a whirlwind of apoplectic noise replete with death growls. Yes, it's over almost as soon as it begins, but its effects continue to rattle your brain, your heart, your bones, and your sense of morality for a long time after. An important record that needs to be listened to—and listened to loudly.