With his debut album as JARV IS…, Beyond the Pale, crafted as a cut-and-paste assemblage of overdubbed live recordings—and a film, Beyond the Pale… Live From the Centre of the Earth, focusing on the live concert process—you can't help but think that Jarvis Cocker has been focused on the performance aspect of his art lately. To hear the deep, droll vocalist tell it, honing his bookish, lit-witty skills as an author of smartly smarmy lyrics—and soon a book titled This Book Is a Song—and adapting them for the stage has been of the utmost importance to the British lion.
Beyond, in his words, the "alive" album of Beyond the Pale, the duskily cinematic Live From the Centre of the Earth—lensed at Peak Cavern in Derbyshire, U.K. by Iain Forsyth and Jane Pollard, known for crafting Nick Cave's film 20,000 Days on Earth—brings the JARV IS… album full circle, as two of the album tracks were recorded at the cavern. That circle was accomplished easily due to the working relationship between the directors and Cocker, as the latter composed the soundtrack to Likely Stories, the directing pair's interpretation of a handful of Neil Gaiman mini-novels, now streaming on Prime Video.
Because so much of Cocker's art and life at present is focused on the "live" experience, so to speak, we talked to him about that very thing in the wake of his film's premiere. 
I always thought of you as a studio cat, but, so much of the JARV IS… experience so far is about playing live.
That's an interesting assumption. I mean, live performance has always been important, as that's when my material comes alive, when I have the most direct contact with an audience.
Was that always true? You're not a born stage ham?
When I first started out, going live in front of people was the hardest hurdle for me—to overcome my shyness, to get comfortable with being onstage. When I did finally get comfortable, It felt like a real breakthrough. The thing about being a studio cat, like you said, funnily enough, is that I don't really like being in a studio at all. I find It very stressful. It's all about capturing and harnessing an idea.
You make it sound like a bucking bronco or hunting a wild animal.
It is. You have a wild dream idea of what a song is in your head, but, there's the practicality of doing sound checks and microphone checks. And it is tedious. 
"The basis of so many of the songs were their live recordings, so we were completely un-self-conscious of making these songs when we were making them."
That had to make the process of doing this new album something of a revelation.
Yes, because we recorded a lot of it without really realizing we had recorded a lot of it. The basis of so many of the songs were their live recordings, so we were completely un-self-conscious of making these songs when we were making them.   
I think the basis of my thinking about the studio you versus the live-stage you comes down to the writing process. Does being on stage allow you to state more clearly what you've already written?
Yes, playing out always seemed freeing. It's always easier to talk to a crowd of people as opposed to an individual. There, you are conversing with people at what seems a safe distance. You're ten feet above them on a stage.
You started a version of Pulp when you were fifteen years old. How do you chart your evolution from then until 2020?
It's funny, I did an album with Chilly Gonzales [2017's Room 29]. He was talking about the first time he saw me perform and said that the thing he enjoyed most was that it was like seeing a twelve-year-old kid living out his fantasy of what a rock star would be like in the same situation. I was terribly offended by that [laughs]. OK, not offended. But honestly, I was not aware of what I must have looked like.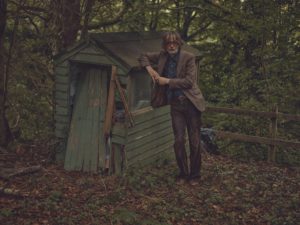 And now?
Yes, how I am onstage now has evolved from who I was in the past. When I first went onstage I was too petrified to move. I was worried about playing and singing everything correctly and coming in at the right parts. There was one night though—there was an incident where my guitar amplifier broke and I just couldn't bear it, so I fell on the floor and rolled around in a tantrum. At the end of that, however, people clapped. At the time that really irritated me—like, what's the point of learning these songs if an audience just wants to see people rolling around the floor and screaming? That did open my eyes, though. Being onstage wasn't just about singing and playing the right notes—it was about getting into it, performing.
I've become more comfortable with that. I didn't have any moves and never worked with a choreographer. As the music is passing through me, I am reacting to it. That's made it all so much more pleasurable for me. It's second nature now—I don't think about it. I don't really like watching myself, but as we're editing [the new film] I had to watch myself. I listened to what I said between songs—unscripted, I might add. Maybe what I said was a  complete load of bullshit. Either way, I like the fact that, no matter what, it was off-the-cuff and completely spontaneous.
You've been both behind and in front of the camera—what do you see now looking at Jarvis Cocker? Are you aware of angles, aging, or are you just a vessel?
"Chilly Gonzales was talking about the first time he saw me perform and said that the thing he enjoyed most was that it was like seeing a 12-year-old kid living out his fantasy of what a rock star would be like in the same situation."
It's like when I see myself when I go for a shave. It's a different me in the mirror than the guy on stage. When you regard yourself in the everyday universe, you're seeing yourself as flat, still. Most people don't jump around in front of the mirror. So it's always something of a surprise when you see yourself on film. It was also a surprise as the band and I hadn't done any video stuff for a while. You look for the signs of decay. I wish I had brushed my hair a bit more. That said, I'm happy with this film and how I look. And it's a miraculous thing the way it was made. We had not played as a band in four months due to the lockdown. We all showed up in this cave and just played. That we all played in time is a miracle.
Were there models for what you wanted Beyond the Pale to look like?
I believe it came naturally, as I've had an obsession with caves for a while, some twelve years now. Those obsessions gave way to some of the ideas on the record. I liked the aspect of the film where we were going to take the album back to its birthplace—a cave. I tend to get into high concepts like that. We filmed and lit individual songs as if it were one show with one flow. Because it was made during the lockdown, I like the idea that we would treat it as if we were breaking down a fourth wall and talking to the people watching, as if they were there.
What's your obsession with caves?
It was a very specific moment. I have a son, and when he was young and on school holiday I brought him back to London, to my mum's, and we were looking for some kind of father and son activities to do. One day my mum said that there were these caves—Creswell Crags—near where she lives, caves that contain the only surviving pieces of cave art in the whole of the U.K. —a very simple carving of a horse's head.  
I dunno, I was looking at this carving and suddenly I became very emotional to the point where I felt quite tearful. Strange, right? I thought this was supposed to be some simple school trip, why am I feeling touched? In the cave's gift shop—because everything has a gift shop—there was a book called The Mind in the Cave. I liked that title, so much so that it wound up as a lyric in a new song ("Must I Evolve?"). The basis of the book is that modern consciousness and creativity was born there in those caves, that people were there in the dark—and whether they were in the dark and hallucinating or they were bored, they started to decorate their caves.
Based on what they were thinking or imagining. The root of art. Your roots.
Yes, here in these caves was the dawn of creativity and artistic expression. The author was tracing what triggered all that. The book was so purely academic—it took me eight years to read. I found it all very inspiring. It sent me off on my own journey. I felt as if I was starting over again, really. We were writing songs and instead of just  recording them, we were taking them out, live, to the people—something you do as a band just starting. I went back to the dawn of creativity while going back to the dawn of my creativity. FL