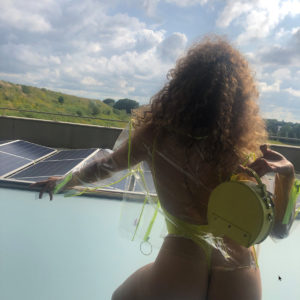 JPEGMAFIA
EP!
EQT RECORDINGS/REPUBLIC
7/10
Long the province of the indie rap/noise-hop universe, Baltimore-spawned emcee, sampler, and provocateur JPEGMAFIA purges his shelves filled with 2020's series of fan-fave singles, and moves to Republic for the multi-hued, nine-song EP!. Unlike his somewhat-slick 2019 LP, the winning All My Heroes Are Cornballs, the diverse track list and tone of EP! goes back to JPEG's pre-fame creep mode with that era's rough-edged rawness fully intact.
"I switch my styles like I switch hands," Peggy raps furiously on the lo-fi, flute-y "BALD!" (and its remix with a verse from Denzel Curry). To the rhythm of a pliable rubbery bass line and a break filled with twinkly Kraftwerk-like vocoder, "CUTIE PIE!" maintains JPEG's low-fidelity aesthetic, but finds his flow friendly and his rhymes dedicated to all things old school. Lines like "Rapping like Schoolly D and dressing like Magnum P.I." and a shout out to Peabo Bryson say as much. Sticking with his under-produced vibes and some intense scratchy FX, the sinister organ jazzy "THE BENDS!" samples a Trump speech about 45's "overwhelming support" from the African-American community, and peels off a few MAGA disses before the mid-tempo track is over.
With "BODYGUARD!," however, Peggy slips silkily into the twenty-first century with texts filled with "sugar and spice, and everything nice" (as well as some verbal word play on prophylactics and "no protection"), an elegant user manual on Auto-Tune's soulfulness and some gentle balladry. Anyone who owns this singles package from its month-long run on Bandcamp will thirst for the squiggly, stringed "SUPER TUESDAY!"—the EP's lone previously unreleased track—and its eerie, sonic take at what success isn't. Along with ripping on R. Kelly and, curiously, Craig Mack, Peg goes for the jugular on all wanna-be everythings, with: "How you rappin' all your life and you ain't profit? / How you claim to be a punk but you ain't moshin'? / How you tryna book a tour but you ain't poppin'?"
Cold blooded. Nice to know that JPEGMAFIA's keeping it mean while on the major label tip.