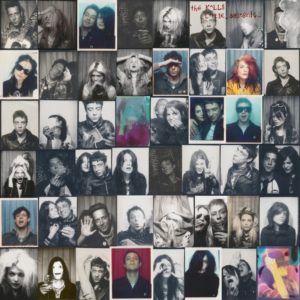 The Kills
Little Bastards
DOMINO
6/10
Although the concept of B-sides has largely disappeared in this digital day and age when Spotify rules listening habits (while also refusing to adequately compensate artists—but that's a story for another day), when Alison Mosshart and Jamie Hince started The Kills in 2000 things were very different. The release of physical singles with B-sides was much more commonplace. It was also incredibly prevalent among the punk rock scene in which Mosshart cut her teeth as a teenager in Florida punks Discount (still the best band she's ever been in, but that's also a story for another day). It's little surprise, then, that The Kills were big purveyors of the B-side, and have compiled theirs, along with a bunch of other rarities that spans the band's two-decade career to date, for Little Bastards. While the very nature of a B-side might imply it wasn't good enough to be released on an album or as a single, that's not always the case, so to dismiss this as a collection of offcuts for dedicated fans of the band would be harsh. 
Indeed, there are some tracks here that are definitely good enough to warrant their inclusion on actual Kills albums—the scuzzy gloom of "Kiss the Wrong Side" for instance, or the dour celebration of miserablism that is "London Hates You," which sounds more like Yeah Yeah Yeahs than The Kills. Is that why it's one of the better tracks here? Quite possibly. That problem with The Kills is the one-dimensionality of their sound. While that other famous male-female bluesy-rock duo The White Stripes—to whom comparisons were rife when The Kills first started, and for valid reasons—found a way to swell and evolve their sound over time (even as they became a parody of themselves), The Kills, on the whole, never quite managed to do the same. 
Certainly, the spooky, made-for-a-Tim-Burton-movie stylings of "I Call It Art" and the electronic strains of "Blue Moon" are examples of the band at its best and most interesting, but they're offset by the anemic chug of blues standard "Forty Four"—which removes most of the soul of the original—and the band's rather basic, unsubtle, and emotionless version of "I Put a Spell on You." Granted, both of those are covers, but both "Weed Killer" and "The Search for Cherry Red"—not to mention the inane "Magazine"—demonstrate the duo's reliance on affectation and the one-dimensionality at the heart of what they do. Yes, this is a rarities compilation, but unlike the best rarities compilations it doesn't really offer any insight into the band or their music-making processes. Which means, on the whole, this is best served for those who are already fans of the band. Others probably won't find much of interest here.