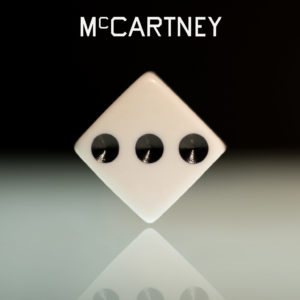 Paul McCartney
McCartney III
CAPITOL
7/10
It seems unlikely that any of the songs on McCartney III will stand as significant additions to Sir Paul's songwriting legacy. This is largely a function of his rarified stature and a legacy that's already assured; after all, we're talking about the guy who wrote "Yesterday," "Eleanor Rigby," and "Maybe I'm Amazed." Surely he's made peace with the fact that his new material will never make quite the same seismic impact as the music he made in his youth.
But it's also worth noting that the songs on McCartney III seemingly make no attempt to expand his songwriting legacy. They're deliberately small, and often intentionally silly. One, called "Lavatory Lil," rhymes "winner" with "dinner" and paints a crude, stick-figure portrait of a nefarious gold digger. Another, called "Women and Wives," offers this stab at wisdom: "What we do with our lives / Seems to matter to others." It sure does!
The funny thing about McCartney III, though, is that its modesty, its goofiness, and its frivolity aren't just part of its charm—they're also what make it feel so uniquely McCartney. There's no singer or songwriter of his stature who's devoted so much of his recording career to goofing around, so much of his time and attention to trifles and larks. Following the dissolution of The Beatles, as John and George prepared grandiose statements of artistic intent (and Ringo went country), Paul holed up in his basement to make off-the-cuff home recordings like McCartney and Ram, albums that steadfastly refused any sense of loftiness or bold ambition. Initially derided as pablum, these albums have only grown in their stature as pioneering works of DIY pop; they're lovable precisely because they're disheveled, low-stakes, and unpretentious.
In this context, there was really nobody better suited than Paul to lean into the isolation of quarantine, setting himself loose in his home studio for a series of one-man-band recordings heavy on his noodly guitar riffs, wobbly drumming, and overdubbed harmony vocals. That the songs on McCartney III resist ponderousness or sociopolitical intention is a feature, not a bug; Paul's answer to a grim 2020 is to lose himself—and, with any luck, his listeners—in a spirit of whimsy. You might say he's been training his whole life for this. And, if you're willing to receive the album on its own low-key terms, it's almost entirely pleasant: Warm, inviting, a little weird, persistently tuneful, endearingly merry.
In fact, the back half of the album taps into an especially fertile vein of giddy studiocraft, starting with an eight-and-half-minute confection called "Deep Deep Feeling" that never once tries to be as epic as its runtime suggests; instead, it cheerfully ambles along with a series of melodic solos, sound effects, and pockets of all-Paul vocal harmony. From there McCartney III gamely veers into gnarled hard rock ("Slidin'"), soft-shoe acoustic balladry ("The Kiss of Venus"), and surprisingly funky R&B ("Deep Down"); one unfussy delight after another.
It's not until the final song, "Winter Bird/When Winter Comes," that Paul even comes close to referencing the current darkness. What starts as a domestic chore list ("Must fix the fence by the acre plot," a very McCartney lyric) emerges as a disarmingly optimistic song of resilience: "When winter comes and food is scarce / We'll warm our toes and stay indoors / When summer's gone we'll fly away / And find the sun when winter comes." It comes on so softly and gently, and follows so much good-natured goofing around, that it actually catches you in the throat for a minute. Just as McCartney surely knew it would.