Explaining David Bowie—the width and wealth of his genre-jumping aesthetics, the breadth of his influence on music, fashion and art—is like grasping hold of mercury. Not bloody likely. Explaining away the continued interest in who he is (no longer with us as of January 10, 2016, though it still seems improbable) and what his future-forward work continues to mean is only easier as the embarrassment of riches that has come out since his passing has, thankfully, remained opulent and focused. The almost-annual box set recollections of his catalog by date and era remain gorgeous, as has the holy handful of volumes of dynamic photographs and text dedicated to his daringness.
As of this morning, Bowie's 74th birthday, the British record label BBE Music has announced a Bowie tribute album, Modern Love, arriving May 28, with Helado Negro, Khruangbin, Jeff Parker, Meshell Ndegeocello, and more as featured artists. BBE also shared the first single from Modern Love, We Are KING's cover of "Space Oddity."
With that, the celebration of his life and death five years since his passing would have to come with monumental events and (dare I say) products that go beyond the pale. Here, we touch upon the five brightest points of light surrounding these dates—the trove of rare photographs that is DAVID BOWIE: ICON, the debut screening of his staged dramatic musical Lazarus, a never-before-heard series of '90s-era live albums, and a heroic virtual concert courtesy of Bowie's longest-standing pianist and musical collaborator Mike Garson, gathering together the largest number of past Bowie band members and fan vocalists.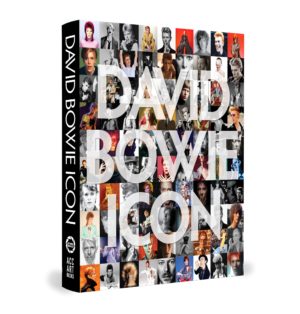 The mammoth BOWIE: ICON book of photographs lushly portrays how favored, longtime photographers saw him
Along with countless volumes of photo-heavy books focused on Bowie's visage and fashion innovations before his death, the last five years have welcomed additional, probing projects from photogs Terry O'Neill and Steve Schapiro. No volume, however, has been as audacious, wide-ranging, and frankly gorgeous (to say nothing of its weight) as the recently published BOWIE: ICON from ACC Art Books.
Penned by Bowie's old friend George Underwood, photo-edited by publishing/art director Carrie Kania, and featuring famed photographers O'Neill, Schapiro, Mick Rock, Denis O'Regan, Masayoshi Sukita, and Greg Gorman among others, BOWIE: ICON offers a collective vision of Bowie's interactive work with fashion designers, make-up artists, and set crafters as genre-jumbling as his protean musical efforts.
"Icon" is a big word, one that Kania immediately felt applied to Bowie. "To me, an 'icon' is someone who not only has done something remarkable, but also stands the test of time," Kania shares over email from London. "David Bowie started to 'be' David Bowie in the 1960s and continued to produce and create until literally days before his too-soon passing in 2016.  He's most certainly an icon."
Well-aware of additional photo projects from O'Neill, Schapiro, Rock, and O'Regan (to say nothing of Brian Aris' just-released Bowie Memories), what makes BOWIE: ICON different is its depth of selection and the number of photographers—25 in total—included in its pages, as well as its diversity regrading familiar greatest hit photos and rarities.
"The goal was to offer fans a strong mix of both," says Kania. "If we were going to create a book that was going to be an homage to David Bowie and a celebration of the photographers who worked with him, we had to have some of the most recognizable images from Terry O'Neill, Masayoshi Sukita, Steven Schapiro, Mick Rock, and so on. But by having some of the most well-known photographers involved, we were able to secure outtakes and unknown images from their archives. Then on top of this, we went to photographers such as John Scarisbrick, Philippe Auliac, and Fernando Aceves who offered us incredible images that may not be as well-known as the others. I'm really happy with the overall results and think we achieved a strong balance."
While crediting Sukita and Rock with best defining their subject (both started working with Bowie in 1972 with portfolios containing studio sessions, as well as street, candid, and performance shots) during their forty years of collaboration, Kania finds it tough to find a favorite. "That's a difficult question, but in Andrew Kent's chapter, there's a terrific photo of a birthday celebration for Bowie taken at the L'Ange Bleu in Paris. In the photo you see David, of course, but also Romy Haag, Coco Schwab, Pat Gibbons, and Iggy Pop—almost out of frame, but still unmistakably Iggy."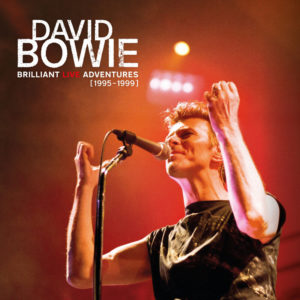 Rhino/Parlophone's Brilliant Live Adventures '90s-era album series
It's no secret that the hit-bound gloss and floss of Bowie's '80s—post-Let's Dance—left him somewhat bereft artistically. Looking to return to the manic genre-jumbling and experimentalism of his electronic '70s past, Bowie reconvened former collaborators (Brian Eno, Mike Garson, Carlos Alomar, Tony Visconti) and like-minded new musicians (Reeves Gabrels, Gail Ann Dorsey, Zach Alford) to craft several avant-pop (Outside) and EDM (Earthling) works that recalibrated his course toward weirdness. To promote those odd electro albums, Bowie & Co. toured relentlessly during the '90s to artistic acclaim, but with fewer asses in seats. 
"Sadly, so many people outside of his true fan base got those albums or those shows," says longtime Bowie keyboardist Garson. "This material wasn't Ziggy Stardust. And it sure as hell wasn't Let's Dance." Now, audiences can catch up on Bowie's innovations through the just-commenced Brilliant Live Adventures (1995-1999) series of six albums—three already released in Ouvrez Le Chien, No Trendy Réchauffé, and LiveAndWell.com with another three volumes upcoming—that present not only Bowie's then-new sounds, but older tracks ("Not necessarily hits, mind you," per Garson) reconfigured in an improvisational, less-than-recognizable fashion.
"It's funny you're asking me about those live albums," says Garson. "Before you called, I got an email from Reeves. He doesn't write often—he's busy with The Cure. But Reeves wrote to ask if I'd heard LiveAndWell.com, and how awesome we were on it. Not only did that aptly and amazingly document what we did, and could do every night, [Reeves said] 'I would posit, as others have, that we were the best band DB ever had. Hands down. Well done, all.' Now, I played with thirteen bands behind David, from the beginning until the end, the only guy who lasted. That band might just have been his best band as we were creating live, something fresh each show. We were able to improvise every night. And we weren't up there playing his hits. We were just inventing new music. But the Reality band was amazing. The Young Americans band was amazing. The Diamond Dogs band was amazing. The Ziggy Stardust band was amazing. Not a bad band in the bunch."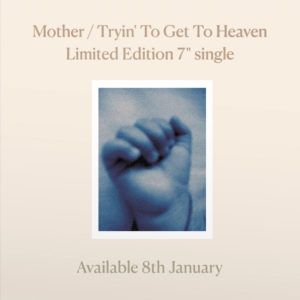 Bowie vinyl 45-inch singles (one a cover of John Lennon's "Mother" and Bob Dylan's "Tryin' to Get to Heaven," the other his recording of T. Rex's "Cosmic Dancer" in duet with Morrissey)
With the former released on his birthday (January 8) and the latter during the first week of February, Bowie continues his long-standing devotion to covering those who influenced him (e.g. 1973's Pin Ups and its rave-up takes on The Who, The Kinks, and Syd Barrett's Pink Floyd), his contemporaries, glam rock (T. Rex) and beyond (Lennon, Dylan, Neil Young), as well as the younger indie icons (Pixies, Morrissey) he inspired. Previously unreleased until this 45, the "Birthday Single"—limited to 8,147 copies, with 1,000 pressed on cream-colored vinyl, as well as a digital release—tracks were studio-recorded, respectively, in 1997 and 1998. "Mother," featuring Gabrels and Visconti, was taped for a never-finished Lennon tribute LP, and has a deeply grooving, soulful feel. Bowie's relationship to his mom was hardly as fraught with tumult or emotion as Lennon's with his mother, but you wouldn't know that from the anguish portrayed in this new version. 
Dylan's "Heaven," taken from his Time Out of Mind LP, was recorded at NYC's Looking Glass in 1998 during the mixing sessions for LiveAndWell.com just months after Dylan's own version came out. Instead of going Dylan's folky route, Bowie, Gabrels, Garson, et al go for scabby, screechy industrial rock. "I don't recall doing the Dylan song, but honestly, we jammed all the time in the studio, and David was always fond of covering other artists' tracks as warm up," says Garson. As for Bowie's contemporary and Morrissey's hero Marc Bolan, "Cosmic Dancer" is a   live recording of the glam-boogie track from 1995—when Bowie and Moz weren't bitter enemies—that shows both men slithering around T. Rex's finest moment.
The rise of Lazarus, David Bowie and Enda Walsh's avant-garde musical, as a staged streaming screening
Together with an elegiac, final musical statement in Blackstar—released on his birthday in 2016, two days before his death—Bowie also crafted a radical theatrical debut with Lazarus right before his passing for a double dose of Bowie boldness that surprised even his biggest fans with this experimental vision so late in life.
Staged in November 2015 at the intimate confines of The New York Theatre Workshop (where this writer saw it twice, the last with Bowie in attendance), Lazarus moved to London in November 2016 where it played to sold-out houses. Like its NYC run, the starkly staged, surrealist musical filled with Bowie songs—old, new, and then-yet-unheard (including "Lazarus" and songs from the No Plan EP)—was directed by the estimable Ivo van Hove and based on the novel The Man Who Fell to Earth by Walter Tevis (as well as its 1976 film version in which Bowie starred), and welcomed to the stage Michael C. Hall as Newton, Bowie's alien—still unable to die, still drunk and haunted by past loves, still planning his escape home. Lazarus was magically odd, and Hall—best known from television's Six Feet Under and Dexter and Broadway's Hedwig & the Angry Inch—was oddly magical in it. 
Now, a filmed version of the Lazarus stage show in London will hold its exclusive premiere streaming on Dice.fm for three performances only, in multiple time zones (GMT, AEDT, EST, PST, CST), today through Sunday, January 10. "Being charged with executing this component of David's final creative flourish was, for all of us, sublime, humbling, and invigorating," Hall shares over email. "For me, it was and will remain a highlight of my life and career. And a creative catalyst as well. I don't know that I would've started making my own music, with Princess Goes to the Butterfly Museum, without the blessing of that experience."
View this post on Instagram
Mike Garson's "A Bowie Celebration: Just For One Day!" 24-Hour All-Star Concert Stream beginning January 8 at 6 p.m. PST
For the virtual version of Mike Garson's annual All-Stars gatherings, the classically minded jazz pianist behind Bowie's golden years has assembled 37 Bowie songs to be sung by the likes of Duran Duran (who'll open the show with a lush version of "Five Years"), Trent Reznor, Boy George, William Corgan, Joe Elliott, Perry Farrell, Peter Frampton, Adam Lambert, Gavin Rossdale, Andra Day, and more, along with over forty Bowie band members ("great musicians from different eras") to pay tribute to the Starman, and give cheerfully to his favorite charity, ($2 per ticket purchase goes to Save the Children).
"It's funny, we usually do, like, eighteen to twenty songs during our usual sets, but it swelled for 'Celebration,' as different singers came onboard and each had different song requests," says Garson from his Los Angeles studio, giving us an exclusive look into the event's setlist. "Trent Reznor wanted 'Fantastic Voyage. Joe Elliott wanted 'Win' that he and I do just on piano. The same with Billy Corgan—it's just me and him doing 'Space Oddity.' The Cult's Ian Astbury wanted 'Lazarus,' which I do with guys from the original Blackstar album, only jazzier. Andra Day and Judith duet on an 'Under Pressure' to die for. Boy George is doing a medley of 'Lady Grinning Soul,' 'Time,' and 'Aladdin Sane.' Adam Lambert is doing 'Starman.' Taylor Momson from Pretty Reckless is doing 'Quicksand' with just me and her guitar. I pulled Rick Wakeman out of the closet to do 'Life on Mars' with me—dueling pianos, he doesn't know that yet, he'll do the first half and I'll do the second part with Yungblud singing. 
"Ian Hunter not only does 'All the Young Dudes;' he wrote a new song called 'Dandy' whose lyrics are so…David," he continues. "What I did was make eighteen songs that sounded like the records with the alumni, and then another grouping of songs with newer arrangements, string quartets, orchestra, pieces with just piano, and more. I would have been bored if I had done them all as straight covers. That's a Bowie thing. Never be boring. As for the singers, my job is to make them makes these songs their own with newer bold arrangements—maybe jazz. Maybe classical. I don't have resurrection abilities to bring David back. Doing things this way would make David happy, he was never about staying comfortable and resting on his laurels."
Filming, recording, and playing live from different parts of the world due to COVID made "Just for One Day" a disparate process, but one that Garson promises will look cinematic in its ultimate execution. Starting with Duran Duran and Garson's take on the dramatic "Five Years," "Just For One Day!" promises to be as rewarding theatrically as it is musically. "My life as a teenager was all about David Bowie," writes Duran frontman Simon LeBon. "He is the reason why I started writing songs. Part of me still can't believe in his death five years ago, but maybe that's because there's a part of me where he's still alive and always will be. When we got the Ziggy Stardust LP and put the needle in the groove, our first taste of its perfection was the song 'Five Years.' I can't begin to explain how honored I feel for Duran Duran to be given the opportunity to perform this icon, and to place our name alongside Bowie's for this commemoration of his music."
Garson also interviewed Bowie pals and natural storytellers such as Gary Oldman and Ricky Gervais to make the package interactive and diverse. "I didn't want just three hours of music," he says. "I'm taking Bowie's lead here—never get stuck in a rut. Keep them guessing. Plus, I'm still finishing it—doing mixes, playing more piano parts, finishing arrangements. We're taking this down to the wire."
 I spoke with Garson this past Wednesday, mere days before "A Bowie Celebration" and Bowie's birthday. The pianist is used to pressure and pivoting as, when we last spoke, he was preparing to pull the Bowie All-Stars off the road due to an on-coming pandemic. "We had just cancelled Seattle due to what we heard was something called COVID, and my booking agent wanted to send us to Canada? No. We weren't going. A few hours later, we sent the crew of seventeen people home on separate airplanes. Thank God no one got sick. But I went home depressed because I still had to pay for everything—already booked flights and hotels. I had to get a PPP loan."
 After turning down another hundred-plus concerts in 2021 due to COVID uncertainty, but knowing the fifth anniversary of Bowie's passing was coming, Garson decided to go virtual to his celebration of his old friend, boss, and collaborator. Starting first with Bowie bassist Gail Ann Dorsey and plastic soul classics such as "Can You Hear Me?," Garson then phoned David's longtime guitarist Carlos Alomar, saxophonist David Sanborn, and other alumni typically aren't part of Garson's reunion events. "People I phoned are honored and glad to work. Some of these people I haven't played with in 46 years. This is going to be emotional—a real reunion. Music heals. And it is my job to be there and start the healing." FL
Garson and broadcast partners HYFI and Rolling Live Studios present "A Bowie Celebration: Just For One Day!" starting January 8 at 6 p.m. PST. Tickets are $25 and can be purchased here, along with options for purchasing VIP experiences and exclusive merch. VIP ticket bundles offer fans a variety of exclusive opportunities and merchandise, including access to a pre-show soundcheck and an after-show Q&A with members of the band.