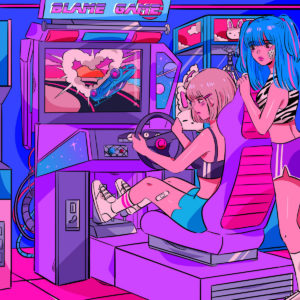 Beach Bunny
Blame Game EP
MOM + POP
8/10
It was only a matter of time before Lili Trifilio—the progenitor and frontperson of the Chicago-based indie outfit Beach Bunny—took the gloves off. While the band's 2020 full-length debut Honeymoon made waves by means of its driving, power-pop instrumentation and Trifilio's confessional songwriting, it was a record marked by an enduringly bittersweet attitude toward the intricacies of relationships; every moment of elation ("Dreamboy," "Cloud 9") was preceded by uncertainty and self-doubt ("Ms. California," "April"). With even-handed resolve, Beach Bunny was able to chart romance in a manner that felt grounded—sincere, yes, but cognizant of the reality that things often don't go the way we want them to. 
While this brand of radical honesty is present on the project's latest EP Blame Game, the subject matter is undoubtedly thornier, leading to songwriting that pulls fewer punches in its assessments. In a press release, Trifilio describes the extended play as "a conversation between a femme person and a sexist society," and her prose is rightfully more acerbic as it relates to the effort's core themes of dishonest romantic partners and toxic men; on the EP's lead single "Good Girls (Don't Get Used)," she decries fuckboy tendencies via soaring vox, underscored by the momentum of bright guitar interplay ("You're not a ghost / I'm not afraid of you"). 
It's a song that sets the tone for a more confrontational release, asserting that even while transitioning into markedly darker subject matter, the band maintains the same triumphant energy that's become a Beach Bunny calling card. The EP's title track, a sobering treatise on masculine entitlement and femme celebrity, creates space for its most satisfyingly defiant moments, with Trifilio declaring she'll never capitulate to society's patriarchy: "I'll be caught dead saying / 'Guess it's my fault my body's fun to stare at / Sorry my clothes can't keep your hands from grabbing,'" she belts, a wave of hazy Fenders and bombastic percussion crashing in. It's an explosive release that lays her frustrations bare, executed in blazing technicolor. 
Yet even amid the clamor that permeates most of Blame Game's run time, where much of the focus is outwards, it has its share of introspection. The jangle-pop indebted "Lovesick" details the pain of emotional ups and downs, the desire to eventually "find someone that isn't an equation / Only adding up to pain." Likewise, the take-no-prisoners lyricism of "Nice Guys" lays bare the trope of men "earning" sex from romantic posturing, Trifilio rebuking the notion while proclaiming her self-worth ("You win me like a trophy / Not a consolation prize").  
These songs are no less exasperated in tone than the four-song EP's bookends, but they represent a throughline still present in the Beach Bunny discography—that amid all the bullshit and unexpected heartbreak, there's an opportunity for personal growth. While the honeymoon might be over by the time Blame Game begins, it's hard to temper Beach Bunny's spirit; even in a world rife with chauvinistic attitudes, just making it through in one piece is still worth celebrating.