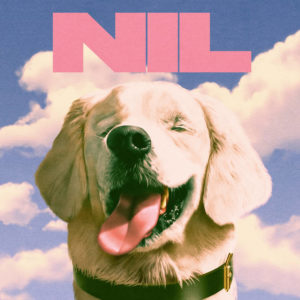 The Dirty Nil
Fuck Art
DINE ALONE
8/10
On this third record, The Dirty Nil announce themselves with the unforgiving speed metal riff of "Doom Boy." It suggests that the Ontario trio have gone down an even more pugnacious route for Fuck Art than on their first two albums, but listening closely to the lyrics it's clear that it's actually full of hopeless romanticism. "Come with me / Let me be your doom boy," sings frontman Luke Bentham in the song's chorus. "We could hold hands / Listen to Slayer / In the back of my Dodge Caravan." Those riffs aside, the song as a whole has much more in common with Weezer—good Weezer—than Motörhead. 
In fact, it's "Ride or Die" that sounds most like the influential English rockers, but even then its full-throttle charge still swerves in a direction that sounds, at times, more like early Offspring. Despite these bursts of uncompromising noise on Fuck Art—a title Bentham was inspired to use after an old man uttered those words in frustration at a community center painting class the singer—it's also the most tender and nuanced album the Canadians have made so far.
"Damage Control," for example, is a grungy slice of slacker pop, "Done with Drugs" is a jangly, upbeat near-pop song, and "Hang Yer Moon" is a self-aware anti-love love song that questions Bentham's worthiness of being loved. Elsewhere, "The Guy Who Stole My Bike" is a gentle near-ballad addressed to, well, the guy who stole Bentham's bike, while on closer "One More and the Bill" he wrestles with both the mundane reality and existential quandary of life as it is today: "I've got my job / I've got my girl / I've got the guaranteed destruction of the world."
A slow-motion bruiser of a song, it's both funny and profound—a combination that's in abundant supply on this record. That mixture is something the band have always brought to the table, but they excel at it here, as "Hello Jealousy"'s knowing nod to the Gin Blossoms ably demonstrates. Finished just before the coronavirus pandemic broke, Fuck Art doesn't directly address the world as it is in its current state, yet it fits it—and channels the angst it induces—perfectly. At the same time, and despite the vulnerability that flows through it, it's a carefree and fun rock record that helps to counter the anxieties of modern life, reminding you that however bad things are it's still important to enjoy it as much as we can—because in the end we're all just going to die anyway.