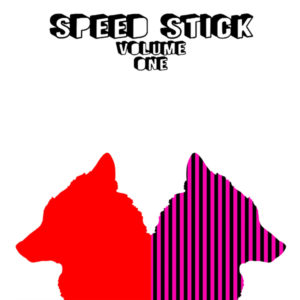 Speed Stick
Volume One
DON GIOVANNI
6/10
Speed Stick has been hailed as something of a supergroup, but it's more than just that. The band's core consists of members of Polvo, The Paul Swest, Bat Fangs, and The Love Language, but this debut album also boasts appearances by other North Carolina indie luminaries including Superchunk's Mac McCaughan and The Breeders' Kelley Deal. It is, essentially, a veritable Megazord of North Carolina's important and influential indie rock scene. 
You might, then, be expecting these ten tracks to resemble—or at least contain echoes and components of—those bands whose parts make the whole, yet that was actually antithetical to the original purpose of Speed Stick. Initially just consisting of two drummers (Bat Fangs/Flesh Wounds' Laura King and The Love Language's Tom Simpson) the idea was to farm out some beats they'd created to other artists and see what they came back with.
The results are wildly incongruent, as you might expect. It all begins with the proto-post-punk/Krautrock of opener "Protect Your Magic," which contains within its four and a half minutes enough ideas for a career's worth of tunes, and which eventually becomes a miasma of avant-garde noise that Captain Beefheart might be proud of. There are more conventional rock/indie/punk vibes to "Knots" and "Pretty Sure," while "Twin Collision" is a time machine back to 1960s LSD-inspired pop. And just to shake things up even more, there's the straight-up hip-hop of "Lurk on Me" and its cringeworthy pull quote: "I got white skin and a white weenie."
As a project, Speed Stick is fascinating, and a definite demonstration of the power of creativity and collaboration, and goes to show just how important it is—in music and in life—to push beyond our comfort zones. As an album, Volume One struggles with cohesion, mainly because it lacks a distinct emotional drive. As a result, it becomes, at times, something of a frustrating, jarring listening experience. Of course, that may be the point, but having all these disparate sounds together does slightly dilute the power of that point. Still, if what you're after is something out of the ordinary, a challenge for your ears and synapses, this will definitely do the trick.