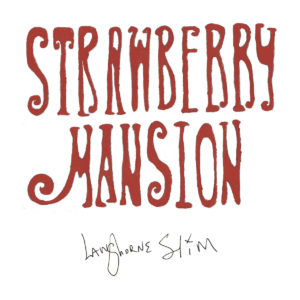 Langhorne Slim
Strawberry Mansion
DUALTONE
7/10
You probably know more about Langhorne Slim than you do me, the writer of this piece. (Good, let's keep it that way.) That said, and to be frank, Langhorne Slim and I both hail from Pennsylvania, are both around the same age, and the Strawberry Mansion he talks about on this, his seventh studio album is a Northbound neighborhood in Philly not so far from my own Southern block, literally and figuratively. Working class and ethnically diverse, both Slim's North Philly neighborhood where his grandfathers were born and the South Philly area where my grandparents came up after arriving from Italy celebrated worlds both old and new, traditions and fresh freedoms, and were—as Slim puts it—"A place of myths… A place that's dirty but sweet, tough but full of love. Where giants roamed the earth and had names like Whistle and Curly." 
A tragedy and triumphant character-driven record (beyond his usual brand of ramshackle, Muswell Hillbilly-ian, Oldham-meets-Elektra-era-Waits-meets Uncles-Tupelo-and-Floyd sort of Americana), a slight-voiced Slim sings of the brave new world's dangers on plucked and clucking tracks such as opener "Mighty Soul," and hurriedly strums and ruminates on the nervous energy of "feeling like shit" loneliness on "Panic Attack." This isn't just a COVID thing that led him to write raw-boned, ruined country anthems between March and May of 2020. Before the pandemic's strike, Langhorne had written nothing for one year as he battled clinical anxiety disorder and a lousy prescription drug habit in a rehab facility. Upon release, his new hometown of East Nashville got struck by a hurricane with the virus hot on its heels.
Rather than wish he stayed in rehab, Slim was buoyed to write and record—albeit distanced from his band—guided by the spirits above him ("Mighty Soul," as well as "Something Higher" and the out-of-tune "Morning Prayer," speak to this, with the latter offering up lines such as "For a world down on its knees / I pray for thee"). Beyond its inhabitants and signs (e.g. "The Mansion"), what's nicest about Slim's neighborhood is its simplest joys. Looking through his drawer of life lessons and "Dreams" and coming up with something as easily gleeful and rhymey as "There's more to this madness than smiles and sadness / There's more to this dance than who you can take" is fucking magical. Same with the melodious "No Right Way" and the couplet "Morning rises soft and sweet / Before the world gets on its feet / As sure as the night is long / There ain't no right way to do wrong."
For all the "skin crawling" of "Panic Attack" and the killer kissing of "Blood on Yer Lips," it's the playful glee and holy roll of Strawberry Mansion that makes it a neighborhood worth visiting, again and again, with Langhorne Slim its own brand of oaky, folksy Mister Rogers.