In a decade thus far defined by surreal news, January 30 felt different. That morning, I turned on my phone and saw a friend's DM that the iconic, already-legendary-but-still-just-getting-started musician, producer, DJ, and trans icon SOPHIE had died. 
My initial reaction was disbelief. SOPHIE—whose representatives have said that the artist has no pronouns—fell and died while, true to SOPHIE's character, climbing to gaze at a full moon. I could think of no more fitting way for the artist to leave this hellish world: an ascent directly to the moon from a planet which SOPHIE transcended via both art and life itself time and time again. It also seemed hellish that a 34-year-old who had offered so much and still had so much more to offer was gone. It was also hellish that someone whose art meant so much to me was gone. 
My love of SOPHIE began in the summer of 2013, as it did for many people thanks to the instant-classic single "Bipp." At the time, I was twenty years old and nowhere yet close to openly queer. I also had this entirely regrettable, frankly shameful anti-pop stance I'd developed since I first began reading independent music publications right before I turned eighteen (this was before the poptimism era began). I was too young to have meaningful critical thinking skills, and I was embarrassingly impressionable. 
Around that time, SOPHIE and "Bipp" were all the fuss on Pitchfork, and I had never heard of SOPHIE before, so inevitably, I listened. And then I listened at least three more times. I was hooked from the get-go. A sugarcoated, squeaky, grunting, almost parodic beat that nevertheless can rattle a zillion trunks from miles away. Chipmunk-style vocals coming from what sounded to me like either a five-year-old child or a five-year-old computer. Lyrics at once flirtatious, juvenile, life-affirming, and clearly inspired by the very pop music I was then needlessly against. It was like nothing I'd ever heard, even if SOPHIE would later tell Teen Vogue, "A lot of the stuff I've done takes the attitude of disco but tries to bring the sound world forward." It broke my mind open. I loved pop.
OK, maybe I didn't immediately admit to myself or others that I was eager to dive headfirst into the genre. At first, I was more interested solely in the SOPHIE-affiliated collective of musicians and producers called PC Music. I was particularly drawn to how the ensemble's hyperactive, ceaselessly high-pitched pop aesthetic parodied commercialism in media and the harmful image of the flawless, manufactured young-woman pop star while reinforcing both. Even if I didn't love every PC Music release, the knowingly inane, ironic yet fully intentional music fascinated me and helped break down the barriers I'd needlessly erected between myself and my now-unabashed love of pop music.
But more importantly, I was fascinated with the entity of SOPHIE. I say "entity" because, at the time, not much was known about the musician behind "Bipp." In early interviews, SOPHIE avoided speaking on the phone, and all SOPHIE's press photos were near-faceless shots that could have been anyone, whether a real person or a computer-generated avatar. The media thus often presumed that this producer named SOPHIE was not a woman but a man (in 2013, non-binary gender identities were barely considered, even in more progressive music circles—how far we've come!).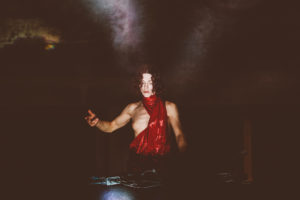 As SOPHIE and PC Music grew in popularity, backlash grew against their alleged "feminine appropriation," which would later prove to be the early foundation for SOPHIE's consistent dismantling of gender norms. Even after the success of SOPHIE's bubbly, bassy, blissfully insipid, artificially sweetened 2014 "Bipp" follow-up "Lemonade" (you know it from that McDonald's commercial), no actual images, voice recordings, or performance videos of the already-game-changing producer existed. 
Around 1 p.m. ET the day of SOPHIE's death, I reread perhaps the most oft-cited "feminine appropriation" thinkpiece about SOPHIE and PC Music. As of the same time the next day, the article had been deleted. That's probably because the thinkpiece, though well-intentioned at the time, hasn't aged well given what we now know about SOPHIE's identity. SOPHIE was so ahead of the times that, in 2014, everyone misunderstood why SOPHIE's true identity wasn't yet public. We'd all learn more about that in October 2017.
Before then came a slew of co-productions that cemented SOPHIE's influence beyond the visionary's own work: MØ, Madonna and Nicki Minaj, Vince Staples, Cashmere Cat and Camilla Cabello, Le1f. That these diverse and influential musicians could so clearly see that SOPHIE was doing something unprecedented and cathartic with just a handful of singles in the world is in and of itself testament to SOPHIE's vision and impact. If SOPHIE had once felt like the future of pop music, with these co-productions, the future was here. 
I, for one, was hooked. I wanted more SOPHIE, all the time, everywhere, and another mainstream pop star would help give me that. Charli XCX may have singlehandedly spread SOPHIE's impact widest and farthest and may also be today's most innovative, forward-thinking mainstream pop musician. That's thanks in no small part to SOPHIE and de facto PC Music leader A.G. Cook, Charli's creative director and a close SOPHIE affiliate. Charli's 2016 EP Vroom Vroom, which introduced her ongoing A.G. Cook era, became the first release longer than a single to boast a SOPHIE co-production credit. 
I was hooked from the get-go. A sugarcoated, squeaky, grunting, almost parodic beat that nevertheless can rattle a zillion trunks from miles away. Chipmunk-style vocals coming from what sounded to me like either a five-year-old child or a five-year-old computer.
Each of Vroom Vroom's four songs rebirthed Charli in SOPHIE's signature vision of spring-like beats, heavily processed vocals, and arcade-style electronic excess while inventing a new style of pop at once bizarre and entirely mainstream-friendly. The title track remains an indisputable, revolutionary, fan-favorite pop masterpiece. If you know, you know: Let's ride.
This is all before getting into SOPHIE's Charli co-productions on her two 2017 mixtapes Number 1 Angel and Pop 2, which remains a stone-cold 2010s pop classic. I was lucky enough to be one of the few hundred people who snagged a ticket to Charli's March 2018 Pop 2 Brooklyn show in the literal half-second between tickets going up and selling out. As I write this, merely thinking about how loudly the crowd shouted along to every word when Charli played her SOPHIE co-productions "Roll With Me" and "Out of My Head" sends chills down my spine. That night, through Charli, SOPHIE forged a community of sweaty, loud, twentysomething queer Brooklynites who became one through the music, through our shared sexualities and genders, through uniting for something greater beyond and above us all.
Not long before Charli dropped Pop 2, the world finally got to know SOPHIE in all the producer's glory. On October 19, 2017, SOPHIE appeared on camera for the first time in the video for the artist's just-released song "It's Okay to Cry." Short red, curly hair, delicate blue eyes, no clothes to speak of, an unflinching look directly at viewers against starry nights, sunny mornings, and thunderstorm dances. In that moment, I and millions of other LGBTQ+ people finally saw SOPHIE. The musician looked blissful, unbothered, even happy, all the opposite emotions of someone who had long masked an identity.
"I hope you don't take this the wrong way, but your inside is your best side," SOPHIE sings as the song's first verse closes. Taken alongside the chorus's comforting reminder that it is, indeed, OK to cry, I and many others took the song and video as deeply meaningful advice. SOPHIE was here to tell us we could let our true selves, the selves we know best, exist in equilibrium with the self that others perceive for us. 
SOPHIE was here to tell us that we could all stop wearing whatever costumes, masks, and outer appearances we were all consciously or subconsciously donning to shield our identities. In my case, queer, gender-apathetic person instead of semi-straight-passing-and-out-as-just-gay cis man. In the case of many other young LGBTQ+ SOPHIE fans then contending with the Trump presidency, trans or perhaps non-binary. 
Admittedly, I took a while to actually start living the truth SOPHIE advised rather than just thinking about living it. Not that identity should be rushed—eventually, SOPHIE being brave enough to show the world who SOPHIE actually is put me on my path. "It's Okay to Cry" may also have planted the seeds for my opinion that coming out is a performance asked of LGBTQ+ folks by people outside the community (that's an essay for another time). 
SOPHIE indeed never saw "It's Okay to Cry" as a coming-out and instead insisted that the artist's entire musical and aesthetic journey was itself SOPHIE's identity. "I've always found expression through music. That's my chosen method of communication," SOPHIE told Jezebel in 2018. "I can speak through my appearance a bit as well, but the medium I'm more experienced with is music."
I and many others took "It's Okay to Cry" as deeply meaningful advice. SOPHIE was here to tell us we could let our true selves, the selves we know best, exist in equilibrium with the self that others perceive for us.
Jezebel published that interview on the release date of the debut SOPHIE album, 2018's Oil of Every Pearl's Un-Insides, which features extensive vocal contributions from Montreal-based musician Cecile Believe. Following SOPHIE's already jaw-dropping singles and EPs, Oil firmly cemented me as a SOPHIE devotee. It begins with three tracks that were already pillars of the SOPHIE legacy: "It's Okay to Cry" and the squelching, distorted, honking, almost-entirely-low-end dystopian pop anthems "Ponyboy" and "Faceshopping." Although these tracks weren't quite new, what was new was how well SOPHIE could fit oppressively dark grime-like numbers, ballads, and instant queer anthems on the same album.
Oil was the culmination of everything SOPHIE did: Harsh, beautiful, imaginative, catchy, decisively queer. And that's just the music. The lyrics were poems about queer existence written in completely unpoetic language. SOPHIE fixated on fluidity, flexibility, and futurism as conduits to a greater understanding of identities as malleable, ever-changing things defined solely by the people possessing them. 
The album is such a milestone in LGBTQ+ culture that it feels ridiculous to think that SOPHIE's unapologetic transness was once unknown. It affirms the notion that SOPHIE as a performed person and then an actual person was as key to the message as was the music. By not sharing any sort of identity with listeners and the press, SOPHIE deftly elucidated the neat but woefully ill-fitting boxes into which we try to fit people. Even before SOPHIE's lyrics helped me to start asking questions I'm still answering today, SOPHIE's arc set the stage for those questions. Namely: Why do we fixate so much on identities? Why does our safety require us to suppress ourselves? For whom do we suppress ourselves?
These are complex questions. They're so complex, in fact, that I initially misunderstood where SOPHIE was coming from. A week after SOPHIE dropped Oil, I saw SOPHIE play a DJ set at the queer Brooklyn music festival Ladyland. Afterward, I wrote a mixed review of the set since my younger self lacked context for SOPHIE's song choices given the musical and cultural erasure that I now understand grounded SOPHIE's deeply thought-through art. I couldn't see then that SOPHIE's DJ set was a journey through decades of queer music history. 
SOPHIE was offering the Ladyland crowd a pathway back through the '70s and '80s New York and Chicago house and disco that helped establish safe spaces for LGBTQ+ people. SOPHIE was reminding us not to forget who paved the road for us to be where we are. SOPHIE's entire career was a performance focused on this reminder.
The DJ set told SOPHIE's story too. SOPHIE discussed classic New York and Chicago house and disco in the aforementioned Teen Vogue interview. SOPHIE also said in the interview, "I'm trying to imagine what music that's positive, liberating, weird, dark, and real could be in the current day." It's a quote I didn't have in mind when I watched that SOPHIE set, even though I'd read the interview the fall prior. 
I wish I could go back to that DJ set and reexperience the night with that perspective in mind. I wish I could go back to that night now that I've come so much farther in accepting my identity. In feeling comfortable in rooms packed with other sweaty, dancing queer folks. In reinforcing others as they explore their identities. In understanding and loving the legacy that SOPHIE fostered and grew during SOPHIE's tragically brief time in the public eye. 
During that set, the crowd had no idea that we would have not even three years left of SOPHIE. What we did know was that when SOPHIE said, "I can make you feel better if you let me" on "Bipp" way back in 2013, the musician-producer-DJ-genius would fulfill that promise at every opportunity we provided. It's a devastating loss for pop music and LGBTQ+ culture that we only had eight years to let SOPHIE take us there. FL