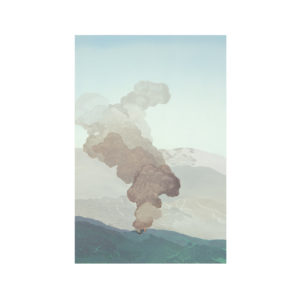 Sun June
Somewhere
RUN FOR COVER
6/10
"Darling I'm the real thing," sings the angelic voice of Sun June's Laura Colwell on "Real Thing," the penultimate track on the band's latest studio effort. Like the somewhat foggy nature of the idyllic lyrics, Sun June's grace is also fluid and pastel. Though not entirely innovative, Somewhere is filled with arrangements that have a lot of room to breathe. Elevated by Colwell's sweltering vocals and the slick arpeggios of guitarists Stephen Salisbury and Michael Bain, the entire record feels pleasant and safe. From the nostalgic choruses of "Bad With Time" ("I am Jackie O / I am Patti Smith / I am Stevie Nicks") to the reserved and steady tension of "Seasons," every decision seems measured. 
The album's lead single, "Karen O," is bathed in a loopy atmosphere well complemented by hypnotic rhythms—so too is "Bad Girl." On "Singing," Colwell floats alongside wavy, ringing chords, a soundscape that fits her expression wonderfully. 
The overall production, which comes courtesy of fellow Austinite Danny Reisch (Shearwater, White Denim), is quintessentially indie-rock, and that's not necessarily a bad thing. Yet such a vibe doesn't exactly lend itself well to extreme innovation or brilliant expansion, especially at this stage in its evolution. Make no mistake, Sun June excels at creating dreamy, soft soundscapes, but such a skill has already been mastered (and expounded) by several other of their contemporaries. Still, "Colors," the creaky, acoustic finale, is an unexpectedly tender and intimate closing chapter, setting them apart from the pack in their choice of conclusion. 
Elsewhere, Colwell is able to move dexterously between guitar lines on "Everywhere" and "Once in a While," both songs that are perfect sonic embodiments of Jake Longstreth's stunning album art, the likes of which evoke the same romantic feelings that the band are attempting to communicate. Fans of dreamy, guitar-driven indie will almost certainly be at home here. Just as Alvvays and Snail Mail craft thick, sensual soundscapes, Sun June whispers their way through those same heavenly atmospheres.