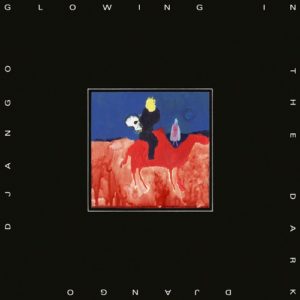 Django Django
Glowing in the Dark
BECAUSE
6/10
Twelve years into an oddly alluring career in bloopy, experimental electro-rock, dippy, neo-psychedelic art-pop, and Can-lite vibing, the four members of Django Django have changed up their game ever-so-slightly and drifted into unique territories. Split apart by new homes in different geographic locations gives Django Django's usual weird warmth (a lit-from-within synth sound, lustrous vocal harmonies that go against the grain of avant pop) something of a necessary distance, even urgency, without any loss of intimacy.
Though the elasticity of "Free from Gravity," the lightbulb-buzzing opener "Spirals," and the danz-metronomic title track may feel like familiar fare to lovers of the double Django's poppier side of its aesthetic. Those looking for DD's excursions into outward-bound sounds and styles (think the surf pop and dancehall reggae bits of 2015's Born Under Saturn and 2018's Marble Skies) will be pleased to hear the Porcupine Tree-ish theatrical progressive rock moves of "Night of the Buffalo," the hip-swinging gospel-soul (served with a generous side of cowbells) of "Kick the Devil Out," and the skronky, hiccupping (and bilingual) bossa nova of "Got Me Worried."
All this diversity doesn't always make for great intrigue. The folksy, acoustic "The World Will Turn" is nearly too earnest for words, and—in what could have been the most amazing opportunity—its undaring duet with the disarming Charlotte Gainsbourg on "Waking Up"  just misses the mark.