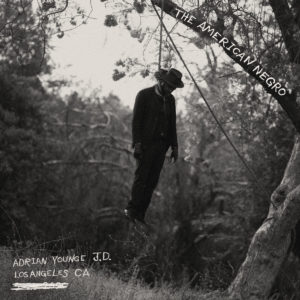 Adrian Younge
The American Negro
JAZZ IS DEAD
9/10 
Jazz Is Dead label co-founder Adrian Younge has run the gamut of Black American music's past, always with an eye toward cinematic, future-forward deconstruction. His atmospheric, electro laced-and-layered takes on Blaxploitative film scores (2009's Black Dynamite), Philly soul (2013's Adrian Younge Presents the Delfonics), and New York school rap (Twelve Reasons to Die with Ghostface Killah, and Luke Cage's original soundtrack LP with A Tribe Called Quest's Ali Shaheed Muhammad) are nearly operatic and decidedly over-emotional in their breadth. More down to earth, dirtier, politicized, riveting, and sad in regard to its wrenching emotive politicized outlook is Younge's bold, new The American Negro. It would be impossible not to be bold, what with its black-and-white cover art depicting Younge hanging from a tree, lynched, in order to discuss—frankly and poetically—the de-evolution of systemic racism in America. 
Cluttered with clunky, funky rhythm sticks, cymbal crashes, blubbering bass lines, more Fender Rhodes keyboards than an episode of Baretta, and an intricate clash of orchestration rich with strings, reeds, bells, and choral voices, its messy luster, dub production touches, and zig-zagging voices and instrumentation take your breath away (even more so when you realize that its Younge playing all the instruments with the exception of the orchestra). Think Donald Byrd's New Perspective meets Max Roach's Freedom Now Suite meets George Russell's Stratusphunk at the edge of heaven, with spaced-out epiphanies such as "Dying on the Run" and "Watch the Children," plucked string epics like "Mama (Will You Make It)," organ-driven (Cobalt) blues on "James Mincey Jr.," and glam slammers such as "The Death March." Now turn left.
"The musician is the document, an oral transcription of experience and perception through the vantage point of self," Younge recites on opener "Revisionist History" in one of the album's more peaceful reveries. I say "one" because The American Negro is also touched by disgust and rage at the thought of tearing down Black bodies and souls on readings such as "Intransigence of the Blind," and white imperialism versus the consciousness of color on "Disadvantaged Without a Title." Don't let the sweet, creaky, elegant sophistication of The American Negro's melodic disposition fool you—its ire and eloquence are twice as potent.