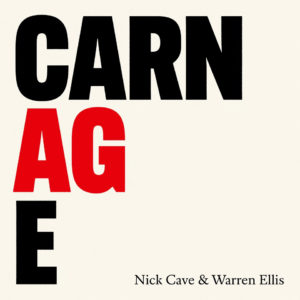 Nick Cave & Warren Ellis
Carnage
GOLIATH
8/10
From a stirringly somnolent live album recorded at the pandemic's high point (Idiot's Palace), to his Red Hand Files site bringing talkative community to his doorstep, to the recent news that he'll join the cast of the interactive streaming Shakespeare-inspired Dream as the voice of a forest, one thing is very clear: Nick Cave is feeling the effects of the restless, year-long experience of quarantine. Nothing proves that with more zeal, tenderness, or the looming sense of loneliness of an artist in stasis, than Carnage, a fresh collaboration with longtime Bad Seed and co-author of their joint film scores, multi-instrumentalist Warren Ellis. Though Carnage is an always theatrical, diabolically absurd/abstract, and damningly depressive work, there is, too, a blinding brightness at the lyrical and melodic end of the Cave/Ellis tunnel, a Cohen-esque crack in everything where the light gets in.
Written and recorded between the two artists—hurriedly, distanced, yet together—Carnage's eight songs sound as intense as the "accelerated process" (from Ellis' press notes) through which they were recorded. As he executed on his most recent studio album before Carnage, 2019's, Ghosteen, Cave has adopted the duskier end of Bryan Ferry's croon and quaver in which to tell stories still wracked with the pain of children and lovers lost, and those who mourn them. That quivering baritone swoon has a life of its own on opener "Hand of God," as it walks through Ellis' gospel-blues melody and its surround-sound zig-zagging strings like a man strolling into a lightning storm.  
While that song is spare and sullen, its immediate follow-up, "Old Time," is cluttered with scratchy guitar sound, clattering with noise coming at you from all sides, and filled with fresh-hell dwelling night sweats straight out of Rosemary's Baby. "By the side of the road is a thing with horns / That steps back into the trees, and a child is born," Cave moans.  "White Elephant," too, allows us to see spooks and frights in real time, but in a more allegorical form, as a symbol of right-wing extremism and privileged power wielders. When a vengeful God kneels on the neck of a statue in protest, the angry Almighty cries out, "Now you know how it feels," to the strain of icy strings and the rhythm of crooked beats.
No sooner than he's finished (for now) with Carnage's scary monsters, Cave "steps back into the woods" on the softly spun title track, and allows Ellis' twittering night sky eloquence to peek through. "This song is like a rain cloud that keeps circling overhead / Here it comes around again." The plaintive piano lines of "Albuquerque" and the flute-and-reed filled ambience of "Lavender Fields" maintain a billowy softness, as Cave—again using the image of a "kingdom in the sky" as a psychic lure—offers faith and love as remedies to loss and despair. 
As they finish the new album with the "200 pound bag of blood and bones" that is "Balcony Man," Ellis and Cave seem to tie together the singed roots of the corporeal and the intangibly sacred into one knotted rope, tipped in human excrement and personal folly, yet rimmed with hope and happy bewilderment. "This morning is amazing and so are you / You are languid and lovely and lazy / And what doesn't kill you just makes you crazier," Cave sings towards album's close. No one does detritus and delight quite like Nick Cave. Carnage just makes that point all too real, and righteously.