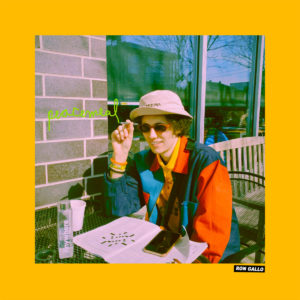 Ron Gallo
PEACEMEAL
NEW WEST
6/10
Since splintering his Philadelphia-based roots-pub-rock ensemble Toy Soldiers, singing songwriter and man possessed of big hair Ron Gallo has explored sonic landscapes with brains and heart. Garage psych, art rock, folk soul, Stonesy blues—all have been the province of longform Ron recordings such as Heavy Meta, RONNY, Stardust Birthday Party, and Really Nice Guys. Give Gallo credit, too, for prescience before the COVID curve, as his live stream gathering, the Really Nice Fest, was an interactive, online thing before quarantine made such activity de rigueur.
Like so many other artists, Gallo's personal and eccentric-eclectic professional life was made lonelier by COVID, as a newly married man with a wife (Chiara D'Anzieri of Chickpee) stuck in Italy during visa restrictions and lockdown. Lyrically, of course, this became a freewheeling part of the surprisingly (usually) laidback, Nashville-recorded, multi-genre sonic jumble of PEACEMEAL.
Playing most of its instruments across twelve songs, PEACEMEAL is more lo-fried than hi-fi, more softcore, left-field hip-hop and gentle psychedelia than his usual punk/pop vibe. There's even an oddball cocktail-cool version of free jazz lilting across bits of the record, leaving Gallo's vocals to come across, more often than not, like a nu-rap version of Lord Buckley with several of the album's tracks (e.g. "Please Don't Die," dedicated to…his new bride?) acting more as stream-of-conscious, spoken-word pieces than studied vocal runs. The shout-y, soulful dub of "Easter Island," the funky, isolation-themed jam of "Wunday," a White Album Beatles-ish "Hide (Myself Behind You)," and its backwards intro "(Uoy Dniheb Flesym) Edih," and a drifty "Can We Still Be Friends?" are highlights of the new album, the latter track hosting PEACEMEAL's most contagious chorus.
There are some throwaway cuts on PEACEMEAL—"Saturday Pt.1" is uneasily silly, as is its "Pt. 2." "Cancelled!" is sillier still, but more geared to the social ill of cancel culture—but, that's OK. The good of Gallo's PEACEMEAL is good enough that a few stray hairs are manageable.