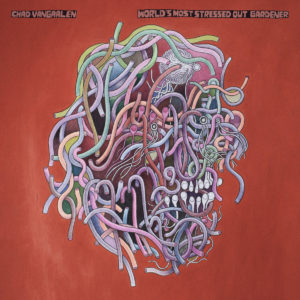 Chad VanGaalen
World's Most Stressed Out Gardener
FLEMISH EYE/SUB POP
8/10
While the title of Chad VanGaalen's seventh proper studio album is a perfect metaphor for life amongst the chaos of the world right now, it's also a more literal one, actually derived from the Canadian musician's experience planting his own vegetables at his home in Calgary. Yet while that experience may have been a stressful one, this record's title is very much the antithesis of the thirteen tracks that it comprises. Rather, World's Most Stressed Out Gardener is pure nourishment for the soul—the sound of nature taking over again, of the unimportant things (jobs, stock markets, status) falling into their rightful place behind the important ones (family, friends, compassion, empathy); of the fake, money-driven, consumerist society humans have established for themselves fading into the distance. Fake constructs finally rendered as useless and irrelevant as they actually are.
Of course, that's some wishful thinking, but nevertheless, the foundations for that utopia are the soil in which these songs have been planted. That may sound somewhat hippy-dippy, but it's less an ideological statement than the very real sense created by the music. As weird and whimsical as we've come to expect from VanGaalen, these songs each create their own perfect world, dreamy, off-kilter lullabies of almost-beauty that are as philosophical as they are nonsensical, as timeless as they are temporally specific, as magically surreal as they are accurate reflections of contemporary life. 
Take, for instance, the kind lilt of "Where Is It All Going?" It's a song that doesn't really have an answer to the question it's asking, but one that nevertheless sounds like an answer in its lethargic, soothing tones. It's followed directly by the relaxing underwater atmospherics of "Earth From a Distance"—an instrumental that has the same calming effect—before the jerky, off-kilter angles of "Nightwaves" come into play. Those are more spirited and nervous, but they're far from stressed out. 
That sensation does appear, however, on the twisting, sonic turns of the aptly titled "Nightmare Scenario," but those sonic and emotional conniptions are resolved in the second half of the song when it takes off into a chugging psychedelic guitar anthem straight out of the Swinging '60s. And, of course, only Chad VanGaalen could turn a song as absurd and punch-drunk as "Samurai Sword" into something that also carries the weight of human existence. That's something he's done consistently throughout his career, and he's done so again here: cultivating a garden that thrives amidst—and in spite of—the destructive concrete monolith that is the human race.