I'm not really sure where we landed with this needlessly extensive "5th wave emo" conversation, but from what I can tell the present state of the genre is one where bands like Spirit of the Beehive—a disorienting collage of sound seemingly only linked to emo due to the social circles it permeates—have plenty of room to exist. Similarly, the new turn from Downhaul sees the Midwest emo act pivot toward considerably darker corners of rock music pretty firmly outside the realm of their genre's familiarity, eliciting vague comparisons to shoegaze-y, post-metal groups like Cloakroom and Greet Death outside vocalist Gordon Phillips' ever-distinct vocals.
The first track from the Virginia group's new album PROOF arrives today to introduce their brooding new sound, with the heavily overcast "Standing Water" setting the stage for what's to come upon the full album's release May 21. To help us navigate the track's unique sonic and lyrical universe, Phillips broke down each lyric of the track in a photo essay below, capturing every landmark visited in the single, as well as making a case for the band's continued allegiance to emo with album-art-evoking photos documenting some very Midwestern scenery. 
Hear the track below, and read on for his words. Album pre-orders via Refresh Records are available here.
All photos shot with a Pentax K1000 on expired FujiColor Superia X-tra 400.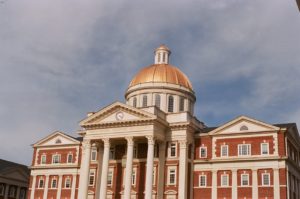 Pat, Robbie and I attended Christopher Newport University, which is a 5,000-student liberal arts college in Newport News, Virginia.  At the time, it was a sort of scrappy safe haven for middle children, late bloomers and almost anyone else looking for a place to prove themselves.  I wouldn't get in if I applied now.
Newport News sits right around sea level and is geographically bounded by water on three sides—the York River, the James River, and the Chesapeake Bay. All you really need to know is that it rains all the time and the water doesn't go anywhere. It stands.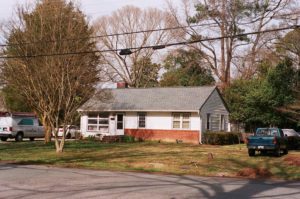 "Like I'm still standing on slanted shingles 
in Newport News as it all slips through my fingers"
The last two years of college, I lived with four friends in a one-story rancher right near campus. We endured the usual low-rent cockroaches and these other uninvited house guests that we nicknamed "spider crickets," which could jump halfway across a room. We were too scared to actually squash the damn things, so we would catch them in cups and leave the cups face down for days, waiting for nature to take its course. If you found a cup inverted on the floor, you didn't move it.  
We shared one working shower, which was lined with pink acrylic tiles and eventually folded in on itself—just completely collapsed from one side. My understanding is that the house was condemned shortly after we moved out.
I shared a room in the rear of the house right next to the back door. On nights I couldn't sleep, after the rest of the house had nodded off, I would climb the air conditioner box and hoist myself onto the roof. It was an easy place to be alone and I don't think anyone else ever knew. There's a certain dread that starts to emerge as college graduation approaches—where you'll go, what you'll do, who you'll be, how you'll pay for any of it. I would climb up to the roof late at night or in the early morning and let these thoughts just eat me alive.  
Our neighbors to the right had dreadlocks and a seven-year-old son named Anakin who would sleep in a tent in the backyard on warm nights.  Our neighbors to the left got raided by local cops early one morning and I'm not sure anybody ever came back.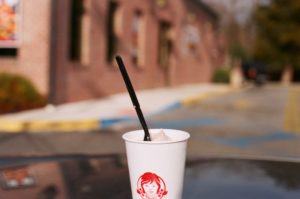 "Discount sugar between your fingers
The evening melting and the way it lingers in my mind"
In the summers, we would have one or two extra people living with us, sleeping on couches or the floor—anything to make the rent cheaper—as we all worked seasonal jobs. One on a golf course, two in coffee shops, another frantically memorizing cocktail recipes for a bar that would never open. Obviously, nobody ever had any money, but we didn't exactly need it either.
One summer, the local Wendy's ran a promotion where you could get a Frostee for $0.99—in a cup or a cone. As we filtered back into the house at the end of the day, it was basically just a matter of time before somebody proposed we all pile into one car and ride across campus to take advantage of such fortune. My car, a maroon 1993 Volvo 240, did not have working air conditioning, so anybody opting for the cone was truly in a race against time. I kept a roll of paper towels in the back seat.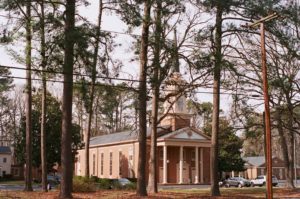 "The sins of our fathers 
Square on our shoulders
It's too far to walk 
Through standing water
Well past our ankles
And I'm calling this off"
North Riverside Baptist Church was located right up the street from our house. I mean, Google Maps tags it as 0.2 miles away. I attended when I felt like it, which basically equated to once every three weeks or so. My running joke was that it was "too far to walk."  
When I did make it to Sunday morning services, I was usually the only person there under the age of 40. When I took a hymnal out of the pew in front of me, dust particles would dance in the light pouring from huge vertical windows up and down either side of the sanctuary—apparently nobody else in the congregation needed a reminder of the lyrics. I felt bad for the pastor, who was a vibrant guy with short sandy hair and the slightest trace of a Midwest accent. I could tell he worked dutifully all week on the messages he would deliver to maybe 70, then 60, then 50 pairs of hearing aids. One night, he came tapping on the window of my friend's fogged-up station wagon in the church parking lot and promised not to call the cops as long as my friend came to the service that following Sunday—a reasonable trade, as far as I was concerned. I was glad to have the company.   
Hurricane Irene hit Newport News in September of 2011 right as the semester started. Both the city and the college evacuated, so our house was full of people who could not safely make it home in time, but were not allowed to stay in the campus dorms (as well as a few idiots looking for an adventure—myself included). We lost power for a couple days, but ended up being on the same power grid as the local hospital, so it came back on before most places and stayed on. The local Bojangles' did not lose power once and we made regular trips on foot. Or on rain boot, I should say—the entire campus was submerged.
I vividly remember the sermon right after Irene hit. Pastor Sandy Hair was explaining how, in Old Testament times, people believed storms or other natural disasters represented God expressing his frustration with the people. How they believed a destructive event like a hurricane could be connected to, or in payback of, the sins of prior generations—paying for the sins of their fathers. The punchline of the whole message was that, and I'm hazy on the exact concept, but Jesus meant that God no longer had to punish his people with various weather events. Don't hold me to that—I had eaten nothing but biscuits for a week straight.
It looks like North Riverside Baptist closed its doors permanently some time after I graduated and an entity called "Catalyst Church" now occupies the space. I'm assuming there aren't many hearing aids left in the place.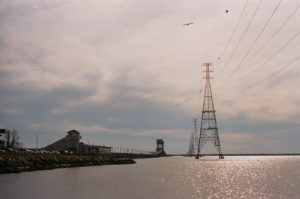 "Suspension bridges carve east and west 
As the sea level changes beneath them"
Newport News is a peninsula that, at its southeastern tip, sends two bridges into Norfolk and, later, Virginia Beach. If you wanted to go to a concert or the beach, you were likely headed that direction. Anyone who has driven this route is sure to remember the "Monitor–Merrimac Memorial Bridge–Tunnel," which is a five-mile corridor that starts as a bridge and then goes under water—absolutely blew my mind as a child.  It took, like, seven years to build or something crazy.  
I have so many memories of "taking the bridge" for shows at the Norva, Shaka's, or The Jewish Mother during college—only one of which still exists. Coincidentally, the last "big" show Robbie and I attended before the pandemic was Manchester Orchestra's anniversary tour with Foxing and Oso Oso. There were a ton of older normies and military types in the building because I think Manchester Orchestra had a song in a movie or a TV show at one point? Either way, we left after that song about manna being a hell of a drug. Foxing is somehow getting even better live. 
Norfolk once held the closest Apple Store, where I waited for two hours in September of 2011 to be told that my waterlogged MacBook was a "total loss" after leaving it in the Volvo right as rain started to pour at the beginning of Hurricane Irene.
All that said, this is a different bridge.  This is the James River Bridge, which runs southwest from Newport News to Isle of Wight County. Isle of Wight is home to Smithfield, which is a totally charming small town known for Smithfield Foods, the world's largest pork processor and hog producer. Not kidding, ham everywhere.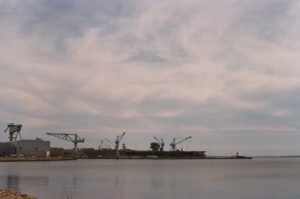 "Candescent light trails drift toward the shipyard 
And I still hear you talk"
"Newport News Shipbuilding" is the biggest industrial employer in Virginia and has been open since the late 1800s. You can't live in Newport News for any period of time without hearing references to "the shipyard," because it employs something like 25,000 people. I knew a guy whose father, grandfather, and great-grandfather all worked at the shipyard. He was also planning to work at the shipyard. I couldn't help but romanticize it during my time in the area.
It's a federal crime to trespass or take pictures in the shipyard, so this is as close as I ever got, but all the lights are pretty brilliant reflecting off the James River at night.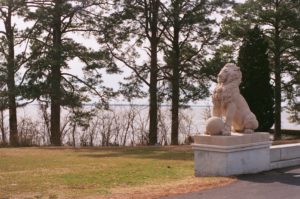 "Captured in every landmark"
This is the Lion's Bridge, located in the Mariner's Museum and Park right near campus. It is part of the Noland Trail, which is a well-kept wooded five-mile loop. Everybody I knew used that trail as an escape.  I ended up having some pretty heavy, life-shaping conversations at Lion's Bridge over the four years I spent in Newport News and I definitely wasn't the only one. 
Memories are vignettes—the corners darken first. Supporting details or peripheral elements of lived experiences are hard to hold onto as time passes, but the stuff in the middle of the picture hangs around awhile, for better or for worse.